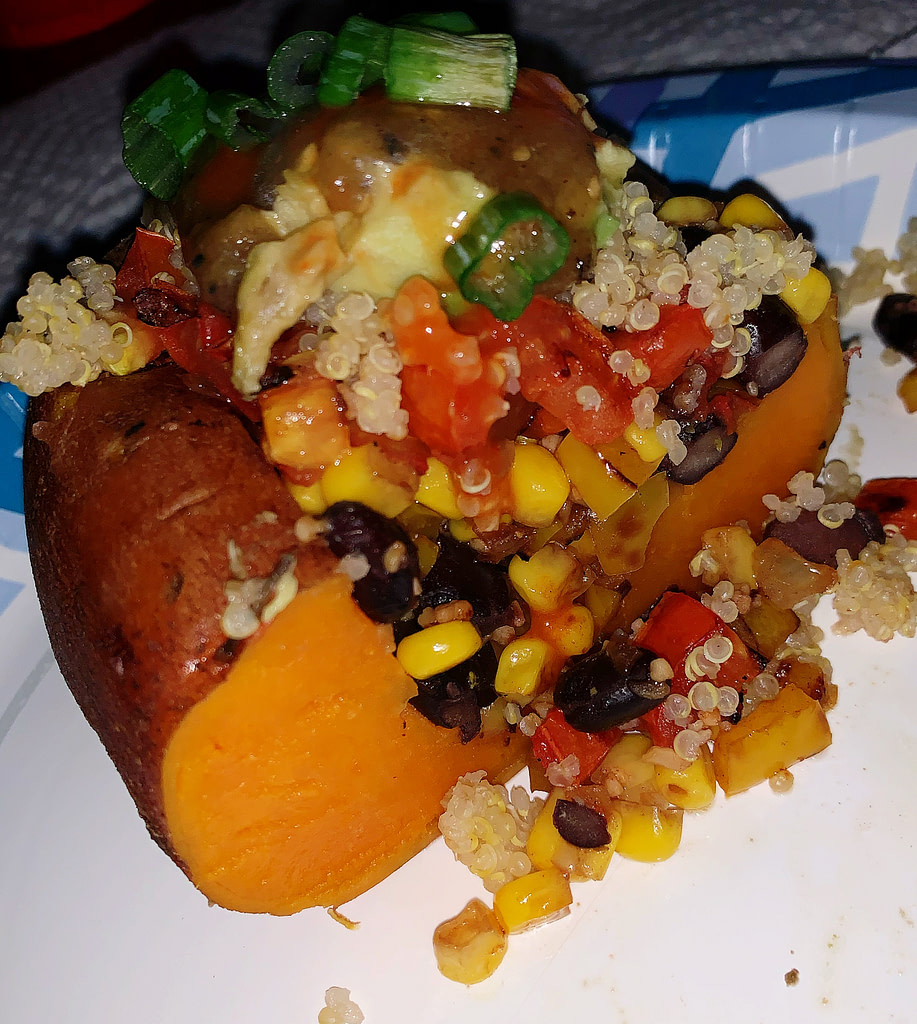 Enjoy this delicious Vegan Stuffed Sweet Potatoes Recipe. The Sweet Potato is stuffed with Quinoa, Corn, black beans, Tomatoes, Onions, and Red Peppers.
This is the best stuffed sweet potato recipe I have made thus far. It is so delicious and easy to make. Everyone thinks that it must be stuffed with meat, cheese, and other dairy products to taste good. THEY ARE WRONG. This is filled with protein and flavor and is also a great meal prep recipe.
What is a Vegan Stuffed Sweet Potato?
A Vegan Stuffed Sweet Potato is a sweet potato cut open and filled with anything you want it to be filled with. It is similar to a baked potato. You cook the sweet potato as you regularly would. Once it is finished you peel some of the inside filling out and insert whatever you would like.
You can have many different variations with this recipe. You can structure is based off cuisines. You could do a Mexican, Asian, Greek, and etc. There are so many different ways you could go about it. I love pairing things with sweet potatoes. They have such a unique flavor that no other vegetable or fruit has. Mixing it with different ingredients can really utilize the sweetness it gives off.
Are Sweet Potatoes Healthier Than Regular Potatoes?
Sweet potatoes are healthier…. by two calories. When it comes to calorie count, fat, and carbs it is just about even. Sweet potatoes do have some more health benefits to them though. They have more Vitamin A, Vitamin B, and Vitamin C in them. The answer to this question really depends what kind of diet you are on and what your body needs. For my diet, they are much healthier.
What are the ingredients in this delicious Vegan Stuffed Sweet Potatoes Recipe?
I have tried many combinations of a stuffed sweet potato. I think capturing the taste of a sweet potato is very easy and can be mixed with a lot of different ingredients (if done right). I thought why not and try going with some sort of Mexican theme when I was crafting this dish. I also made sure it was high in protein and I thought what better than black bean stuffed sweet potatoes. The ingredients that I used in this dish are listed below.
Sweet Potato
Onion
Red Pepper
Tomato
Black Beans
Corn
Quinoa
Avocado
Green Onion
Garlic
How do I make these delicious Black Bean Stuffed Sweet Potatoes? (Exact Measurements Listed Below)
Start by cooking your sweet potato. This can be more challenging than you think. It takes longer than you would expect, but you don't want to overcook it where it becomes too soft. Wrap the sweet potato in tin foil and bake at 350 degrees for 45 – 60 minutes.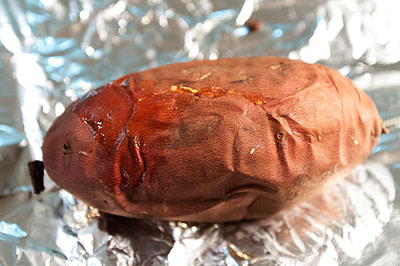 While the sweet potato is cooking, start working on your filling. You will start the quinoa when there is about 20 minutes left on the sweet potatoes. Quinoa does take some time to cook and you don't want it too watery. Start by putting your quinoa and the appropriate amount of water in a pot. Turn on high and wait for it to come to a boil. Once it comes to a boil cover and turn on low. Then let sit until the quinoa is cooked fully through and there is no water in the pot.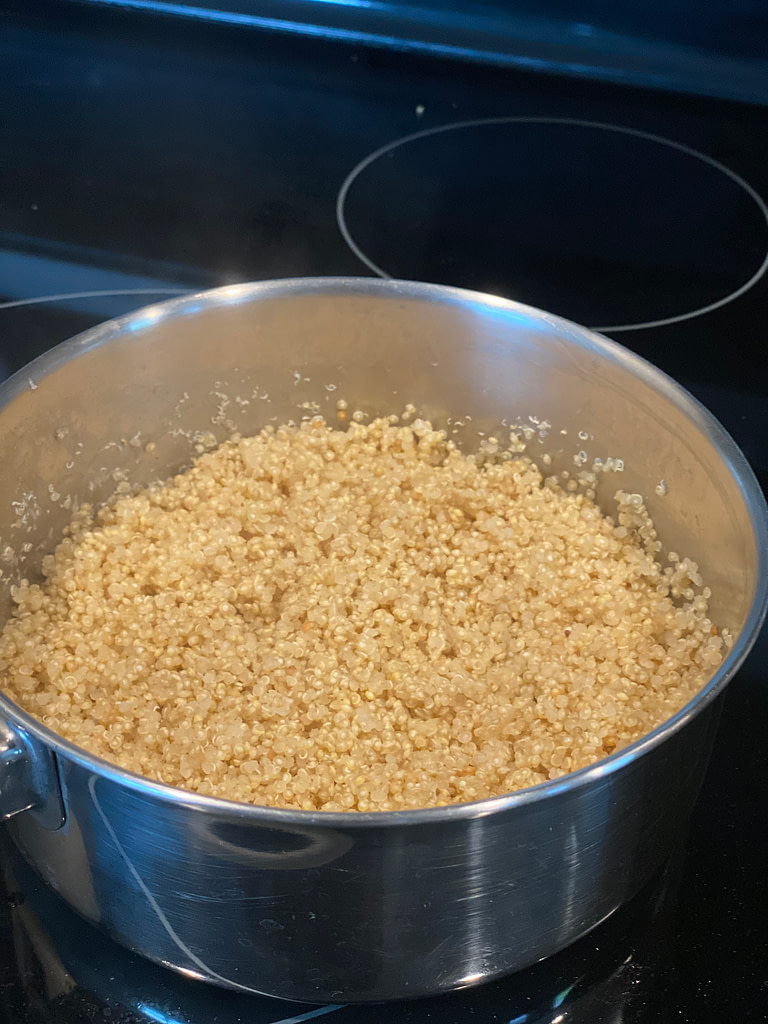 Preparing The Vegetables
Now comes the most exciting part! Crafting the vegetables for the vegan stuffed sweet potatoes. When you have about 10 minutes left on your sweet potatoes and quinoa you can start sautéing your vegetables.
Start by adding your chopped onion and red peppers with a little bit of oil. cook them on medium for 2-3 minutes. Then add your garlic and tomatoes. Turn to medium high and cook for another 4-6 minutes. Once they start getting some color you can remove them from the heat.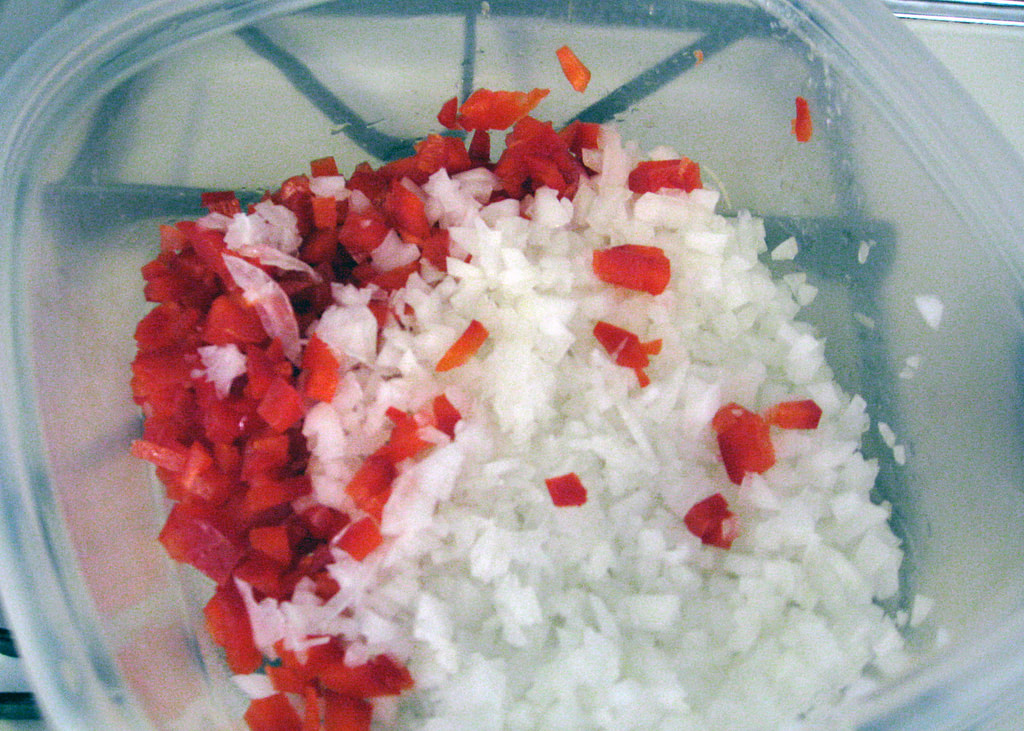 With about 4 minutes left on your vegetables place your black beans and corn in another pot on medium heat. You are going to want to drain the corn and the beans almost all the way. By saving some juice you can add it to the pot so it cooks them a bit better. Once those are done, your ingredients are now all done.
Putting Together Your Finished Product
Once you have everything done you can now prepare your delicious vegan stuffed sweet potatoes.
When you pull the sweet potatoes out of the oven you are going to want to let them cool for a couple minutes. Cut them open in the middle to make them cool faster. Once they are cool enough to touch you are going to want to remove some of the insides. This will then give you some room for your filling.
Once the sweet potato is cut open and some of the filling is removed you can now add all of your filling. You can add it in whatever order you would like. Then to top it off add some green onions and avocado. I think this really brings out the flavor in the dish and also makes it look great!
How To Add More Protein To These Vegan Stuffed Sweet Potatoes?
There are many ways to add a bit more protein to these delicious stuffed sweet potatoes. I have tried many different variations but this has been my favorite. I am a big fan of using black beans for my protein in a meal. There is protein in this dish with the black beans, corn, sweet potato, and quinoa.
If you want to add some additional sources here are some good substitutes or additives.
Tofu
Tempeh
Vegetable Protein Substitute (Typically purchased at the grocery store)
There are many other options and combinations you can craft. This is my favorite and these are some of my favorite ingredients I love using. If you want to check out some other recipes I have made check them out below.
Vegan Taco Recipe: https://ecolifemaster.com/vegan-taco-recipe/
Vegan Zucchini Noodles Recipe: https://ecolifemaster.com/zucchini-noodles-recipe-vegan-avocado-sauce/
Vegan Chocolate Protein Shake (If you are trying to add some additional protein to your diet): https://ecolifemaster.com/delicious-chocolate-vegan-protein-shake-2020/
Print Recipe
Vegan Stuffed Sweet Potato
Delicious Vegan Stuffed Sweet Potato with Black Beans, Corn, Quinoa, Onions, Peppers, and more!
Ingredients
1

Sweet Potato

1

Onion

1

Red Pepper

1

Tomato

1

Can

Black Beans

1

Can

Corn

1

Cup

Quinoa

1

Avocado

1

Green Onion
Instructions
Preheat the oven to 350 degrees

Wrap the sweet potato in aluminum foil and place in the oven for 45-50 minutes

When the sweet potatoes are 10 minutes away from being finished start sautéing your onions and peppers on medium heat.

After 3 minutes add your garlic and tomatoes to the sauté pan.

After adding those you can add the black beans and corn to a pot and cook on medium heat for 5 minutes or until warm.

After your sweet potatoes are done remove some of the potato from the inside. This will give you room to add all your ingredients.

Then add all your ingredients into the potato and top with green onions and avocado