Veganism is getting into mainstream more and more. Some say avoiding animals or animal products of any kind increases energy level. Others ensure a plant-based diet makes them look better. No wonder that more and more people have gone vegan and celebrities are not the exception.
Here is the list of famous vegans and their vegan experience in years.
Actors and Actresses:
Musicians:
Others:
Check the reasons Hollywood stars giving us to go plant-based.
Actors and Actresses
Ellen Pompeo
The TV doctor on Grey's Anatomy Ellen Pompeo took her inspiration to become a vegan from Dr. Funk's book, Breasts: The Owner's Manual. She transitioned her family — one son, two daughters and husband Chris Avery to a plant-based diet at the beginning of 2018. Ellen told about her family's new vegan lifestyle on her Instagram page:
"The message of veganism is not one that they want to get out, but not only will it help us, it helps the planet."
I wouldn't have said better!
RELATED: How a Recent Doctor's Visit Inspired Ellen Pompeo to Put Her Husband and Kids on a Vegan Diet

Benedict Cumberbatch
Talented British actor Benedict Cumberbatch is officially vegan. He mentioned it while promoting Avengers: Infinity War. One of the PETA's Most Beautiful Vegans in 2018 told that vegan food is enough to keep him in action movie-worthy shape. Benedict doesn't need egg whites or "gross" food like this.
Anyway, it's not a surprise for Benedict's fans, he has always been famous for his compassion to animals. He graced the cover of British GQ in a suit made of "future wool" and vegan boots from Brave GentleMan. He subscribes to Buddhist philosophy and expresses an affinity for mindfulness and meditation.
Benedict's favourite cocktail is Aperol Spritz. Check out my best frozen cocktail list to make any drink with ice or a perfect smoothie for your vegan diet.
Zac Efron
The 30-year-old heartthrob has transitioned to veganism in recent years. Zac tried to find a way of getting more sleep and working out effectively and has switched to a dairy and meat-free diet to feel energized. He ensures his plant-based diet makes his body shape perfect.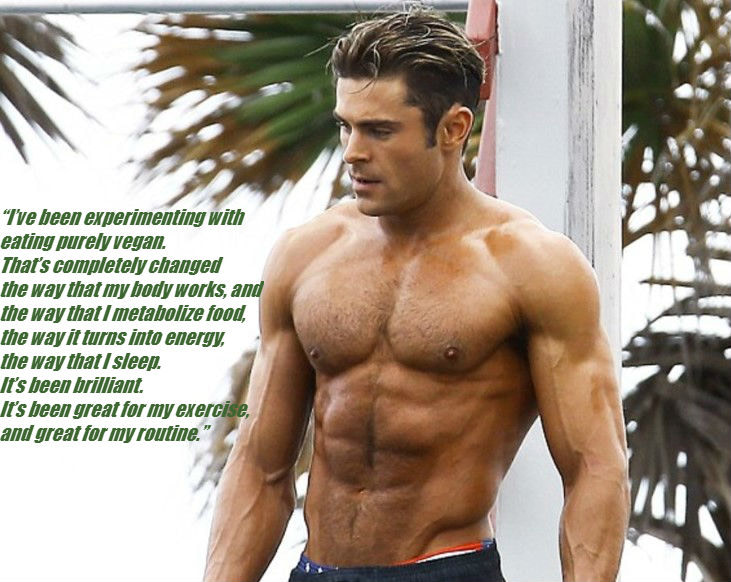 Complex carbs and high fiber vegan diet increase natural energy of the body for working out consistently. One more example that a plant-based diet can create the best body you've ever seen!
RELATED: Zac Efron Shares His Grooming Routine and Life Advice

James Cromwell
The actor became a vegan after filmed Babe 22 years ago. Now, he is also an outspoken vegan involved with PETA's campaign rescuing pigs from school 4-H programs.
Recently, James advocated for racehorses supporting retirement funds that allow the horses not being sold for slaughter but to be retired to sanctuaries.

Mayim Bialik
Mayim Bialik is famous for her role in the sitcom The Big Bang Theory first but acting it is only one of her talents. She earned a PhD in neuroscience in 2007 and has 2 sons. She is a spokesperson for the national Holistic Moms Network. Mayim is also an author of books on parenting and veganism Beyond the Sling and Mayim's Vegan Table.
"We wanted to present plant-based options in a non-threatening way."
She made a final decision to go veg at age 19 after reading Eating Animals by Jonathan Safran Foer and still shares her knowledge with her followers.
Jessica Chastain
The actress is famous for her roles in The Debt, The Help, Take Shelter and The Tree of Life. She has kept to a plant-based diet for 12 years. Her parents are also vegans. After suffering from low energy levels, the actress changed her diet. Now, Jessica ensures veganism gave her clearer skin and more energy.
"I just really was listening to what my body was telling me".
Chastain is also an animal lover and has adopted a rescue dog.
Natalie Portman
Natalie Portman doesn't eat meat since the age of 9. The actress said she felt close to animals and later started learning more about the food industry. As a result, she came to a decision that if food comes from animals or hurt them, it does not touch her plate.
She switched to veganism in 2009 after reading Jonathan Safran Foer's Eating Animals. Later Natalie produced a documentary on factory farming systems in the U.S. named the same title.
The actress wants to keep at least some animals out of hard conditions and help the environment. She also has been an activist for women's rights for a long time and realized that animal and women's right are the very same thing.
"We are exploiting female bodies and abusing the magic of female animals to create eggs and milk."
She took a break from veganism only once during her pregnancy in 2011 as it made her desire bakery food containing with butter and eggs.
Of course, her plant-based clean diet is an important part of where her good health comes from. She makes her diet full by getting B12 shots once a month as this is the only one vitamin she doesn't get from a vegan diet. Now her children and she are vegans, and her husband is a vegetarian.
RELATED: Natalie Portman explains how her veganism relates to women's issues: 'We're exploiting female bodies'

Daryl Hannah
This famous American actress is best known for her roles in the films Blade Runner, Roxanne, Splash, Wall Street, Kill Bill, and Steel Magnolias. She became a vegan when she was 11 after meeting a calf and found out that he would be veal the next morning.
Daryl has her own online show where she makes a video about the environment and vegan diet. She says that going vegan is an easy way for anybody to reduce the impact on the environment.
"Factory farms are also producing massive amounts of pollution and methane … which is a more potent greenhouse gas than carbon,".
Alicia Silverstone
Alicia Silverstone is not only an outspoken advocate for a vegan diet for many years. In 2011 she released a book called The Kind Diet where she explained why she doesn't eat animal-derived products. Alicia ensures it's easy to make vegan meals and feed her son healthy vegan foods.
Silverstone follows a vegan diet for animal-rights reasons.
"Knowing the truth about where our food comes from is just so disturbing to me."
At the same time, she was also shocked at how better she felt overall. Once she went vegan, she lost her extra weight, her nails became stronger, and skin began glowing, as she said. The actress is glad to be able to do something good for the earth, animals, and good for her health at the same time.
RELATED: Alicia Silverstone Credits Veganism for Her 8-Year-Old Son Bear's Good Behavior

Woody Harrelson
PETA's Sexiest Vegan 2012 has teamed up with PETA on securing the release of research chimpanzees and invested in vegan food development. Woody has been a vegan since he was a 24-year-old actor when he associated his streaming nose and acne with lactose intolerance.
He gave up dairy products and has never looked back.
"I used to eat burgers and steak but I would just feel knocked out afterward; I had to give them up. Dairy was first, though."
Now, the Hunger Games star is not only a vegan but also a follower the raw food diet that means, Harrelson also doesn't eat sugar and flour.
Ellen Page
Ellen Page is a famous actrerss and outspoken activist. She often discusses veganism on her social media accounts. In particular, she has been known to discuss factory farming. In 2014, PETA even called her one of the sexiest vegan celebs, thanks to her advocacy activity.
Kate Mara
The actress was a lifelong animal lover and an on-and-off vegetarian for a long time until the book by Kimberly Snyder 'The Beauty Detox Solution' leads her to a final decision. She gave up all animal food and stopped wearing leather.
Vegan actress Kate Mara lives with her non-vegan partner, Jamie Bell. Despite it, Mara respects his choice.
"We make different choices when it comes to food, but he totally respects my choice and he respects me and my choices."
The actress is a vegan, but she still enjoys vegan, gluten-free burgers.
Peter Dinklage
Peter Dinklage is most famous for his role as Tyrion Lannister in  'Game of Thrones' and Bolivar Trask in 'X-Men: Days of Future Past'. He has been vegetarian 15 years and has switched to veganism some time ago, and he is also an ambassador for Cruelty Free International.
He follows a vegan diet for ethical reasons. During filming, he asks to substitute meat for tofu that looks the same way.
Olivia Wilde
The American actress is best known for the hit television series 'House'; and films: 'Cowboys and Aliens', 'Tron: Legacy', and 'Her'. Olivia has been a vegetarian since she was 12, and has been following a plant-based diet for the last 4 years.
"[Being vegan] is not always easy and accessible, but it's a way of life and makes me as a person feel really good and physically look better."
She was called PETA's Sexiest Vegetarian Celebrity of 2010.

Emily Deschanel
42-year old vegan mom and actress Emily Deschanel, the star of the detective drama "Bones," became vegetarian after watching the documentary "Diet for a New America." About 2 years later and at the age of 17, she switched to a plant-based diet.
"How horribly they're [animals] treated and killed for us to eat, and then it's about how it affects our health. It was always the triple-whammy that really affected me."
Her 6-year-old son also made the choice to go vegan. Now, Emily is an active member of Farm Sanctuary — the largest haven for rescued farm animals. She also helped raise $1.2 million for the animal rights, Mercy for Animals.
Keeping a colorful plate with lots of fruits and vegetables makes being vegan easier for her and her family.

Michelle Pfeiffer
For Michelle, her vegan way started with an interest in disease prevention and health after Bill Clinton's interview with Dr. Sanjay Gupta, The Last Heart Attack. Pfeiffer stresses that veganism isn't as hard as it may seem and it makes a great investment in her beauty.
"Eating a vegan diet — it's just so much healthier — and you avoid a lot of toxins that could age your skin and your body. I really noticed a difference in my skin not too long after switching to fully vegan."
Michelle didn't start the plant-based diet straight away, she gave herself 8 weeks for beginning but then it became her a part of her lifestyle.
RELATED: Michelle Pfeiffer's Big Secret

Tobey Maguire
Tobias Maguire is an American film producer and actor known for the role of Peter Parker in the Spiderman trilogy. Tobey felt an aversion to meat in childhood, he imagined what kind of life the animal he eating leds and stuff like that. So he has been a vegetarian since 1992 and in 2009, he became a vegan
Former Spider-Man has developed a fondness for his fellow earth-dwelling creatures. Tobey also has banned all animal related stuff from his house as the smell of leather makes him feel sickness. While shooting a movie, he sent a Mercedes Benz he offered to drive him around back because the seats were made of leather.

Brad Pitt
Famous Hollywood Actor and Producer Brad Pitt works on many environmental issues for many years. He had turned vegan long before people knew. Brad has eliminated all animal product including dairy. He believes that veganism is one step forward towards the environment and the right path to a healthier life.
His ex wife Angelina also tried to switch to a vegan diet for a short period but couldn't continue.

Alec Baldwin
Vegan producer, actor, and environmentalist Alec Baldwin wants people to eat vegan food to save the earth.
"We are, without much or not nearly enough introspection it seems, destroying the planet's rainforest at alarming rates. And we are causing global climate change, which, if we do not act, will be our undoing."
He advises an overall swap to a vegan diet, especially for those living in the west to do the bit for the environment and save the planet. More than 75 percent of agricultural land in the world is used for dairy, meat, and eggs production.
Anyway, Alec went vegan after being diagnosed as prediabetic in 2011. He turned to veganism and by January 2012, he had lost 30 pounds!
Demi Moore
56-year old actress Demi Moore thanks hanks her anti-aging raw vegan diet and yoga workouts for her perfect body shape. She eats only organic fruits and vegetables, green smoothies, juices, and soups without heating them higher 118°F to preserve vitamins and minerals.
She has always spoken openly about maintaining her body perfect and being a vegan is the way forward.

Renee Olstead
Renee Olstead is a 30-year old singer and actress from America. She is famous for her role of Madison Cooperstein on the drama The Secret Life of the American Teenager. She was a speaker at the "PETA2 Experience". She decided to become a vegetarian when she was 12 as she realized that meat was something with a face.
10 years later she made a decision to follow a plant-based diet and in 2018 her boyfriend Tommy also went vegan.
Musicians
Miley Cyrus
One of Disney Channel's biggest teen stars in the past is famous not only for her shocking lifestyle but also for her passion for animal rights and veganism. After the death of her dog, that was found mauled to death at after fighting with a coyote, Miley gave up eating animals.
She wears only vegan leather, faux fur coats, and cruelty-free thigh high boots and promotes this fashion in social media.
"I actually think I'm challenging the system more than ever."
Her aim is to bring a message, that there is no place for tortures in fabulous fashion. In 2018, she launched her own line without animal products with sneaker brand Converse. The musician's Instagram is full of posts about vegan meals and promoting animals rights. Even PETA called her a "veganest vegan to ever vegan."

Travis Barker
Drummer of the Transplants and Blink 182, and star of the TV show "Meet the Barkers",  Travis Barker has been vegetarian since he was a child and is now vegan. He overcame a painkiller addiction and went vegan after the plane crash.

Fred Durst
If you're a fan of hard music, you definitely know this guy. American frontman and director of the rap-rock band Limp Bizkit, Fred Durst, is a vegan since 2013.
"I'm a vegan. New to being a vegan, but I'm a vegan. I have a little slippage every once in awhile."
Billie Eilish
American model, singer-songwriter, and dancer Billie Eilish has stated that she is vegan in an interview published by The Guardian on March 2020. She also said she has never smoked or used drugs. At this moment, she regularly advocates for veganism on social media.

Andy Hurley
The drummer for Fall Out Boy is straight edge, a CrossFit athlete, and a vegan since he was 16. He believes that people should live the way they lived 10,000 years ago.
Hurley says that it's much easier to be a vegan now.
"It's just unbelievable. When I first went vegan, you had to walk 5 miles uphill in the snow to get food. Now you just go to any grocery store, and they have Daiya cheese or Gardein products or tons and tons of stuff."
His new band Sect includes only vegans and so they call thenselves a "hardcore, vegan punk supergroup". Andy has also opened up his own vegan cafe 'Oracle Coffee Company,' in Portland's South Waterfront area.
RELATED: Fall Out Boy's Andy Hurley Talks Veganism

Ne-Yo
Singer and songwriter Ne-Yo has became a vegan in 2017 but he already sees amazing changes in his health. He was inspired to follow a plant-based diet thanks to the popular vegan documentary, What the Health.
In February 2020 he said he had lost about 30 pounds since he turned to veganism, calling it "one of the best things he's ever done".
Oliver Sykes
The lead singer of metal band Bring Me The Horizon is a vegan advocating for animal rights with his bandmates. Sykes gave up eating meat in 2003 when he was 16 after watching a documentary about animal cruelty.
"When I saw how animals are tortured on factory farms, I couldn't justify being a part of that cruelty."
Later, in 2013, he became a vegan and opened a vegan-friendly bar called 'Church: Temple of Fun' in Sheffield, England.

Sia Furler
The misterious singer likes to keep her privacy but she revealed her diet in response to a vegan restaurant owner in Tweeter in 2014. She agreed to visit his place.
"I will! I'm fully vegan now!"
She also will join the cast of the vegan documentary, Dominion, alongside Rooney Mara and Joaquin Quin. Sia also participated in an advertisement for PETA Asia-Pacific, with her dog, Pantera, to promote pet neutering.

Jared Leto
Jared Leto is an Oscar-winning actor, a star of hit films and TV series, the frontman singer of a rock band 30 Seconds to Mars, and a long-time vegan. His youthful appearance amazes many of us. Jared explains it this way:
"It's probably just down to sleep and diet. If you travel long haul a lot or don't sleep much, it's not going to last very long, that's for sure. I'm pretty healthy so I think that helps a lot. I've been that way for a long time – 20 solid years of eating vegetarian/vegan and taking care of myself. That probably helps the preservation process."
But the singer is not the clearest vegan. He calls himself "cheagan" meaning "cheating vegan". Jared tries to be flexible. He doesn't eat meat at all, but he can try a cookie if it was made for himself.
The actor is also straight-edge, and don't drink alcohol,  as he thinks that there are many ways to change the state of mind.
RELATED: Jared Leto: The Unlikely Triumphs of a Rock-Star Movie Star

Rob Zombie
Rob Zombie is an American filmmaker and a member of the heavy metal band White Zombie. Both Zombies (Rob and his wife) are vegans. The musician has been an ethical vegetarian since 1982 after watching slaughterhouse footage.
Now he is a supporter of PETA and animal rights advocate.

Madonna
Madonna is a sixty-year-old international pop music icon, an actress, film and record producer. She follows a macrobiotic diet that prohibits eating eggs, wheat, meat, and dairy products. This diet provides her with energy she needs for her intense concerts and way of life.
RELATED: Madonna's Diet Is the Hardest I Have Ever Tried
Anthony Kiedis
The Red Hot Chilli Peppers frontman Anthony Kiedis became a vegan after learning that people are taking far too many fish out the sea. A farming documentary about cows lead him to a final decision.
"Soon after I went vegan, I saw some documentary footage of what happens in the factory farming of cows… It sealed the deal."
Jason Mraz
The famous singer living on an avocado farm in San Diego has always been prone to eating healthy and avoiding fast food. He started his food vegan diet 2 years to support his bandmate having type 2 diabetes.
"I did it as a partner for him so it would be a little easier".
Now, Mraz lives a health-conscious lifestyle and eats mostly raw vegan foods.

Moby
This musician is an active outspoken vegan and animal-rights advocate. His reason for becoming a vegetarian was his desire not to be involved in anything that makes animals suffer. At first, he gave up chicken meat and beef. Then fish. And later, in 1987 he gave up all animal products including milk and eggs and became a vegan.
Moby says that eating animal-derived products are responsible for developing heart diseases, diabetes, and cancer. The musician says that commercial animal production is responsible for climate change. At the same time, he respects any choice.
"Veganism should be a happy thing, not a miserable one. And we shouldn't make people feel bad or guilty for their lifestyle choices, even if they reject veganism."
The musician named one of his albums Animal Rights and opened a vegan cafe in New York called TeaNY and Little Pine, a vegan restaurant in Los Angeles. He also organized the vegan music and food festival Circle V.
Bryan Adams
Vegan musician Bryan Adams ensures that following a vegan diet is the best decision he ever made.
"And I've tried it all, and there is no question that for me, getting off ALL animal products and sugar was the best thing I ever did for myself."
He became a raw food vegan more than 30 years ago and has supported the health benefits of a plant-based diet. The singer thanks raw food for a stronger immune system and healthy weight maintenance. The Canadian-born rock star also professed his respect for cruelty-free leather shoes by footwear brand, Bobohee.
Bryan has been a vegan for 30 years, he doesn't eat meat and dairy since 1989.

Thom Yorke
British artist and the lead vocalist, guitarist, songwriter, and pianist of Radiohead has been a supporter of ecological world issues – including animal rights. Anyway, the way he came to veganism differs a little from standart.
"I started going out with this girl and I wanted to impress her so I pretended I'd been vegetarian all along… And I immediately felt a lot better, a lot healthier."
Ellie Goulding
In January 2018, after being a vegetarian for 6 years Ellie Goulding said she is becoming a full-time vegan.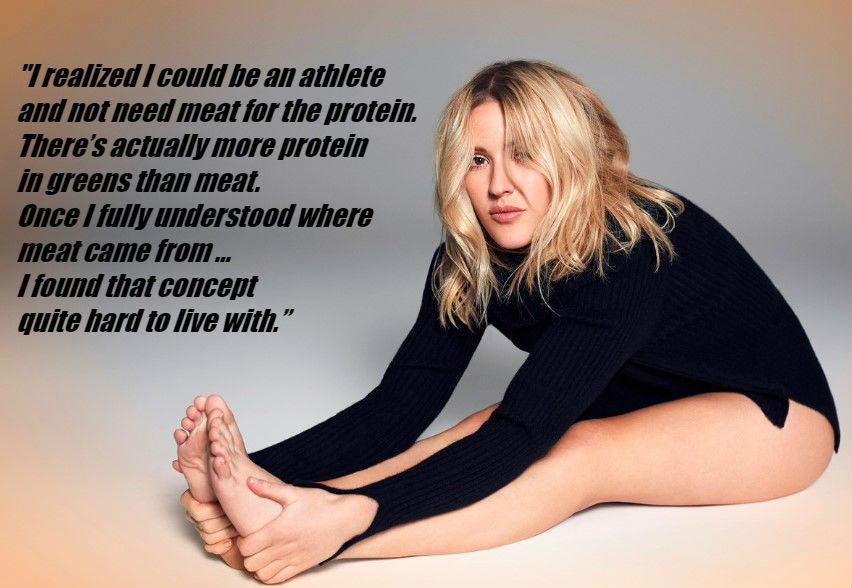 With her perfect figure, the British singer said she likes green and detox teas and fruits for breakfast. She ensures meat made her feel tired and she doesn't see any reasons to get protein from it while there are many other better sources.
Others
Bill Clinton
After changing his diet, the 42nd president of the United States lose more than 30 pounds and still keeps the result. He ensures he had much more energy and felt great after refusing animal-derived food. Bill Clinton made this important decision after underwent emergency heart surgery.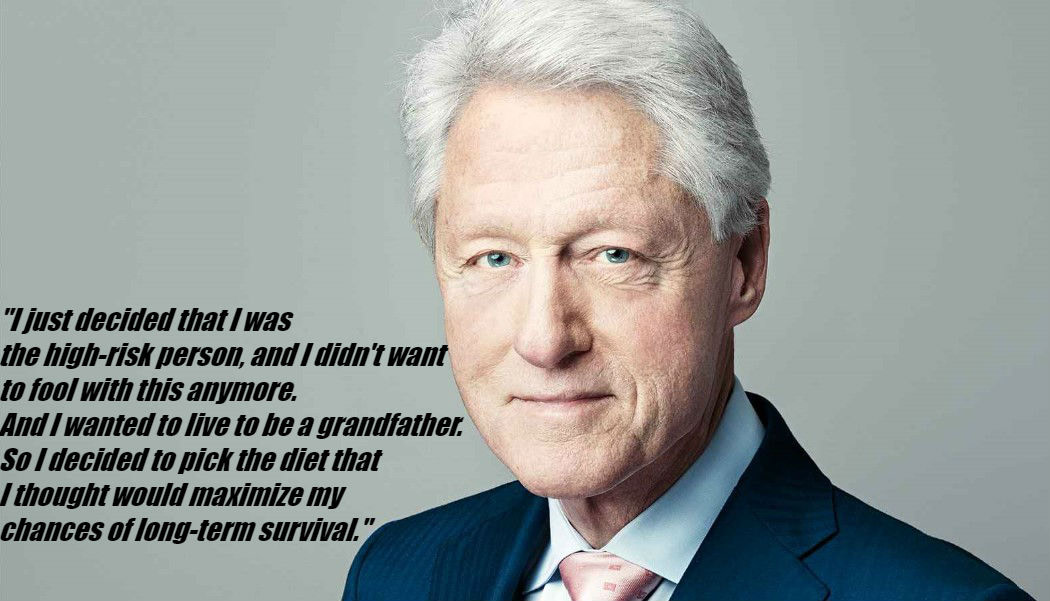 Bill Clinton is a devoted vegan for more than 3 years now. At the age of 66, PETA's Person Of 2010 still works and travels. His lifestyle may exhaust those who are 2 or 3 decades younger. Veganism helped him to cope with heart disease and avoid complaints of aging.
RELATED: Bill Clinton's vegan Las Vegas adventure

James Cameron
Vegan filmmaker James Cameron has directed blockbuster hits such as Avatar and Titanic. He says animal agriculture is harmful to the environment as is the 2nd largest sector for greenhouse gas emissions next to electrical generation.
"What we need is a nice transition to a meatless or relatively meatless world in 20 or 30 years."
He also noticed a vegan diet improved his life quality. Now he feels healthier, younger and slimmer.
Vegan way of life has become a major wellness mainstay and it does not slow down. Vegan recipes not only swarming Instagram feeds, but it is also shaking up food scene with vegan-friendly meals and recipe books. The world is changing, and many celebs are at the forefront of the vegan movement.
PIN THIS