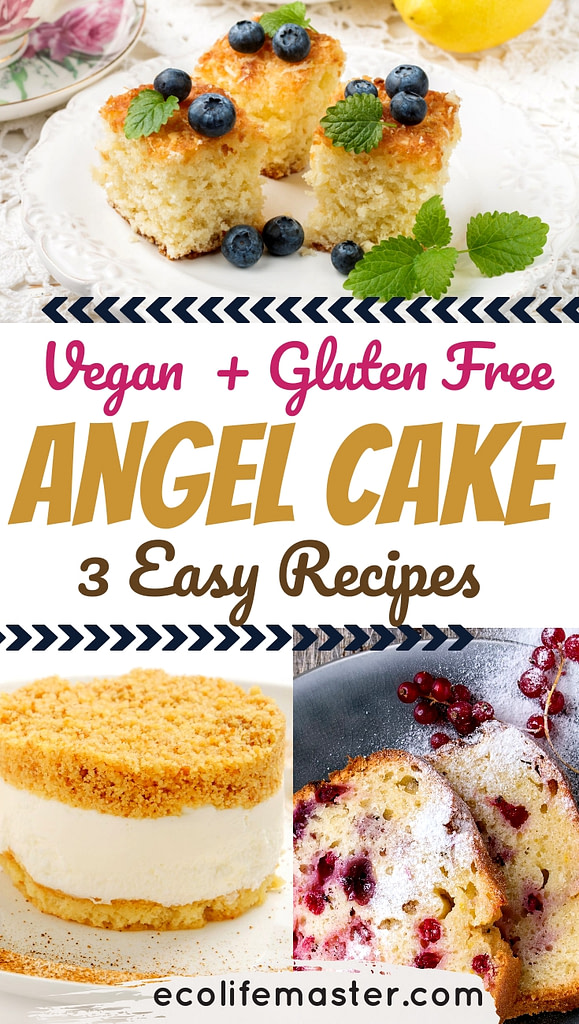 Hi there! You've been waiting for it and finally, it's here! Vegan angel food cake recipes to any taste without dairy products or eggs. You may even cook it without gluten and enjoy your perfect cake with fresh berries. I've tried many recipes to find the best ones that really work!
The texture of this healthy dessert is very similar to a traditional Angel Food Cake recipe, just a little bit different.
Why is it not so Easy to Find a Vegan Version of Angel Food Cake Recipe?
Regular Angel Food Cake demands a dozen eggs beaten up into a fluffy meringue with some sugar and flour.
The thing is that vegan egg replacers (aquafaba for example) can just bind your products together and you can use them just if a recipe needs only 3 eggs or less. Replacing the bigger amount of eggs can be a problem.
The liquid from a can of chickpeas can be used to make a meringue, but you will not bake it because it will collapse during baking.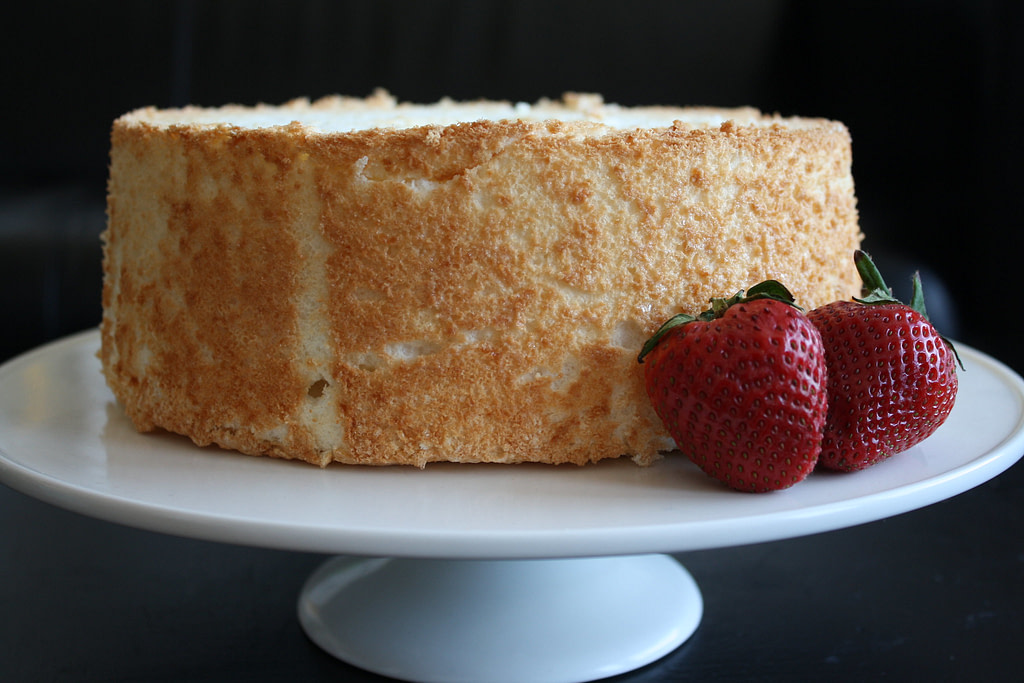 What Ingredients Go into a Vegan Angel Food Cake?
Aquafaba (the water from a can of beans) – used instead of the egg whites and beats up into a light meringue
Flour – you can use all purpose gluten free flour blend or white pastry flour.
Cream of Tartar –  helps to stabilize the meringue and break down the protein.
Vanilla Extract – gives flavor.
Sugar Powder – sweetens the dessert but doesn't weigh it down.
Garbanzo Bean Flour (aka chickpea flour) – adds protein to the meringue for it to hold together better.
What you need:
0.75 cup aquafaba
1 tablespoon vanilla extract
1.5 teaspoon cream of tartar
1 cup of sugar powder
1 cup white flour (or gluten-free flour mix)
1 tablespoon garbanzo bean flour (2 tbsp if made with gluten-free flour)
1 cup of sliced strawberries for topping the cake
3 cups vegan whipped cream (for topping the cake)
Is it Possible to Cook this Vegan Angel Food Cake Gluten-Free?
This cake has a more authentic taste if cooked with gluten flour, but if want it to make it gluten-free, there are flour blend opportunities that don't contain gluten at all and contains a high amount of protein at the same time to bake up like wheat.
If you want to make the cake gluten-free, double the amount of garbanzo bean flour.
How to Make a Vegan Angel Food Cake?
Cook Time – 1 hour
Prep Time – 15 mutes
Total Time – 1 hour 15 minutes
Cuisine – Vegan, American
Course – Dessert
Calories – 87 kcal
Servings – 12
Step-by-step instruction:
Preheat your oven to 330° F.
Place 0.75 cup of aquafaba in a mixing bowl with 1.5 teaspoon of cream of tartar and beat it for 6 mins on high until it becomes a fluffy meringue.
Add 1 tbsp of vanilla extract and beat for one more min until it becomes white again.
Add the sugar powder slowly while beating the meringue on high for 2 mins more.
After beating the aquafaba for at least 8 mins put a tbsp of garbanzo bean flour and continue beating for 1 minute more.
Turn off your food processor or mixer and add the flour 0.25 cup at a time until it all well incorporated, but don't over mix the mixture because after the flour added the meringue starts to deflate.
Pour the batter into an Angel Food Cake pan.
Bake for 1 hour at 330° F. (the edges must be slightly golden when it is done).
Wait till the pan becomes cool. (Don't flip upside down like a traditional Angel Food Cake) and cut it out with a large knife.
Top it with vegan whipped cream before serving and fresh strawberries or other berries to your taste.
Tips for Cooking a Perfect Vegan Angel Food Cake
Follow exactly the recipe! Take the exact amount of ingredients and set a timer to beat the meringue long enough.
Don't taste the batter after adding the garbanzo bean flour. It has a terrible taste before it is cooked!
Using an Angel Food Cake pan is necessary for you to be able to remove the cake without falling apart.
This cake is about 3 inches high. If you wanna a larger cake, just make a double batch and bake it in 2 separate cake pans and put them on top of each other.
The cake is sliced easier with a serrated knife for bread.
Nutritional Value
Amount Per 1 Slice and Daily Value (based on 2000 cal. diet):
Calories – 87
Potassium – 96mg (3%)
Sodium – 2mg (0%)
Total Carbohydrates – 19g (6%)
Protein – 1g (2%)
Sugars – 10g (11%)
Vitamin C – 8.6% (9%)
Iron – 0.6mg (3.1%)
Calcium – 0.3% (0%)
More Recipies of Vegan Angel Food Cake
№1
This analog of a regular angel food cake is made with chickpea liquid instead of eggs and it still has its fluffiness and taste. So forget the old idea of a traditional angel food cake and meet the new healthier version.
Ingredients:
1 cup of sugar
1/2 cup chickpea liquid
1/8 tsp salt
0.5 tsp vanilla extract
1 cup sifted flour
1.5 tsp cream of tartar
0.5 tsp orange extract
Step-by-step instructions:
Preheat oven to 350F.
Beat the chickpea liquid for 4 mins until you get soft peaks.
Blend the sugar in a food processor for 10 seconds.
Put the cream of tartar, extracts, and in the mixture and blend until stiff peaks.
Fold in the flour gently until it becomes well incorporated.
Place the mixture into an un-greased pan.
Bake for 25 minutes or until the wooden tester comes out clean.
Top it with berries, coconut sugar and blended blueberries, or vegan whipped cream as you wish.
№2
This angel food cake is flavorful and fluffy. Moreover, it's 100% vegan and sweetened with 1/3 cup of organic sweetener – stevia! Top it with this seasons fruit, and you get the perfect healthy dessert.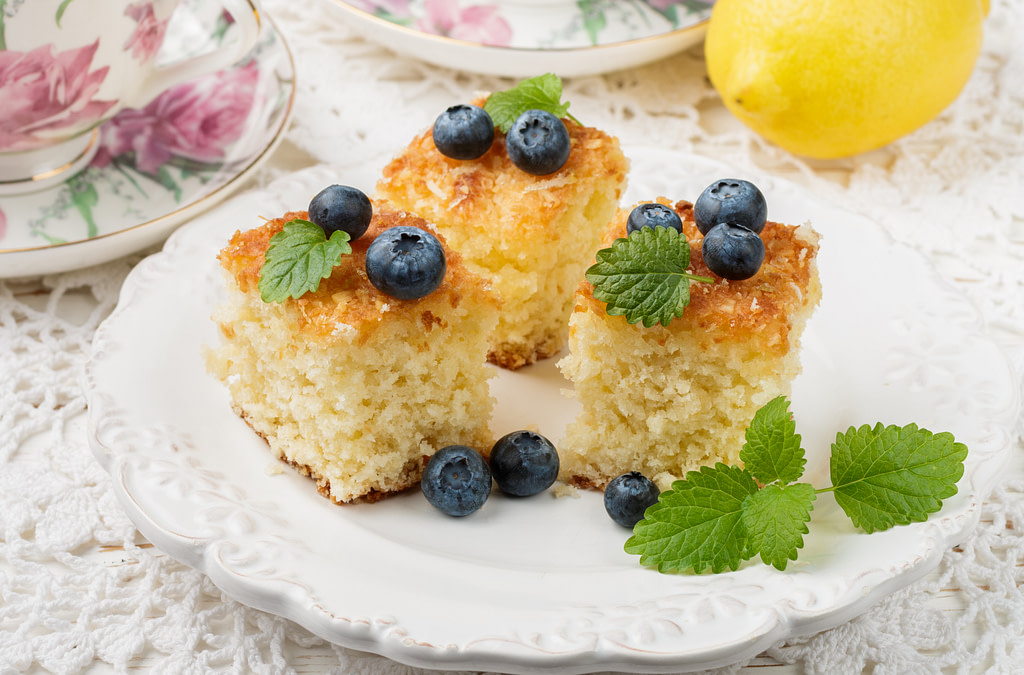 Course – Dessert, Sweet
Cuisine – American
Prep Time – 20 mins
Cook Time – 40 mins
Total Time – 60 mins
Servings – 8
Ingredients:
1/3 cup Organic All-Purpose Stevia
1.5 cups aquafaba (you will need 2 cans chickpeas)
2 tsp cream of tartar
2 tsp vanilla extract
2 tsp potato startch
1 tsp almond extract
1 tsp apple cider vinegar
1 juiced and zested lemon
2.75 cups sifted all purpose flour
1 tsp baking powder
Topping:
10 halved and pitted cherries
6 quartered strawberries or blueberries,
3 sliced and peeled kiwis
0.5 juiced lemon
1 tsp honey
1 diced tsp mint
Step-by-step instructions:
Preheat the oven to 350.
Sift together stevia, cream of tartar, and potato starch in a bowl – use a standing mixer with a whisk attachment or just a big bowl with a hand mixer.
Add aquafaba and sift the mixture one more time.
Beat it on medium-high for 5 mins.
Sift your baking powder and baking flour.
Stop the mixer and add in lemon juice and lemon zest, vanilla and almond extracts, and apple cider vinegar.
Mix for 5 mins more on medium-high
Replace the whisk attachment to the paddle or just a rubber spatula and sift baking powder and flour into the bowl (about 0.5 cup at a time). If you use a paddle attachment do it on the lowest setting. Using a rubber spatula be very gentle and don't over mix it if you don't want the batter to fully collapse.
Grease an angel food cake pan, and pour the batter in. Bake on 350 for 35-40 mins.
Take it out of the oven and wait until cool completely.
Combine the topping ingredients and place in a fridge until ready to serve.
Remove the dessert from the pan with a knife, top with fruit mixture, and serve.
Tips:
It's better to use a standing mixer or a blender food processor because it is tiring to use a hand mixer.
My favorite thing is that it is a fruit combination. I loaded my favorite ones –, kiwis, strawberries and cherries, plus some honey and mint. It soaks into the top and creates a  medley that will blow you away.
Did you try this vegan Angel Food Cake? Leave a comment and let me know what you think about it!
Inspired by:
PIN IT!