Enjoy this delicious Vegan Creamed Corn. It is packed with flavors and is a perfect side dish with any entree.
What Are The Ingredients In The Best Vegan Creamed Corn?
Quite often, the perception is that you can't have creamed corn if you are vegan. Well that is a mistake. You can absolutely have it. You just need to make it with the right ingredients. Ingredients included in this recipe are as follows:
Oil
Garlic Cloves
Coconut Milk
Nutritional Yeast
Himalayan Salt
Black Pepper
Fresh or Frozen Corn Kernels
Some Products Used To Make This Recipe
How Do I Make This Delicious Creamed Corn?
Now that we talked about everything that is in this delicious recipes, let's talk about how to make it. Since this is just a side dish it is pretty simple. You could always make in into an entree by adding something else to it. Such as, tofu, black beans, or a vegetable protein. If you don't add that, then I really wouldn't consider this anything more than a side.
Step 1: Begin by heating the oil in a skillet over medium heat. Add the corn and toast for 3-5 minutes until color develops. Add the garlic and saute for 1 minute.
Step 2: Slowly add the coconut milk, salt and pepper and nutritional yeast. Stir well to combine then reduce and bring to a simmer. Allow the corn to cook for about 5-8 minutes on low heat until thickened to your desired consistency.
Now your dish is ready to be served. As I stated above this is a very simple side dish to make with any meal you would like. Comment below if you made this recipe and if you liked it. If you added anything additional.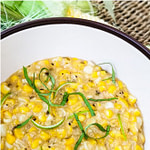 Print Recipe
Vegan Creamed Corn
Vegan Creamed Corn Recipe
Ingredients
1

Tbsp

Avocado Oil

2

Garlic Cloves

1 3/4

Cup

Coconut Milk

2

Tbsp

Nutritional Yeast

1/2

Tsp

Pink Himalayan Salt

1/2

Tsp

Black Pepper

3

Cups

Fresh or Frozen Corn
Instructions
Begin by heating the oil in a skillet over medium heat

Add the corn and toast for 3-5 minutes until color develops

Add the garlic and saute for 1 minute.

Slowly add the coconut milk, salt and pepper and nutritional yeast. Stir well to combine then reduce and bring to a simmer

Allow the corn to cook for about 5-8 minutes on low heat until thickened to your desired consistency
Some suggested meals I would add this dish to would be:
https://ecolifemaster.com/vegan-stuffed-sw…toes-recipe-2020/