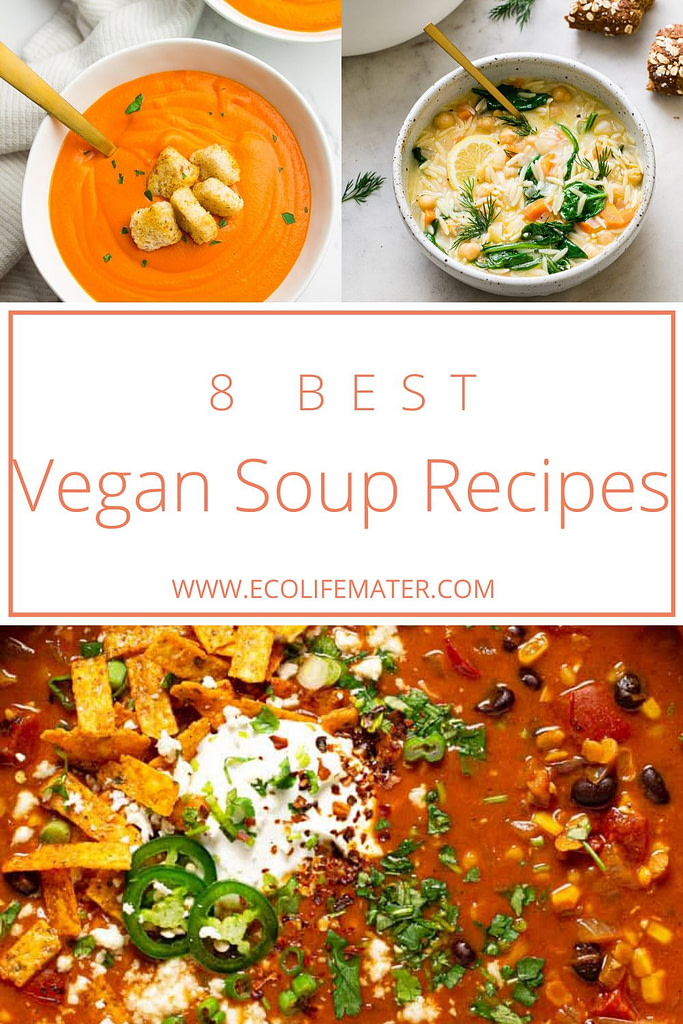 The 8 Best Vegan Soup Recipes on Pinterest. These recipes are all Vegan, Mouth-Watering, and Easy to Make
Are Most Soup Recipes Vegan?
They are not. Most Soup recipes have either milk, cheese, or some kind of meat in them. For example Chicken Noodle Soup has Chicken and some kind of dairy in it. It is very easy to substitute this out and make them Vegan. You can see below the Vegan alternative to Chicken Noodle Soup (in my opinion the vegan option is much tastier).
A couple easy ways to substitute are as follows. Substitute almond, flax seed, oat, or any other non dairy milk for milk in soups. To replace cheese you can use a vegan cheese or just simply go without cheese. I know vegan cheese has a strong taste and not everyone likes it. When replacing your meat, you can use chickpeas, lentils, beans, or any other vegetable protein substitute.
Some Ingredients Used in These Recipes
Try this delicious Vegan Wild Rice Mushroom Soup. It is a great dish for a cool fall day. Ingredients needed for this delicious vegan soup are cashews, onion, garlic, celery, carrots, mushrooms, potatoes, rice, bay leaves, kale, and other seasonings and spices.
You must try this delicious Vegan Lentil Tortilla Soup. It not only taste good, but you can make it in under 25 minutes as well. This Vegan Soup recipe includes ingredients such as onion, garlic cloves, adobo chilies, black beans, corn, tomatoes, red lentils, lime, and other seasonings and spices.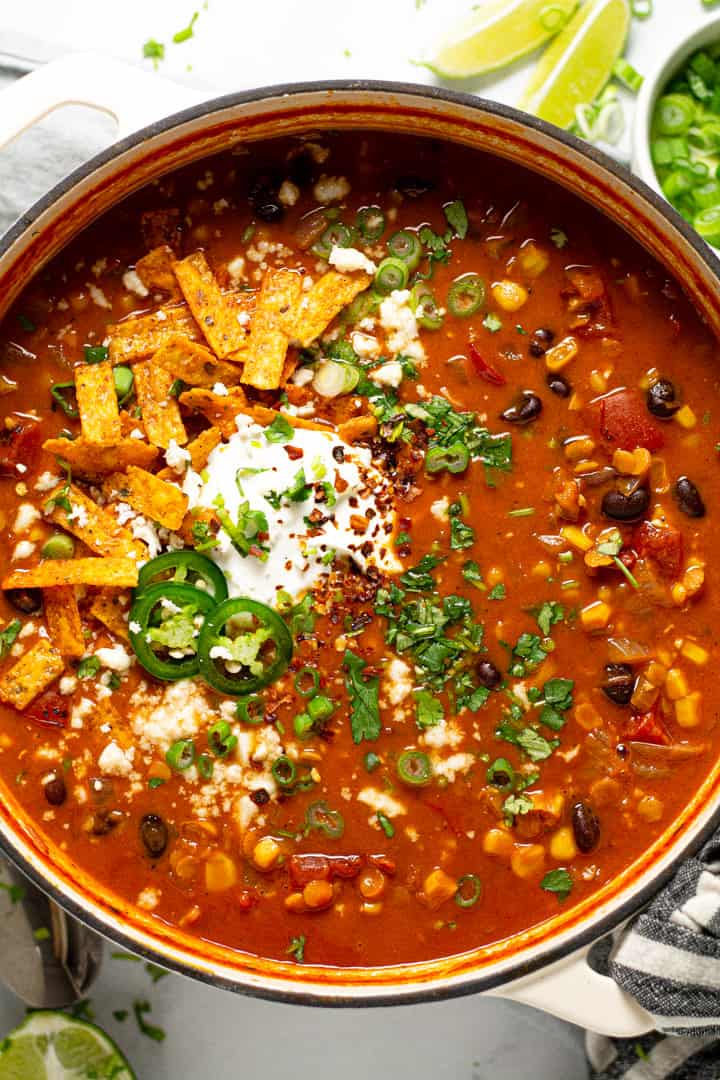 Miso Soup is a must have when creating a list of the best soups. This delicious Vegan Roasted Garlic Miso Soup is a must try. The author claims that this Garlic Miso Soup recipe will be the new "chicken soup" in terms of healing and building the immune system. Ingredients included in this immune system booster recipe are garlic, white miso, kale, lemon, green onions, and other seasonings and spices.
This is an absolute must to add to the list. This is every person's childhood in one picture. There was nothing better growing up than tomato soup and a grilled cheese. Now we just have to use vegan cheese to substitute and you have your childhood favorite recipe in front of you. This Vegan Tomato Soup has ingredients in it such as a sweet onion, canned tomatoes, cashews, sugar, and other seasonings and spices.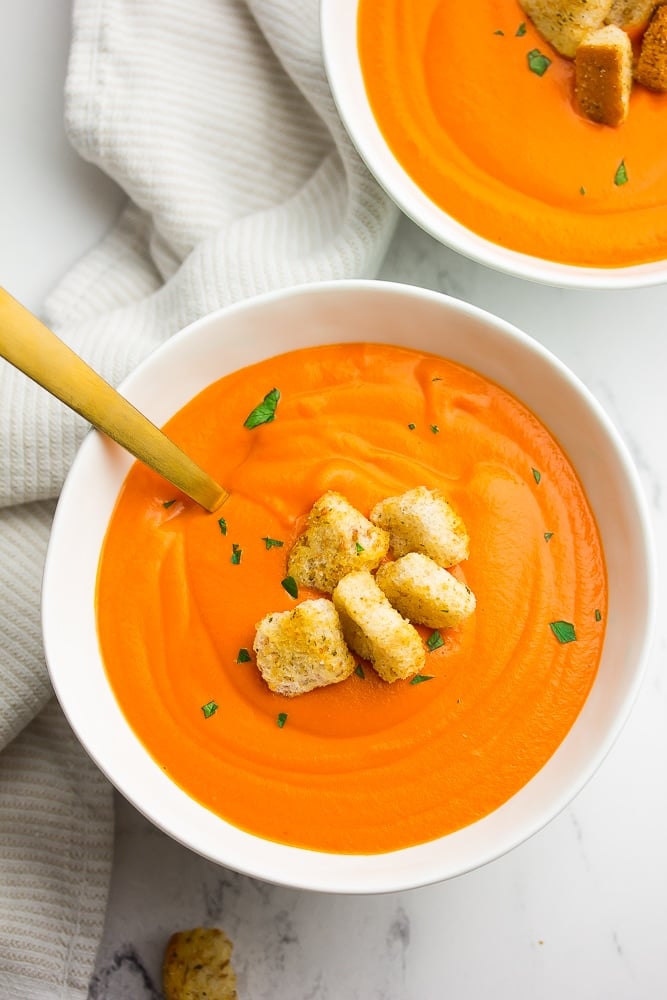 If you have ever had Olive Garden's Zuppa Toscana, well you have found the right place to make it Vegan. This soup is so good and this Vegan Zuppa Toscana is even better. It is great for any occasion and everybody will love it. Ingredients included in this recipe are vegan Italian sausage, vegan butter, flour, onion, fennel seeds, garlic cloves, almond milk, russet potatoes, kale, and other seasonings and spices.
I already discussed a Vegan Tortilla Soup Recipe, but who have thought we could make a Vegan Lasagna Soup Recipe? Definitely not me. This is actually one of my go to recipes that I make when I can't think of anything else. It is super easy and tastes just like lasagna. Ingredients included in this recipe are diced tomatoes, crushed tomatoes, portabella-mushrooms, vegan mozzarella cheese, basil, garlic cloves, lentil lasagne, and many other seasonings and spices.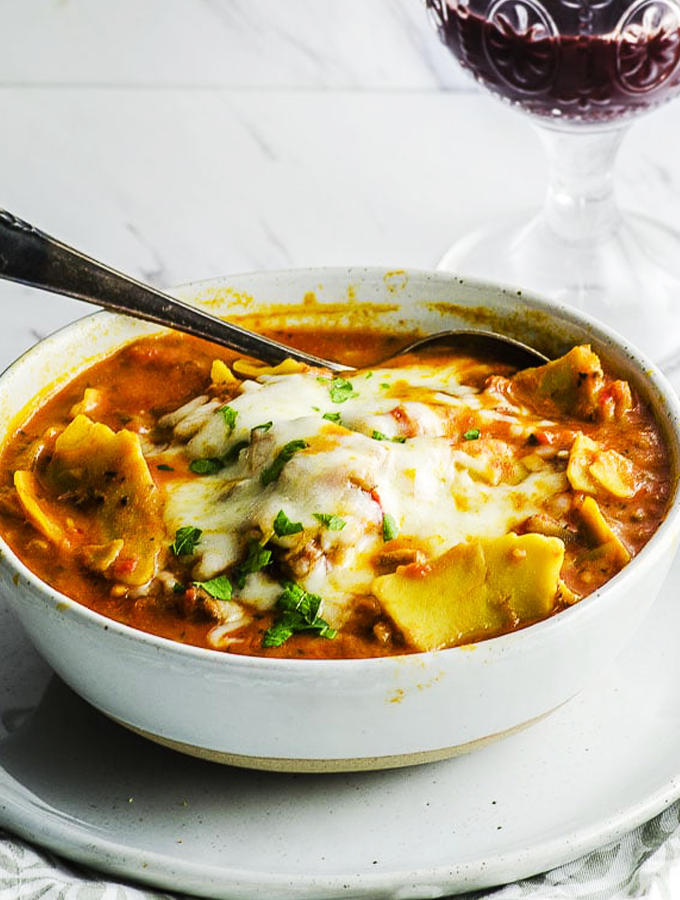 This used to be the number one thing I ordered when going to Panera. That is not possible anymore as their Broccoli Cheddar Soup is not Vegan. That is why I decided to find a recipe to make at home and it is even better. This Vegan Broccoli Cheese Soup is delicious and so easy to make. Ingredients included in this recipe are onions, garlic cloves, broccoli florets, almond milk, flour, and other seasonings and spices.
You didn't think I was going to do a list of Vegan Recipes and not include some kind of recipes with chickpeas did you? Of course not. You know I am a huge advocate for chickpeas and I found the perfect chickpea soup recipe. Mixing lemon and chickpea can only be delicious in my opinion as it is two of my favorite things to cook with. Ingredients included in this Vegan Lemon Chickpea Orzo Soup are onion, carrots, garlic, orzo, chickpeas, tahini, lemon juice, kale, fresh dill, and other seasonings and spices.
These are my top Vegan Soup Recipes I have previously made. If you make these please comment below and let me know how you liked them. Also let me know if you made any changes and how you liked them. If you want to try something that isn't soup, check out these recipes below.
The 5 Best Vegan Crock Pot Recipes: https://ecolifemaster.com/the-5-best-vegan-crock-pot-recipes/
The 7 Best Instant Pot Recipes: https://ecolifemaster.com/7-best-vegan-ins…-recipes-of-2020/