Enjoy my 6 Best Vegan Churro Recipes. These are constructed of different dipping sauces and different ways to construct churros. 
What is a Churro?
A churro is a fried dough pastry that is typically served for dessert. A churro has always been one of my favorite desserts. It is also one of my favorite things to get at a fair or a food truck that may be outside a park. Churros can be made in many different ways. At the end of the day they typically consist of the same ingredients.
Are Churros Vegan?
Churros are typically vegan. The only reason that they would not be. is if they are made with milk. You can always substitute dairy milk for almond or coconut milk. When I make churros that is the substitute I always make. Below you will see my favorite Vegan Churro Recipes.
This recipes is one of my favorite desserts that I make for my family and friends. Most of the vegan churro recipes are similar, but it all comes down to the sauce that you are dipping them in. This recipe has a delicious caramel and chocolate ganache sauce that they use. The ganache is made with sweetened dark chocolate chips, coconut oil, coconut caramel, full fat coconut milk, brown sugar, and vegan butter. These are super easy to make. One takes about 2-3 minutes and the other takes around 10-15 minutes. Ingredients needed to make the churros are water, coconut oil, sugar, salt, flour, and vanilla extract. Ingredients needed to make the coating are sugar, cinnamon, and vegan butter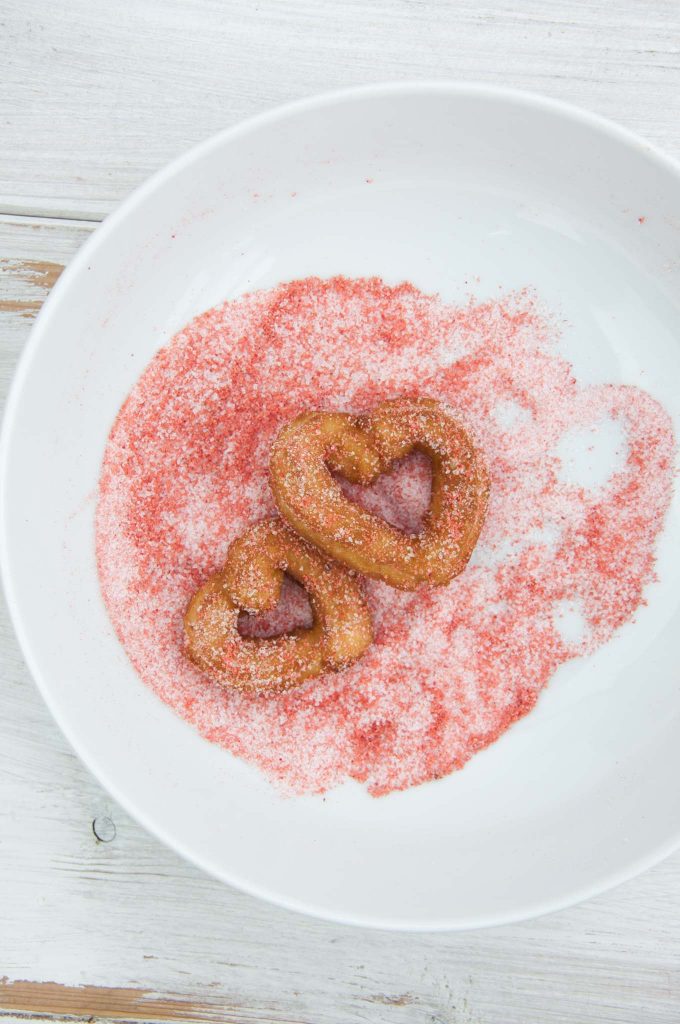 If your mouth didn't water immediately when reading this title, then I am not sure why you are reading this blog. I love anything that has strawberries or strawberry flavored items with it. That is why I found this recipe and couldn't make it fast enough. Let alone, how cute is it that they are in heart shapes? The churros are made with water, white sugar, salt, coconut oil, flour, frying oil. The coating and chocolate sauce consists of white sugar, strawberry powder, chocolate chips, coconut oil.
Some Ingredients Used in These Recipes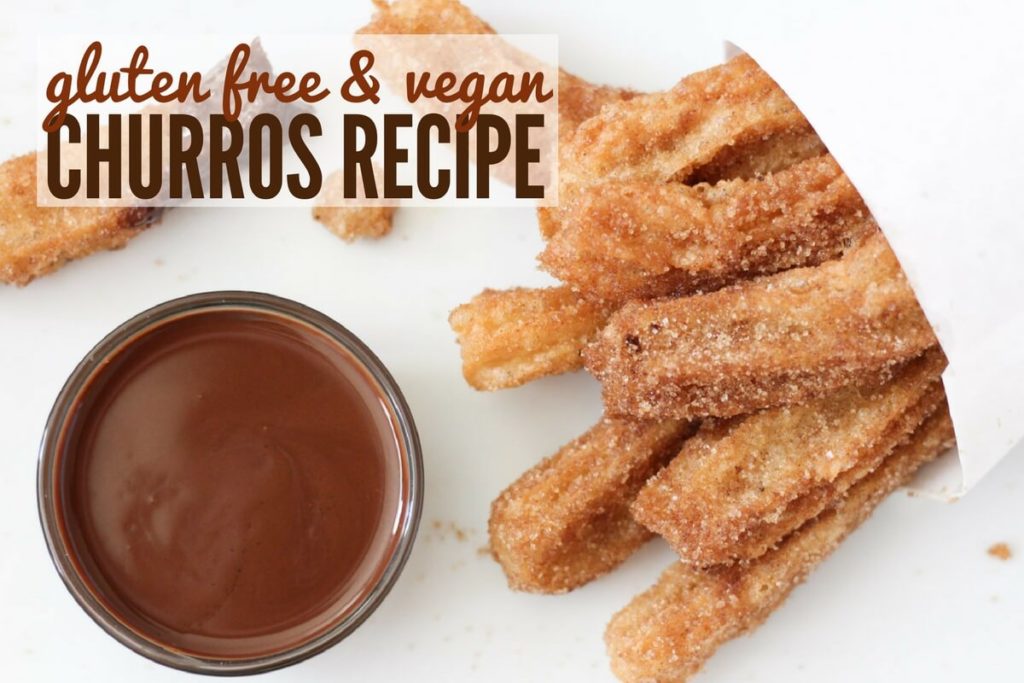 This is your traditional churro recipe, but it is a vegan churro recipe. This is my favorite dipping sauce out of them all. There is nothing better than the traditional chocolate dipping sauce for your desserts. These are also gluten free if you have someone at the party or family function who is gluten free. Ingredients included in this recipe are water, vegan butter, brown sugar, vanilla, salt, aquafaba(liquid drained from a can of garbanzo beans), gluten free flour mix, sugar, and cinnamon.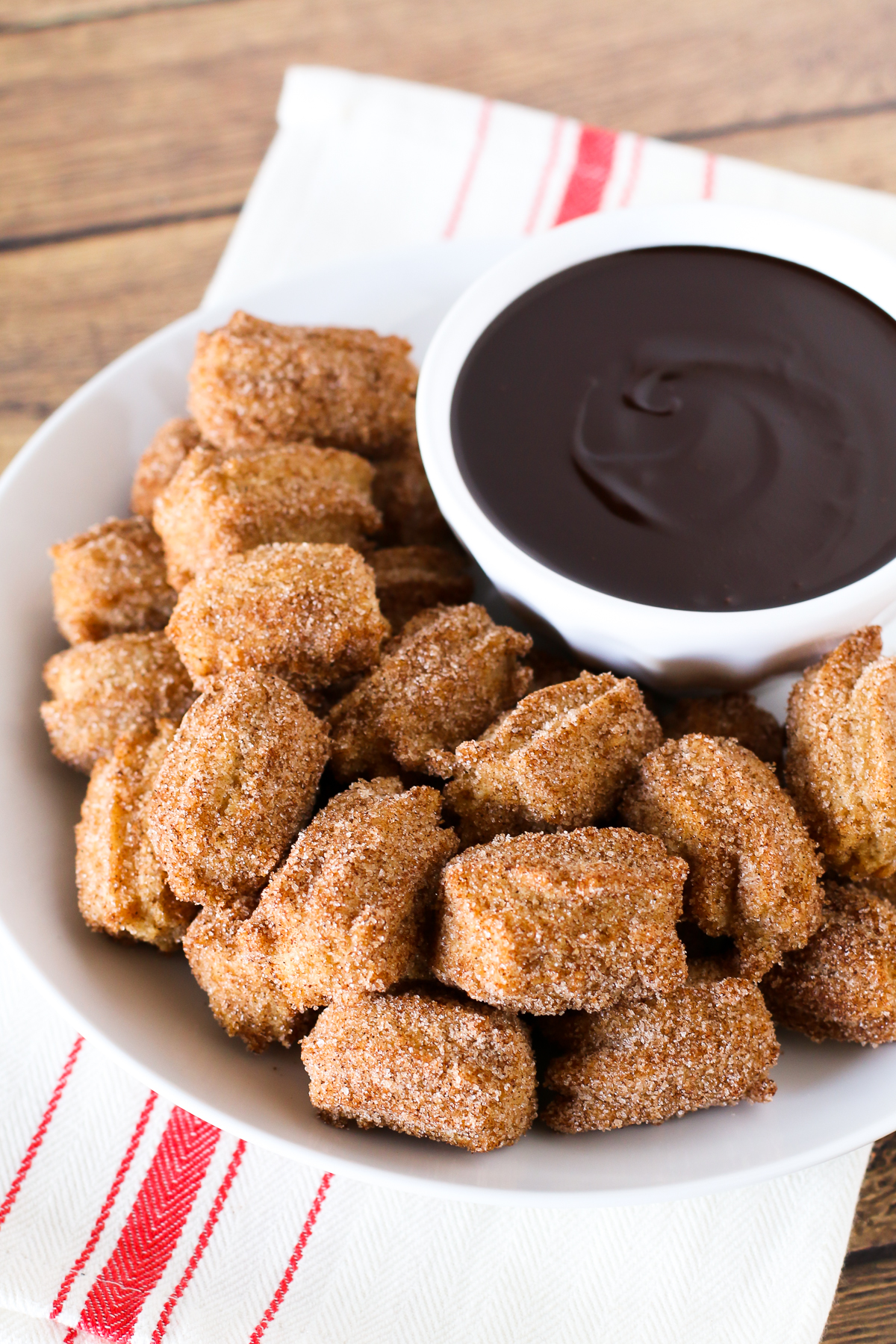 This recipe is similar to the one above, but this is churro bites. I actually am a fan of churro bites more than actual churros themself. I love the smaller versions of snacks. It might be because it looks better if I eat more, or because I get more dipping sauce on each one. Either way I highly enjoy bite size snacks. Ingredients included in this recipe are gluten free flour, cane sugar, baking powder, salt, almond/coconut milk, palm shortening, oil, cinnamon, and mini chocolate chips.
Yes, you read that correctly. Air Fryer donut/churro holes called Chonut Holes! What a fantastic idea. Anything that I can make in the air fryer, I always do. I never even thought of making churros in the air fryer. Let alone did I think of making churro style donut holes in the air fryer. This is such a good idea and they taste so good. Ingredients included in this recipe are flour, sugar, baking powder, cinnamon, salt, aquafaba (water used from a can of chickpeas), coconut milk, coconut oil, cinnamon, and sugar.
I know what you're thinking. This isn't exactly a dessert recipe. In my eyes it is though. Look at how delicious these vegan churro waffles look. You can quite literally make these for dessert, breakfast, or just a snack. They would be good in any scenario. There was just no possible way I could construct a list of best vegan churro recipes and not include these. I make this recipe more than I probably should. Ingredients included in this are flour, water, vegan butter, applesauce, sugar, cinnamon, chocolate chips, and non dairy milk (I prefer almond).
Conclusion
That wraps up my list of the best Vegan Churro Recipes. I have tried all of these and they all are delicious. I love trying different dipping sauces as well as making them in different ways. Such as the churro bites or the churro waffles. If you made any of these recipes please comment below and let me know your opinion. I know some people sometimes put their own personal touch on recipes. I would love to hear how you liked it or if you made a slight change to any of them.