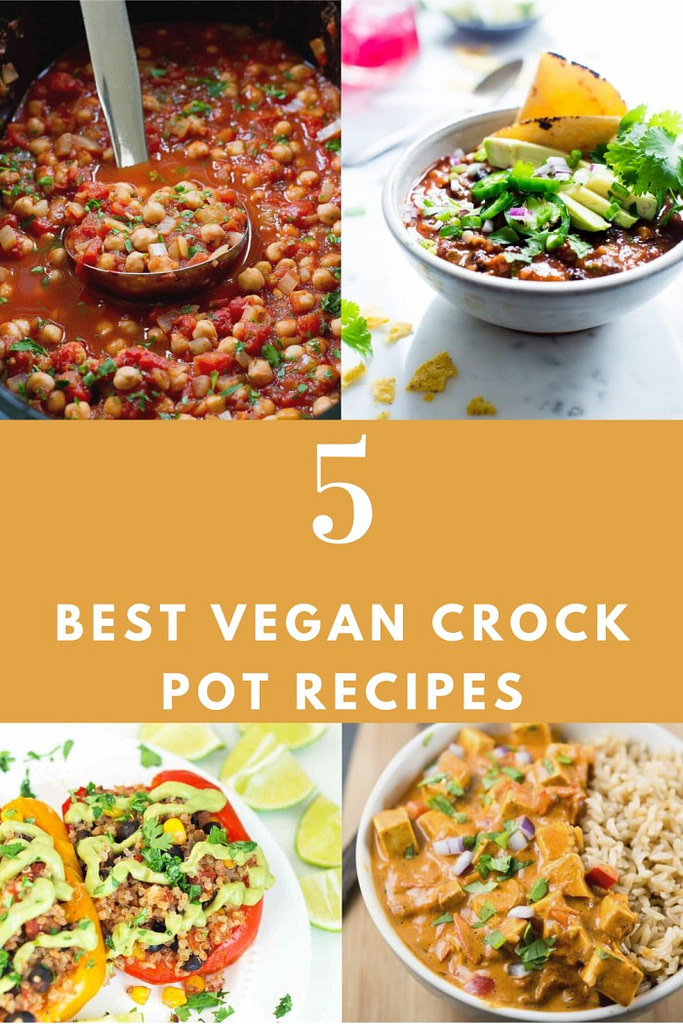 The 5 Best Vegan Crock Pot Recipes on the internet. Make them for dinner, lunch, or meal prepping. 
Enjoy my favorite Vegan Crock Pot Recipes. The perception behind Crock Pot's is pot roasts and queso dip. Nobody thinks that you can make delicious vegan recipes in one. This is why I crafted my 5 Best Vegan Crock Pot Recipes. This is to show you that it is possible, and that being vegan is actually just as easy as not being vegan. Some of these recipes you can toss in before you go to work and they will be ready when you get home. Some won't take that long and you can enjoy making for a dinner.
The Top 5 Best Vegan Crock Pot Recipes
Enjoy these delicious Vegan Stuffed Peppers in the slow cooker. I have been making stuffed peppers for years now and I never even though of trying them in the Crock Pot. I tried this and it was one of the best decisions I have made. The peppers are cooked perfectly. I have made them before and over and under cooked the peppers, but these are just right. Included in this recipe is quinoa, salsa, corn, black beans, bell peppers, avocados, cilantro, lime wedges, and many seasonings and spices.
When I think of dishes in the crock pot I immediately think of some sort of soup. There is nothing better than a nice cup of soup on a brisk fall day. I had never even thought of making a soup with sweet potatoes. I am an advocate for lentils as they are high in protein so adding this with sweet potatoes (which is one of my favorite ingredients) was a must try. Ingredients included in this recipe are tomatoes, lentils, carrots, celery, spinach, onion, sweet potato, vegetable stock, and other seasonings and spices.
I mean look at how delicious that dish looks. The sauce mixed with the Tofu is so delicious. This is one of my favorite dishes when I am doing a meal prep as well. Anything paired with rice for a meal prep is great as it reheats very well. Pair it with this tofu and this delicious masala you will not regret it. Ingredients included in this dish are garam masala, tofu, coconut oil, onion, garlic cloves, ginger, bell pepper, tomato paste, cherry tomatoes, coconut milk, white wine vinegar, lemons (for lemon juice), cilantro, and many more seasonings and spices.
Did you think I would construct a list of best recipes and not include a recipe consisting of chickpeas? You are absolutely right that I included a recipe with chickpeas. Chickpeas is one of my favorite things to use in any dish. This is a great dish that you can make by itself or serve it over pasta or spaghetti squash (which is what I do). This recipe includes onion, garlic cloves, crushed tomatoes, diced tomatoes, chickpeas, and many other seasonings and spices.
Which Crock Pot is the best for making the Best Vegan Crock Pot Recipes?
When it comes to Crock Pots (slow cookers) I was very particular when I was finding which one I liked best. I bought over five Crock Pots to determine which one I liked best and I finally found one. My favorite Crock Pot is the Crock Pot 10-QT express crock multi – cooker. You can find it listed here. If this one is out of your price range then the Crock – Pot 8 quart manual slow cooker is the best bang for your buck. You can find that one here.
Can The Best Vegan Crock Pot Recipes Be Used For Meal Prepping?
Absolutely! As I mentioned above utilizing your Crock Pot for meal prepping is one of the best things you can do. You can put it in while you go to work, running errands, or just don't want to spend time in the kitchen. Most of the recipes is just putting the ingredients together and letting the Crock Pot do the rest. It is also much larger than any pots or pans you have around the house, so is perfect for meal prepping. You can make 4-5 days worth of lunches or dinners in just an hour or so. That is what I love most about it.
What If These Crock Pot Recipes Aren't For Me?
No need to worry if you don't have a Crock Pot and don't want to buy one. I also gave my 7 Best Vegan Instant Pot Recipes.
If you are just looking for some home cooking then check out this Zucchini Noodles with Avocado Sauce Recipe.
Please comment below if you have made any of these recipes and I would love to hear your feedback. Also I know some people like making small changes to recipes and I would love to hear how you used these recipes, but put some of your own touch on it.