Broccoli Raisin Salad (Gluten-free)
(Ready in about 15 minutes | Servings 4)
Ingredients
6 cups broccoli, chop them into bite-size pieces
1 cup raw sunflower seeds
0.5 cup thinly chopped red onion
0.5 cup raisins
For Cashew Dressing
1 cup raw cashews, soaked minimum 1- 2 hours
0.3 cup water
1.5 tbsp apple cider vinegar
1 tbsp lemon juice
1 tbsp maple syrup
1 tbsp chopped shallot
1 chopped clove garlic
0.5 tsp sea salt
0.5 tsp dijon mustard
Preparation Method
Combine together broccoli, raisins, red onion, raisins, and sunflower seeds.
Make salad dressing by mixing all ingredients in a high-capacity food processor or mixer until absolutely smooth.
Top with salad dressing and mix until it covers all ingredients.
Serve instantly or allow freeze slightly before serving.
Curried Cabbage Salad
(Ready in about 10 minutes | Servings 4)
Ingredients
1 head green chopped cabbage
1/3 cup shredded flaked coconut
2 tbsp lemon juice
1/4 cup cold-pressed olive oil
3 tbsp sesame seeds
1/3 tsp turmeric
1/2 tsp curry
1/2 tsp cumin
Preparation Method
Toss together all ingredients in a large bowl and make sure cabbage is equally encrusted.
Chill for at least an hour if possible and before serving toss thoroughly again. This will let all the flavors to mix and combine.
Waldorf Salad with Cabbage and Apples
(Ready in about 10 minutes | Servings 1 to 2)
Ingredients
1 cup shredded cabbage
1 grated carrot grated
1 rib diced celery
1/2 diced small apple
1/3-1/2 cup raw goddess dressing
4 chopped small dates
1/4 cup raw cashews (not mandatory)
Preparation Method
In a medium sized bowl, toss together shredded cabbage, carrot, celery, apple and raw goddess dressing.
To let flavors to blend and soften up the carrots and cabbage for an improved texture, chill in the freezer for at least one hour before serving.
Before serving toss to blend well, and include dates and non-compulsory cashews just before serving.
Raw Vegan Pad Thai Salad
(Ready in about 15 minutes | Servings 1 to 2)
Ingredients
2 zucchinis
2 big handfuls of bean sprouts, around 2 cups
1 red or yellow bell pepper, sliced into strips
4 diced green onions
1/2 cup fresh chopped cilantro
Juice from one lime
1 tablespoon raw, cold-pressed olive oil
1/4 tsp sea salt
3/4 cup chopped or crushed raw nuts such as almonds, peanuts or cashews
Preparation Method
Using a vegetable peeler, peel each whole zucchini into slender strips by using a vegetable peeler or a large grater.
In a large bowl, mix the zucchini strips, bean sprouts, bell pepper strips, green onions and cilantro.
Sprinkle with fresh lime juice and raw, cold-pressed olive oil.
Add sea salt and tenderly toss everything together to mix well.
Adjust taste. You may wish a little more lime juice, olive oil or salt.
Top with chopped or crushed nuts such as almonds, peanuts or cashews.
Raw Veggie Chop Salad with Raw Ranch Dressing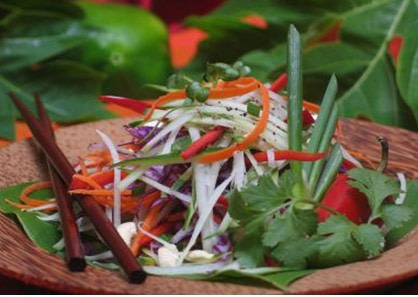 (Ready in about 25 minutes | Servings 4 to 6)
Ingredients
1 red bell pepper
1 yellow bell pepper
1 big carrot
1 small zucchini
1 small jicama or substitute apple
1 finely sliced green onion, green part only
Handful sunflower or buckwheat sprouts
2 tablespoons crushed fresh cilantro
Raw Ranch Dressing
1 cup water
1/2 cup macadamia nuts
1 tablespoon freshly squeezed lemon juice
1 tablespoon raw apple cider vinegar
1/2 teaspoon minced garlic
1/4 teaspoon freshly ground black pepper
Pinch of cayenne, not mandatory
Pinch of sea salt to taste
Preparation Method
Cut the bell peppers, carrot, zucchini, and jicama into slender julienned strips and put them in a bowl with the green onion, sprouts and cilantro.
Mix all of the Raw Ranch Dressing ingredients together until smooth and soft.
Let dressing to sit in the refrigerator for 20 minutes before serving with the intention of solidify it up a little bit.
Before serving, toss the veggies in the salad.
Bonus Video – High-Protein Vegan Raw Salad