People use onion for about 5000 years, both as a diet staple and as a natural remedy for a wide range of diseases. This flavorful vegetable has been cultivated all around the globe so it doesn't have the exact location of the original.
Male pattern baldness is a common issue for many men at the age of 50 and older or younger or ones who suffer from stress, hereditary, or just poor hair care habits. But the reason doesn't matter, anyone wants an effective cure for it. Nature with its unbeatable benefits offers simple and efficient alternatives to expensive medical treatments.
There are many natural cures for male pattern baldness and one of them is onion juice.
Forton vacuum blender will help extract juice from onions faster and easier.
Hair Fall Control with Onion Juice
Onion is a rich source of sulfur. Methylsulfonylmethane is an organic compound that is broken down by the body to use the sulfur for hair, bone, and nail growth. So it helps to promote hair growth and control hair loss simultaneously. If you don't like to eat it, just apply it to your scalp directly.
It improves blood circulation. As a result, it increases the number of hair follicles and reduces inflammation. Its anti-inflammatory properties create good conditions for hair growth.
Onion has an antibacterial effect. It promotes controlling the natural buildup of chemicals, oils on your head and fight infections.
Contains a great number of antioxidants (flavonoids). The versatile compounds called flavonoids neutralize free radicals, which are responsible for aging and hair fall and thinning. They destroy follicles and make hair regrowth more difficult to occur.
Onion juice is a perfect way to deal with hair loss and thinning of course if you don't have an allergic reaction to it. That's why it is necessary to consult a doctor before trying this method, as every person has its own specifies and the result may be unpredictable.
The Best Method and Application of the Juice
Cut 1 onion and get its juice with a juicer (cut it into pieces, peel and feed them, one by one, into the juicer or a garlic press).
Pour it into your hands, massage between palms and apply it directly onto your scalp in a slow, circular motion (avoid getting it into your eyes)
Wait for 15 minutes or leave it overnight
To get a better effect, use a mild shampoo and rinse your hair.
Wait till your hair dry.
Do this process for 2 times a week.
Add It To Shampoo
The direct use of onion juice to the scalp is the best way of treatment for hair loss, but some don't want to feel its smell on their hands and hair. So adding onion juice to shampoo is the simplest solution to this problem. You can also make a chemical-free shampoo alternative.
Shampoo for Hair Growth Recipe:
Nettle – 3 bunches
Rosemary Essential Oil – 10 drops
Coconut Oil – 1 teaspoon
Powdered Tumeric – 1 teaspoon
Baking soda – 1 teaspoon
Apple cider vinegar – 1 cup
Method:
Wait till water boils put nettle and allow to steep.
Add other ingredients, 1 teaspoon of onion juice and mix.
Use it as a usual shampoo but wait for 2-5 minutes before rinsing thoroughly.
Onion and Honey Juice Hair Mask
Onion juice – 2 tablespoons
Honey –  1 tablespoon
Combine 2 tablespoons of onion juice with 1 tablespoon of honey and mix. Apply the mask all over your scalp in a thin layer and wait for about 5-15 minutes or cover hair with a shower cap and leave it for all night. Then rinse it thoroughly and wash it as usual. Repeat the process in a week.
Scientific studies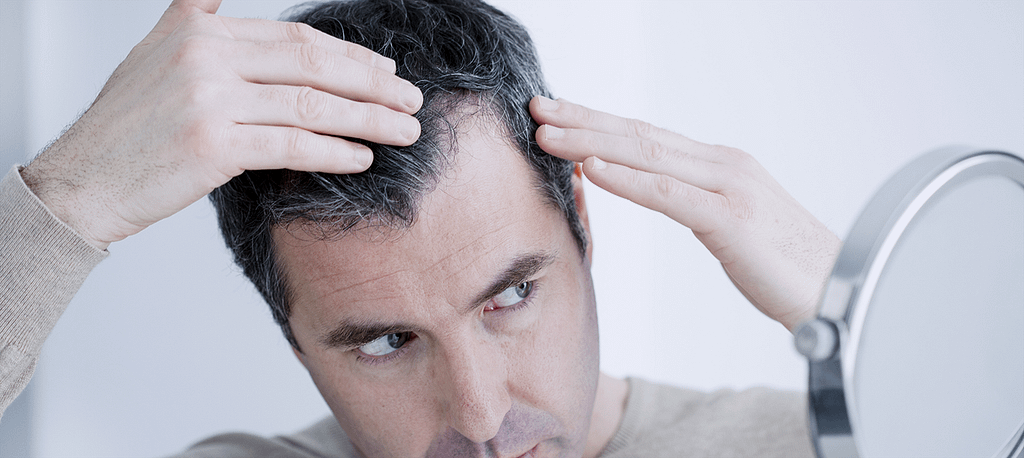 The last scientific research was performed in 2002 and published in the Journal of Dermatology. It has proved the effective influence of onion juice for the male baldness treatment. This research focused on men with alopecia areata.
38 patients were split into 2 groups:
First group – 23 participants (16 men and 7 women) applied onion juice to their scalp 2 times a day for 2 months
Second group – 15 participants (8 men and 7 women) applied tap water 2 times a day for 2 months
At the end of the 56-day research, only 2 participants from the second group showed signs of hair regrowth. The second group had 20 people with hair regrowth by the sixth week. (86.9%)
Alopecia areata differs from male-pattern baldness (androgenetic alopecia) is caused by the immune system attack healthy hair follicles and stops hair growth. Anyway, onion juice reduces the amount of DHT on the scalp and inflammation, and stops miniaturization of the hair follicles.
That's why onion juice is effective at curing hair fall, male-pattern baldness and other types of alopecia.
Side Effects of Onion Juice Application
Onion juice may cause temporary irritation if your skin is too sensitive. Apply it on your wrist before using it on your scalp.
If you're a breastfeeding mother or pregnant, consult a doctor
If you have an allergy to onion, don't apply it on skin
Using onion juice as a cure for baldness treatment is a beneficial and effective addition to your hair care routine. Use it constantly and the effect will not keep you waiting.
PIN IT!