Is jelly vegan? The answer is not completely clear – some jellies are vegan, and some aren't.
There are 2 ingredients that make jelly non-vegan:
Gelatin – it is a thickening agent that consists of collagen derived from animals (cows). It is derived from the unused parts of cows, pigs, and horses from their nails, cartilage, and skin. Most jelly cubes or crystals contain this substance.
Some sweeteners – honey is a non-vegan sweetener. Sugar is also not popular among strict vegans as it is produced using animal bone char.
It depends on what you mean by the word "jelly":
Jell-O – the name of the brand that is famous in many countries.
Jelly candy –  the jelly substance for making candies such as ju-jubes or gummy bears.
Jelly – the substance that is made from fruit juice. It is boiled to make it thicker, and then added sugar and pectin. As a result, we get a smooth and thick topping that you can spread.
Jam – almost identical to jelly, but not as smooth because the fruit wasn't strained, and some chunks left. Most jams are vegan as the method of preservation means the addition of pectin and sugar to the product.
Is Jell-O Jelly Vegan?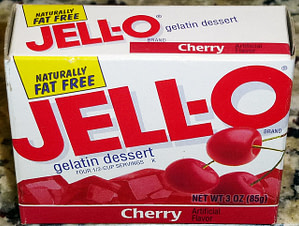 Ingredients:
Gelatin
Sweetener
Water
Coloring
Is jelly vegan?
Not vegan
The main ingredient that spoils everything is gelatin, which makes Jell-O absolutely not vegan.
Jelly Сandy
Typical ju-jubes and gummy bears have gelatin in its content so these candies are not vegan. At the same time, many manufacturers produce vegan jelly candies. You can find them at stores like Amazon, Whole Foods or other specialized vegan stores.
Most aren't vegan
Are Jam and Jelly Vegan?
The ingredients for jellies and jams are almost identical:
Fruit flavor – as a rule, it is a fruit juice mixture.
Pectin – a starch called a heteropolysaccharide, that occurs naturally in the cell walls of fruits and vegetables.
Acid (lemon juice) – added only if fruit juice is not acidic enough
Sugar – it can be corn syrup, cane sugar, honey, or beet sugar.
Gelling agents – added not always, it can be gelatin derived from beef, but also can be other agents like agar-agar.
Jelly does not contain fiber or any other parts of fruits and that is why it is not very nutritional.
Jam is made from crushed pieces of fruit blend and fruit puree. Preserved jam may contain large pieces of fruit, making them more fruit-filled than jellies.
Many are vegan, but some aren't. Read the label before purchasing.
Smuckers Jam Vegan
This is the most well-known jelly and jelly producing brand.
Ingredients:
strawberries
glucose
sugar
glucose-fructose
citric acid
pectin
As you can see, there is no gelatin, which makes the product vegan! Smuckers uses fruit pectin instead of animal-based thickener. If you live in the United States, there is no added sugar. They use high fructose corn syrup instead of it.
The thing is that some strict vegans don't consider sugar vegan, but it's only up to you to decide.
There are many other, jellies and jams that don't add sweetener at all or use beet or cane sugar. They are not so famous and more expensive.
3 Organic Vegan Jelly/Jam Recipes
Strawberry Chia Seed Jam (Vegan + Gluten-free)
The secret of this recipe is in using chia seeds – they have thickening features like gelatin while adding extra fiber, protein, and omega-3 fatty acids. Strawberries also have the natural sweetness and you don't even need to add artificial sweetener to it.
This Strawberry Chia Seed Jam takes not more than 20 minutes of your time, even including time for chopping. The thing is in a blender!
Cuisine – American
Preparation time – 10 minutes
Cooking time – 7 minutes
Total time – 17 minutes
Serves – 2 cups
Nutritional Value for 2 tablespoons:
Calories – 27
Carbohydrates – 5g
Fat – 0g
Sugar – 4g
Fiber – 1g
Sodium – 5mg
Protein – 1g
What you need:
2 cups strawberries, chopped in half
2 Tablespoons Chia Seeds
0.25 cup maple syrup (optional)
Water if needed
Step-by-step Instruction:
Put strawberries, maple syrup, and chia seeds into your blender and blend until the consistency you want is obtained.
Add water one tablespoon at a time as needed to get the mixture moving.
Pour the mixture into a pan and heat over medium until the jam starts to bubble.
Then, reduce it to low heat and simmer for about 5-7 minutes, or until the jam begins to get thicker.
Turn the heat off and pour the jam into a jar.
Let it get cool and place in the fridge.
The jam doesn't contain preservatives, so it's better to consume it within a week after cooking. Use it for topping cookies, toasts, and sandwiches, slather it onto cornbread or just eat it straight out of the jar!
Grape Jelly Vegan Recipe
Here I use agar instead of gelatin. It's a gelling agent derived from algae with the main benefit – it completely has no odor and flavor. Gelatin has an elastic consistency, and agar feels more like a firm brittle gel that will crumble rather than melt away.
To avoid it, I use a very small amount of agar to create a tender gel that wouldn't be too firm to be unmoulded but melts in your mouth. The other feature – it sets at room temperature, so the jelly is ready to consume in about one hour.
What you need:
3/4 teaspoon Agar powder (2g)
150 grams grapes (or any other fruit)
2 cups grape juice (or any other juice or juice mix)
Step-by-step Instruction:
Combine the juice and agar powder into a pan and wait for about 2 minutes.
At the same time, peel the grapes, and divide them between 4 ramekins.
Whisk the juice mixture for the agar dispersed and bring the mixture to boil over high heat for 3 mins.
Divide it between the molds and wait until they get cool and place them in the fridge.
Agar agar powder is up to 3 times as strong as flakes. So if the recipe demands powder and you have only flakes, use up to three times as much.
Fruity Vegan Jello
This is a simple and perfectly textured vegan recipe replicating Jell-O.
Nutritional Value for 1 cup:
Calories – 172
Sodium – 6mg
Sugar – 42.9g
Fat – 0.1g
Carbohydrates – 44.2g
Saturated Fat – 0g
Fiber – 0.7g
Protein – 0.4g
You will need only 4 ingredients.
For Green Jello:
1.5 teaspoon Agar Agar Flakes (or 0.75 Agar Agar Powder)
240ml Water
240ml 100% Green Apple Juice
50g White Sugar (optional)
A few drops Green Food Color (if the color is important for serving)
For Red Jello:
1.5 teaspoon Agar Agar Flakes (or 0.75 Agar Agar Powder)
240ml Water
240ml 100% Red Grape Juice
50g White Sugar (optional)
Step-by-step Instruction:
Combine the agar agar, fruit juice, water, and sugar in a pot on the stove and stir it regularly until it boils.
Wait for 2 minutes.
Add food coloring (for green jello and stir carefully)
Pour out into glasses or jars.
Place in a fridge.
Final Thoughts
Being a vegan doesn't mean that you lose tasty jellies and jams. Vegan food is not tasteless, boring, or unappetizing. Your vegan diet depends on you, make it interesting and tasty.
This sweet children's dessert – jelly – is practically synonymous with gelatin. If you're on a vegan diet, buy jelly from special vegetarian stores. Read the label carefully before purchasing any jelly or jam. If you can't buy pricy organic vegan jams, you can cook it your own using chia seeds, fruit pectin, or agar agar with no added sugar to ensure a fully vegan product.
Let me know what you think about vegan jellies and rate the recipes in the comments, thanks!
Sources:
PIN IT!