What is the Instant Pot?
The Instant Pot is an elaborate cooker that was created by a group of Canadians with the intentions to create a product of easy use, but also to be of value for all families. This cooker was created for safety in mind, as well as to be a more convenient way for families to cook meals.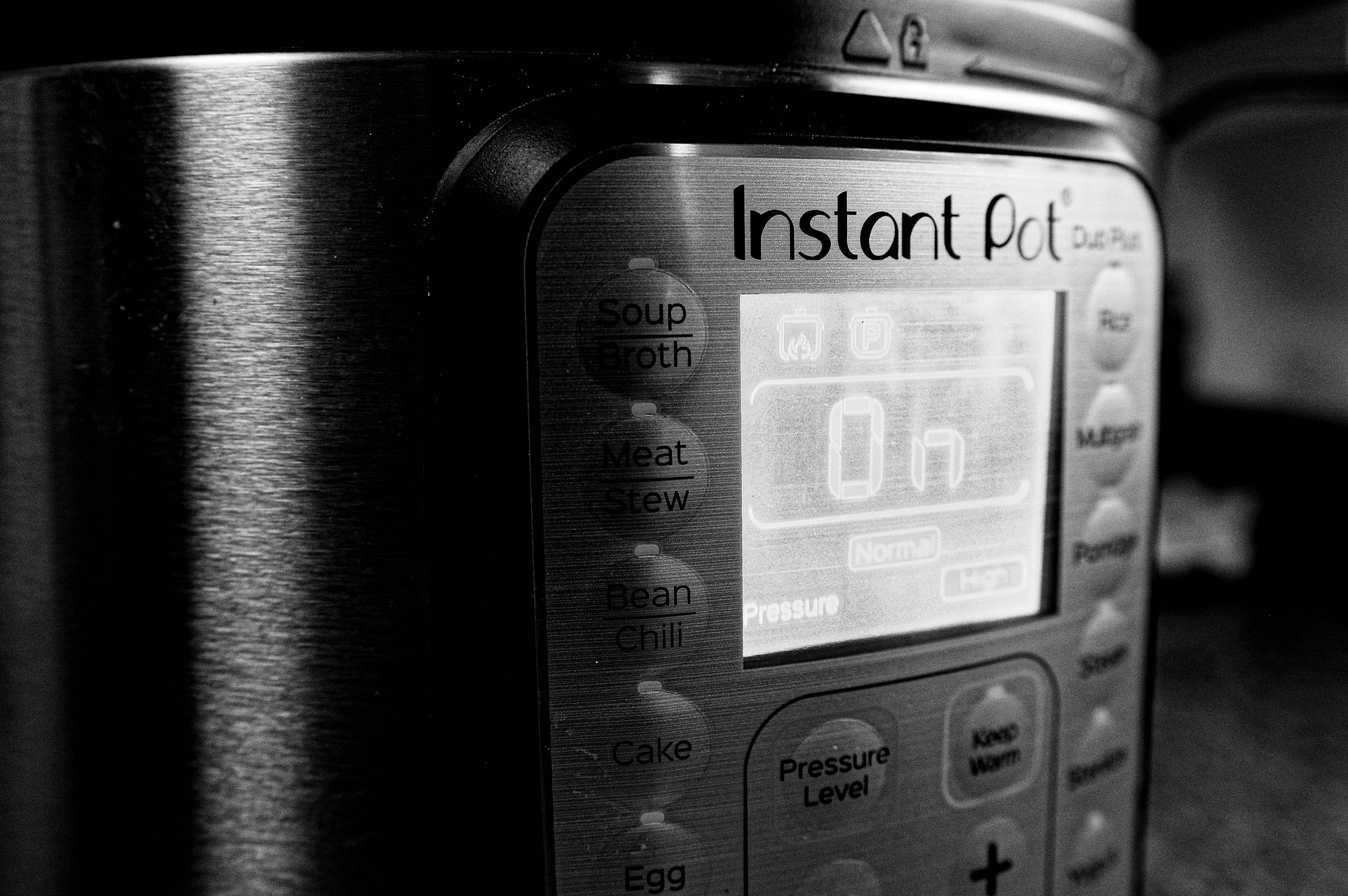 The Instant Pot can and should take over duties from a lot of your basic kitchen cookers.
Such as but not limited to:
Pressure cooker
Rice Cooker
Slow Cooker
Steamer
Even sautéing
Check out my blenders for frozen cocktails review to make a perfect drink to your instant pot meal.
Control Panels of the Instant Pot
Here we will explain to you in some detail about some of the different controls and settings on the Instant Pot. But as always, if you're looking for a more in depth answer that we have not provided, please refer to the user's manual or you can even go online to find your answers.
Manual button. The manual button is kind of like the joker of all trades button for the Instant Pot. Sometimes a recipe will call for a more specific time then just using a preset button. For this you would use the manual button.
Keep Warm/Cancel button. This is your power off button, but at the same time you can use this function to increase or decrease the keep warm temperature.
Sauté button. If you are wanting to sauté something such as your onions, this is the setting you would use. Just hit it and leave the lid off. For browning purposes hit and hold the sauté and press the adjust buttons just one time. If you want to simmer your food, then use the same method but hit adjust twice.
Rice button. The instant pot is so technologically advanced that the rice button is a fully automatic option that you can use. Based on the amount of rice and water, the Instant Pot will adjust the setting to insure the food is properly cooked. This is great if your cooking rice's such as white rice.
Multi-Grain button. This is a great option for cooking your multi-grains. There are several options to adjust for your preference.
Porridge button. This button is a high pressured setting. You can also adjust this to fit your needs for different types of dishes you are cooking.
Steam button. This is a great option if you are wanting to steam your vegetables. You can adjust this setting as well for more or less time. The Instant Pots technology can adjust pressure base on the amount of steam in the pot. NOTE – use the rack for steaming veggies as they will scorch if placed in the bottom of the Instant Pot.
Poultry button. This button is fine tuned to fit your poultry needs. You can just press the button and leave it at that, but if you want to be more specific you can adjust this setting to make it higher and or lower cooking times.
Bean/Chili button. This button is a basic button as in just put your ingredients in the Instant Pot and hit the Bean/Chili button. Of course you can adjust for more or less cook times if need be.
Meat/Stew button. Insert your ingredients and then press this button. The Instant Pot will automatically cook for 35 min, but if more or less is preferred you can adjust cooking times.
Soup button. Mix in your soup ingredients and hit the soup button. A timed cook of 30 mins will take place. Then enjoy your soup. You can adjust the cooking times based for your needs.
The Instant Pot prides itself on the ease of use. Just choose the best option for you based off the ingredients that you are cooking. Then sit back and relax with your family and prepare to feast in a matter of minutes.
Safety of the Instant Pot
The Instant Pot was created with safety as a top priority. With so many features focused towards that mentality, such as pressure technology and the anti-blockage vent.
The Instant Pot is certified by UL/ULC; this alone should be enough to prove the safety of the product.
But if not, here is a list of safety features that are prized by the Instant Pot creators:
Automatic temperature control
High temperature warning
Extreme temperature and power protection
Automatic pressure control
Pressure Regulator Protection
Excess pressure protection
Anti-blockage vent
Lid lock under pressure
Leakey lid protection
Lid close detection
Why Choose the Instant Pot?
The real question is why not choose the Instant Pot? With a minimal investment in this product, the return on investment is astronomical. Not only are you saving money by not buying other cooking products because the Instant Pot is an inclusive cooker, but you are saving time and energy as well.
With the numerous features provided, we have not seen a dish that cannot be prepared by the Instant Pot. So decide what cravings you want to cure, gather the ingredients, choose your recipe, sit back and relax, then enjoy your delicious meal.
Benefits of the Instant Pot
Safety
As previously stated, the Instant Pot is revolutionized in safety. From prevention of pressure explosions to the prevention of overheating and catching fire. There is a real peace of mind when using the Instant Pot for the cooking of you family's meals.
Ease of Use
With literally seconds, you can have a delicious meal cooking for your family. Most of the buttons are self-explanatory, but even if not the directions in the manual are very easy to read and understand.
Easy to Clean
The Instant Pot was created with all angles in mind. Cleaning after cooking dinner has never been easier. You can just open the pot and clean the inside like you would a bowl, and just wipe the outside down with a cloth.
Time
This is probably the most valuable aspect of the Instant Pot. The time to cook and prep is now minimal. Allowing you to spend more time with friends and family.
Health
The Instant Pot could be the first step that you need to take a leap of faith into a healthier lifestyle. Without the need for frying or other unhealthy cooking methods, the Instant pot gives you a means to make healthy but very delicious recipes to enjoy with your friends and family.
Economically Savvy
Not only will be saving space, but the Instant Pot is well known for the reduced amount of energy that is used. The money you will spend on power for the Instant Pot is very minimal.
Technology
We are not riding to work via horseback anymore, so why not use the same mentality for your cooking methods. The Instant Pot has state of the art technology, which even includes Bluetooth capabilities.
Peace of Mind
The Instant Pot not only gives you the peace of mind for its amazing safety aspects but in other aspects as well. It gives you the relief in known you can make good, healthy meals that your family can depend on through out time. That for the cost of investment you know that you will be getting your money's worth.