White flour is made from milled wheat with the germ and the bran eliminated so there is only the starchy center of the grain.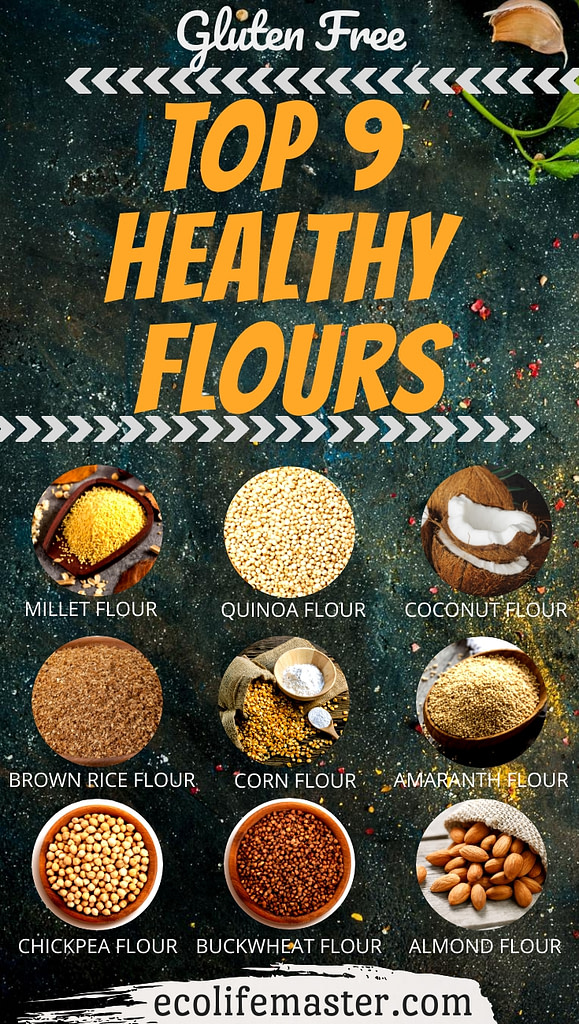 White wheat flour is a very popular ingredient of today's cooking industry. Unfortunately, it isn't good for our health, it has low natural minerals and vitamins content. The energy it gives comes to the end very quickly, but nut effectively. White flour is rich in carbohydrate (76 %), and calories (358 Calories per 100 g).
White refined flour may cause some health problems:
Higher blood pressure, stroke, heart attack, diabetes, obesity, and higher cholesterol
Inflammatory diseases like arthritis
Cancers
Suppression of immune system
Fatty liver disease
Fatigue, anxiety, hypoglycemia, depression, and other health issues
If you are interested in healthy gluten-free recipe ideas, you've probably seen mentions of "alternative" flours. Coconut, almond, and quinoa are just a few kinds of flours health food fans have been using.
The author of Living a Real Life With Real Food Beth Warren ensures that refined flour has no nutritional value benefits and healthier alternatives are a great way to get various nutrients. Moreover, healthy flour substitute is perfect for people with some food allergies or intolerances.
Besides alternative flours are gluten-free, they have many benefits. There are many types of flour that can replace refined wheat flour. Here are the most popular.
Almond Flour
As you can guess, it is made of almonds that are ground to floury texture. It contains more healthy fats, protein, and vitamin E than refined white flour. It also supplies your body with a greater amount of fiber. (this sort of almond flour contains 6 gr of protein and 3 g  of fiber per 0.25 cup.)
Almond flour can be used to cook veggie burgers and falafel and instead of breadcrumbs or as an alternative to white flour in dense baked meals like brownies. Some people are against using almond flour its price is high and too many omega-6s in it can be harmful. But if you use it moderately, your health will be fine.
Coconut Flour
Coconut flour is made of coconut pulp that is dried out and ground up. It also has higher fiber and protein content.  Carbs in it are better digestible than in white flour. This lowers glycemic index – carbs convert into sugar slowly and don't cause blood sugar spikes.
While coconut flour contains 5 g of fiber per 2 tbsp, but it's high in saturated fat. Don't forget about it if you use it with recipes including products which are high in fats (oil, nuts, etc). Coconut flour is not a great choice if you want light texture, as it is dense and absorbs a lot of liquid.
If you use coconut flour for your food, you will need more moisture but less sweetener as it has a natural sweetness.
Mix it with other flours or add into other products. Put a tbsp of coconut flour in Greek yogurt, and add vanilla extract, and cinnamon to your taste for a tasty and healthy alternative breakfast.
Quinoa Flour
You can both buy quinoa flour and make it easily at home. Grind quinoa seeds in a powerful Vitamix blender until floury texture. Quinoa is one of the most nutritious flours that contains 4 g of protein per 0.25 cup. Use it in pancakes, muffins, and bread. The problem is it doesn't hold its shape well so it's better to mix it with other flours.
Chickpea Flour
Chickpea flour is gluten-, grain-, and nut-free. It is made of dried and ground garbanzo beans. It has high, fiber protein, selenium, and B vitamins content. (6 g of protein and 5 g of fiber per 0.25 cup serving) It is good for adding to quinoa flour to hold the shape. Use it in pancakes, crepes, socca, bread, pastry, or dumplings.
Keep in mind that it has an earthy nutty taste, that might not like everyone.
Brown Rice Flour
The flour made of ground-up brown rice has a texture that is very similar to white flour. Anyway, it includes more fiber and can be used in baked goods without problems. It is also rich in iron, B vitamins, and manganese to form bones and connective tissue in your body.
Brown rice flour is a great choice for those who just start their way of alternative flours using. It is very easy to cook with and doesn't have a strong taste or odor. Brown rice flour is very good for combining with other flours (buckwheat, teff, or sorghum).
Rice flour is well digested and do not cause digestive disorders.
Other Flours
Whole spelt flour is not gluten-free but at the same time, it gives a fluffy texture.
Whole wheat flour is much better for your body than white refined wheat flour. It has fewer calories and is higher in protein content.
Replace a cup of flour with a cup of blacks beans that have been rinsed, cooked, drained and pureed. This way you will cut calories and add protein. This trick works well, especially in brownies.
Soy flour is gluten- and grain-free with more protein and nutty flavor. It is usually used to thicken soups or other meals.
Amaranth flour has no gluten but there is high protein content in it.
Millet flour is rich in minerals and vitamins and gluten-free. It has a subtle taste and creamy color and used with other flours as it can be gritty.
Arrowroot flour is good for thickening. It is gluten-free and tasteless.
Buckwheat flour is made of grounded buckwheat groats, which are seeds in fact, but not grains, so it is also gluten-free. Ground green buckwheat is perfect for desserts and roasted brown for first and second courses.
Teff flour contains more protein and nutrients than refined wheat flour.
Oat flour is used in a 1:1 ratio for baking recipes but requires more moisture. It is hypoallergenic, does not contain starch and gluten, and it is also a source of protein that is similar in structure to muscle protein.
Banana gluten- and grain-free flour with its nutty flavor is used instead of any plain flour.
Rye flour is dark and dense but also doesn't contain gluten.
Tapioca flour is made of a vegetable called cassava root. It is gluten- and grain-free. Tapioca flour is good for adding sweetness to baking.
Sesame seed meal is a gluten-, grain-, and nut-free flour that is made of ground sesame seeds.
Pumpkin seed meal is gluten-, grain-, and nut-free. It is used to make soups thicker and to give a nutty taste to dishes. It contains important elements, most of which is zinc.
Sunflower seed meal is gluten- and grain-free product that is made of ground sunflower seeds.
Flaxseed meal is made of flax seeds and is often used in egg-free baking recipes. Flax flour can be added to almost any dish, and in some dietary recipes, it even replaces butter.
Chia seed meal is made of chia seeds. If you use it in baking, you will need more liquid and cooking time.
Hemp flour is made of hemp seeds and has a nutty taste.
Xanthan gum is a complex carb that contains gluten adding viscosity in recipes. It is used to thicken salad dressings and other dishes.
Corn starch is a substance that is made of wheat or corn for thickening purposes.
Fortified flour is fortified with folic acid and thiamin.
You can also up the fiber content of your white flour pastry adding psyllium husks. It is a great source of fiber helping deal with constipation, reduce cholesterol and blood sugar levels in type 2 diabetes.
Flour
Gluten?
High Fodmap?
White
+
Up to 1 slice of Bread – Low
After that – High
Wholemeal
+
Up to 2 slices of Sourdough – Low
After that – High
Rye
+
+
Almond
-

0.5 cup – High
0.25 cup – Low
Coconut
-
+
Psyllium
-
-
Soy
-
+
Chickpea
-
+
Buckwheat
-
-
Rice
-
-
Tips for Using Alternative Flours
Sift the flour 2 or 3 times to add air for fluffy baking.
If you don't suffer from gluten intolerance add a little bit of vital wheat gluten to alternative flours.
Add 2.5 tsp of baking powder per cup of flour to make the recipe lighter.
Add a little more oil to help the final product (pancakes or something like this) be lighter.
After mixing wet and dry products, let the product chill for 10 mins to get the flour an opportunity to absorb the moisture.
Summary
White flour gives a better texture while baking as it has gluten content and lower density. Anyway, there are healthy flours, so you can create your own tasty and healthy baked foods. But start gradually, if you change your diet too quickly you may face with bloating and other problems.
What tips for baking with white-flour alternatives do you know? Let me know in the comments below.
Inspired by:
PIN IT!