People starting leading a healthy lifestyle with a balanced diet are often recommended to begin with smoothies. Adding smoothies to your meals is an easy way to make your diet beneficial for health. You don't need much time or ingredients for a smoothie, so beginners can effortlessly incorporate these drinks into their daily routine.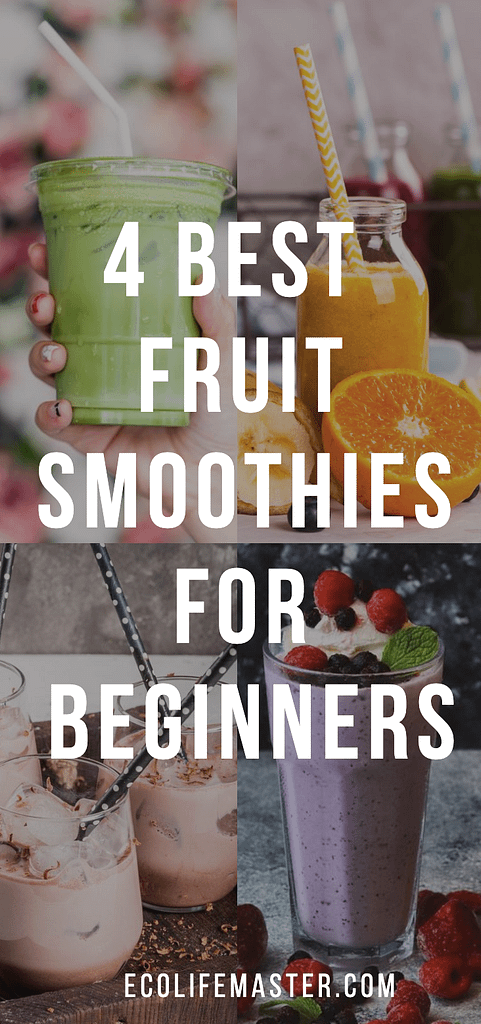 Find your own food processor and blender in one to ease smoothie making.
Benefits of Smoothies
In the process of blending fibers of fruits and vegetables are being broken into very small pieces. When fibers are broken, they release nutrients. The smaller the pieces, the more nutrients are released. That's why smoothies can provide the body with more necessary elements than a whole fruit or vegetable.
Here are some of the many benefits of drinking smoothies:
Smoothies are effective for losing the excess weight. As smoothies are made of healthy ingredients, such as fruits, berries, and vegetables, in right proportions, your body gets flavonoids, antioxidants, and other elements that help to lose excess fat and maintain a healthy weight.
Smoothies make your digestion system work well. Fruits and vegetables in liquid form are digested better, and it is easier for the body to absorb nutrients.
Smoothies boost your immune system. Many fruits and vegetables are rich in nutrients and antioxidants that are proven to make the immune system stronger.
Smoothies help to detoxify your body. Adding to your smoothies beets, papaya, or garlic will provide you with elements that help your organism to remove toxins more effectively.
Smoothies can lower the risk of cancer. Not every fruit and vegetable can help to make this effect, but scientists say that cruciferous vegetables like broccoli, cauliflower, cabbage, and kale have the elements that protect the organism from cancer.
So, smoothies have a lot of advantages and are known as a great source of necessary elements that help to maintain your whole body healthy.
Smoothies for Beginners
If you are new in the art of making smoothies, don't worry, these beverages take little time and energy. Smoothies are meant to be quick and easy. You can start with simple ingredients that almost every person has in the fridge, such as an apple and a banana.
Just add some water and blend everything together and there you have it – an easy and fast beverage for a healthy start of the day. You can also add some nutritional supplement to your smoothie to feel full longer. To add more vitamins use spinach, broccoli, or kale. Berries can make your smoothie taste more delicious.
The proportions of fruits and vegetables can influence the healthfulness of a smoothie. Experts recommend controlling the amounts of products you use for this beverage.
Green smoothies are the healthiest ones as they are made mostly of green vegetables, for example, spinach, broccoli, kale, green beans, celery, parsley, etc. and some fruits. Fruits in green smoothies are usually used for softening a bitter flavor that many green vegetables have.
Smoothies containing more vegetables than fruits are more beneficial for your health. Still, fruit smoothies provide your body with lots of nutrients, vitamins, antioxidants, and other crucial elements.
But in order to maintain healthy blood sugar levels and not to gain extra weight, it's better to consume no more than 1-2 glasses of fruit smoothie a day. Follow these simple rules and add smoothies to your everyday meals to get enough elements that your body needs and improve your health.
Fruit Smoothies Recipes
These are the simplest ingredients you can use to make a smoothie.
Recipe No. 1
You will need:
1 apple
1 banana
1 cup water
Peel the banana, cut the apple into several pieces, remove the core. Put everything in a blender, add a cup of water and blend together for 1-2 minutes.
Recipe No. 2
Take:
1 cup liquid (water, milk, or juice)
1 cup spinach
1 banana
1 cup kiwi
optional: chia seeds, honey
Peel the banana and the kiwi, put them in a blender with the other ingredients and blend everything until smooth.
Here you will find the best juicer blender.
Recipe No. 3
Ingredients:
1 cup liquid base (orange juice, apple juice, soy milk, or any you like)
2 cups fruit or berries (take any you prefer: strawberries, bananas, peaches, pineapples, etc.)
Blend the ingredients together untill you get a smooth consistency, then enjoy your smoothie!
Recipe No. 4
Blend 2 bananas
Add 1/2 cup each vanilla yogurt and milk
Put 2 teaspoons honey
Add a pinch of cinnamon and 1 cup ice.