Blueberries are one of the tastiest of berries. They contain a great number of antioxidants and tastes well. You can enjoy fresh berries during the late summer months, and use frozen berries all year round.
Blueberry yogurt is incredibly tasty, nutritious and healthy. Ideal concentration is not too thick, but not quite runny. It tastes like a sweet yogurt with a characteristic berry sour.
A juicer and smoothie maker will add a great drink to your yogurt.
Homemade Blueberry Yogurt
This homemade blueberry yogurt recipe is a chemical-free version of Yoplait Blueberry Patch Yogurt.
It contains 3 key ingredients:
Greek yogurt – 2/3 cup
Frozen blueberries – 0,5 cup
Natural maple syrup – 2 tablespoons
Blueberries give sweetness and boost metabolism. Maple syrup is an all natural sweetener with fewer calories than sugar but giving more sweetness than honey or sugar, so you don't have to put it as much. Greek yogurt contains fewer fats than sour cream does. This healthy snack is not only delicious and helpful for your digestive system but also full of protein and calcium.
Cooking:
Mix maple syrup and frozen blueberries and put it in microwave on high settings for 1 minute, the berries must thaw and spill out some amount of their juices.
Add the yogurt to the mixture, and mix it again with the berries till the yogurt takes on a beautiful purple color, then it is ready to serve.
Each portion (about 1/2 cup) has:
Calories – 75
Carbs – 14
Fiber – 1
Fat – 0
Protein – 5
Recipe №2
Ingredients:
Blueberries – 200 Grams
Natural Yoghurt – 1/2 Cups
Milk – 1/2 Cups
Honey – 1 Teaspoon
Banana – 1 Piece
Cooking:
Wash and dry the blueberries
Cut the banana into rings
Place the ingredients in a blender
Cover with milk and yogurt
Add honey
Blend until it gets a smooth texture
Put the yogurt in the fridge for some time and serve
Blueberry Frozen Yogurt
This blueberry frozen yogurt contains only four ingredients, and it's very easy to cook. You don't need an ice cream maker. All you need is a food processor, frozen fruit, maple syrup, yogurt, and lemon juice. Use frozen blueberries, which give the yogurt a nice purple color.
You can eat this frozen yogurt right after blending, but the texture gonna be too runny and soft. Freeze it for 30-45 minutes to get a better consistency. Don't leave it for too long, if you don't want to get a block of frozen berries. The cooking process will take up only 5 minutes.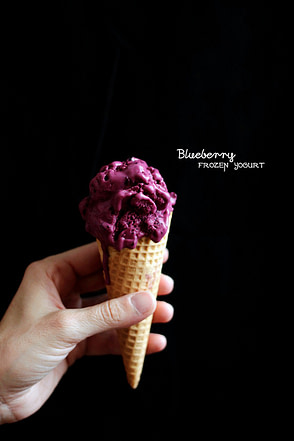 Ingredients:
0.5 cups frozen blueberries
1/2 TBS maple syrup ( you may put it more or less whether if you want yogurt sweeter or not)
2/3 cup plain, low-fat yogurt
1 TBS lemon juice
Optional
cutted pistachios
shredded unsweetened coconut
Cooking:
Put ingredients in a food processor and blend to get a smooth texture.
Place the mixture in the freezer for 30 to 45 minutes.
Recipe №2
Ingredients:
1 cup low-fat Greek Yogurt
1 cup blueberries
Instructions:
Put a piece a parchment paper on a baking sheet.
Drop blueberries into the yogurt with a spoon to coat and put on the paper. Do it again until all berries are covered.
Freeze for 60 minutes.
Optionally, you may add a tablespoon of Peanut Butter, honey or lemon juice to yogurt.
Your lightly sweet dessert is ready! Enjoy!