Plant-based milks have risen in popularity among vegans and non-vegans alike due to their health benefits and sustainability. Where producing cow's milk requires a large amount of land and water and releases methane into the atmosphere, plant-based milks use less water and have a smaller carbon footprint.

While there are many options, the best vegan milks can also be a great source of vitamins and minerals, so you don't have to worry about missing out on the health benefits you'd get from cow's milk.


Health Benefits of Vegan Milks
There are many health benefits to drinking vegan milk, such as lower dietary cholesterol. Each plant-based milk has different nutritional value, so it's important to know the facts before deciding which one to buy. In some cases, it may be beneficial to make more than one type of milk a part of your diet to ensure you're getting all the nutrients you need to stay healthy. 
See also: Is why protein vegan or not?
Environmental Impact of Vegan Milks
While most vegan milks are more environmentally friendly than cow's milk, some are still more environmentally friendly than others. There are several things to consider when choosing which kind of plant-based milk to buy. Some environmental factors to consider when comparing milks are water use, pesticide use, and overall carbon footprint.

With these factors in mind, here are 6 vegan milks that are both healthy and environmentally conscious:

Pea Protein Milk

Pea Protein milk is one of the best vegan milks because it's healthy and has a low impact on the environment. This milk alternative has the same amount of protein as cow's milk, which is a feat for plant-based milks. Additionally, it is a good source of iron, which is a common deficiency in people with plant-based diets. This milk is also a great option for people with nut or soy allergies, as it contains neither.

This milk requires less water and pesticides than some other plant-based milks, and it doesn't need as many artificial fertilizers. Pea protein milk's carbon footprint is very low in comparison to cow's milk, making it a sustainable alternative milk choice.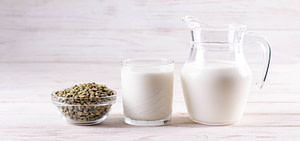 Some of the most popular pea protein brands are Ripple, Bolthouse Farms, Suja, and Veggemo.

Cashew Milk

Cashew milk is loaded with healthy fats and iron, which provide energy and lower blood pressure. This milk is also great for heart, eye, skin, and immune health.

Although the production of cashew milk does require more water than other plant-based milks, it is still more eco-friendly than cow's milk. Its carbon footprint is significantly lower than that of cow's milk as well.
Some popular cashew milk brands are Silk, Califia Farms, Forager Project, and Elmhurst.

Oat Milk

Oat milk has become exceedingly popular due to its low impact on the environment and great taste in dairy-free coffee drinks. While oat milk does not offer as much protein as some other plant-based milks, it is a great source of B vitamins and fiber. Similar to pea protein milk, it is also free of nuts or soy, making it an allergy friendly option.

The production of this milk alternative requires significantly less land, water, and energy than cow's milk. It also generates less carbon than many other plants-based milks.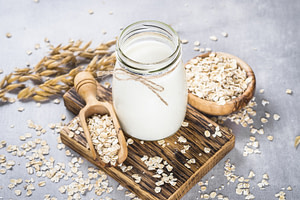 Some popular oat milk brands are Oatly!, Planet Oat, Califia Farms, and Silk.

Macadamia Milk

Macadamia milk is high in calcium, vitamin D, and B12. It also has a lot of monosaturated fat, which lowers risk of heart disease and stroke.

As for environmental impact, macadamia milk requires less water than some other nut milks and a lot less than cow's milk. Its carbon footprint is on par with other plant-based milks as well, which is to say its production releases much less carbon dioxide into the atmosphere than cow's milk does.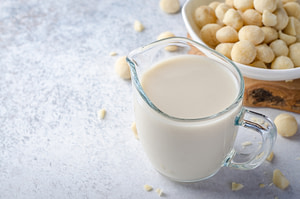 Macadamia milk is fairly new, so there are not many brands making it yet. One of the most popular is Milkadamia.

Hemp Milk

Hemp milk is a great vegan milk option because it contains all essential amino acids which build muscles and prevent illness. It is lower in calories and carbohydrates than cow's milk, and is a viable source of vitamins A, D, and B12.

This vegan milk is eco-friendly as well. Hemp does not require many pesticides, and it filters carbon dioxide from the atmosphere. Additionally, hemp farming uses less water than cow's milk.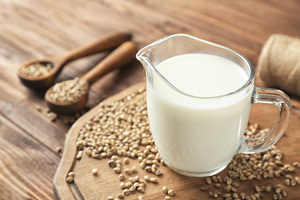 Some popular hemp milk brands are Living Harvest, Pacific Foods, and Manitoba Harvest.

Flaxseed Milk

Flaxseed milk has several health benefits such as improving heart health and reducing the risk of cancer. This milk is rich in antioxidants, which are known to help prevent disease. Flaxseed milk is also a good source of fiber and omega-3 fatty acids. However, people with sensitive stomachs should refrain from consuming this milk too frequently because of its high fiber content.

Growing flaxseed does not require the use of pesticides, which harm both the environment and those who ingest them. The production of flaxseed milk requires less water than some other plant-based milks as well. Additionally, flaxseed plants absorb a lot of carbon dioxide, making them extremely sustainable.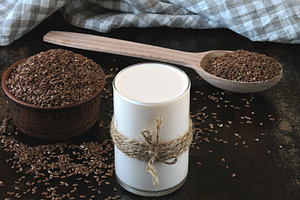 Like macadamia milk, there are not a lot of flaxseed milk brands yet. Some of the most popular are Manitoba Milling Co., and Good Karma.
Choosing the Best Vegan Milks for You
When it comes to choosing which plant-based milk to buy, it's important to remember that there is no right answer. Each milk has its pros and cons, and everyone should choose which best fits their needs. Some people have nut or soy allergies and therefore have to stay away from nut milks. Others may not enjoy the flavor or consistency of a certain type of milk. It's also important to consider each milk's individual health benefits. Someone low in iron might want to try pea protein or cashew milk, whereas someone looking to add more calcium to their diet may want to try macadamia milk. The choice is all about personal needs and preferences.

The bottom line is, no matter which plant-based milk you choose, you can rest assured that your environmental impact is shrinking, one glass of vegan milk at a time.
See also: Delicious Chocolate Vegan Protein Shake