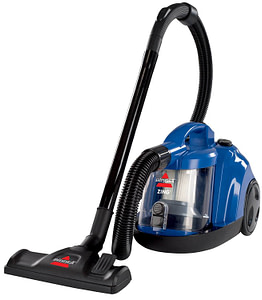 A clean house free from dust is the best way to keep your family away from allergies and colds.
The most important factors are performance, convenience, and design.
I've searched dozens of canister vacuums on the market to find the best of the best.
Check out the best bagless canister vacuum cleaner reviews below and find the best one for you.
Here is the list of best bagless canister vacuum 2020.
Best Bagless Canister Vacuum 2020 Comparison
Best Bagless Canister Vacuum
Severin Germany Nonstop Corded Bagless Canister Vacuum Cleaner
Miele Pure Suction Canister Vacuum
Bissell Zing Canister Vacuum
Ovente Bagless Canister Cyclonic Vacuum with HEPA Filter (ST2010)
Ovente ST2620B Bagless Canister Cyclonic Vacuum
Hoover ONEPWR Cordless Hand Held Vacuum Cleaner
Bissell Hard Floor Expert Multi-Cyclonic Bagless Canister Vacuum, 1547
SharkNinja Navigator Lift-Away Deluxe NV360 Upright Vacuum
Eureka NEU182A PowerSpeed Lightweight Bagless Upright Vacuum Cleaner
Taski Aero 15 Plus Canister Dry Vacuum
The Severin Germany Nonstop Corded Bagless Canister Vacuum Cleaner stands out its low noise level and constantly high suction performance at the same time. A versatile machine is perfect both for carpets and hard floors.
The device is not dangerous for those who suffer from allergies thanks to its HEPA filter that catches particles like dust, dust mite allergens, pollen, mold, odors, and spores.
The longlasting filter saves your money as you don't need to buy bags anymore!  You can make the container empty just pressing a button. This is a machine for everyday cleaning that keeps dirt from piling up.
The model is lightweight that makes the cleaning process much easier. The cleaner is always ready for quick and hygienical use thanks to ease of emptying and thoughtful construction.
What else comes in the box:
XL parquet nozzle – for all types of hard floors
furniture/upholstery/crevice nozzle in a practical cloth bag
6' XL Premium suction hose
35" long XL-easy touch telescopic tube
Features:
Multi-Cyclone technology
Noise level – 77 dB
8 Amps motor
Hepa 14 filtration
1.8 L dust container
Net weight – 20.9 lbs
29 ft action radius
Model – MY7115
Pros
Great for all floor coverings
The anti-allergen HEPA technology
Good suction
Perfect for medium and large living areas
The average life of a motor is at least 10 years
Abrasion resistant
Works well on pet hair
Very quiet
User-friendly design
The Severin Germany Nonstop Corded Bagless Canister Vacuum Cleaner is a good solution for medium and large versatile spaces.

Click Here To View The Latest Price →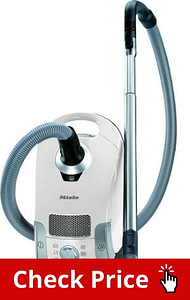 The Miele Pure Suction Canister Vacuum has many great features like the automatic power cord rewind is very convenient. The biggest problem is its performance on the carpet. The motor is protected with the filter that ensures no dust gets into the engine.
The body of the vacuum moves on 3 rubberized wheels turning a full 360° for easier maneuvering. The compact design makes it easy to store and to carry anywhere and use. The 1,200 W motor power is more than enough to clean hard flooring.
The machine has 6 suction settings so it suitable for vacuuming your entire home from top to bottom:
Curtains and lightweight fabrics
Thick pile carpets
Upholstery
Energy-saving, quiet level
Hard floors
Low pile carpets
What comes in the box:
Suction Canister Vacuum
Flexible Hose
AllTeQ Combination Floor Tool with 18 height settings– perfect for low pile carpet and smooth floor
Telescopic Stainless Steel Wand
Crevice Tool
Upholstery Tool
Dusting Brush
AirClean Filter – captures 99.95% of all particles which are 0.5 microns or bigger making the air is cleaner than before vacuuming
On-Board Clip for Tools
3D AirClean Dustbag
Owner's Manual
Features:
Air clean sealed system
Type – Canister, Bagged
Best for Hard Floors and Low Carpet
Item dimensions – 16.88 length x 9.05 height in inches
Weight – 14-15 lbs (with all tools)
Power Cord Length – 21 feet
6 speed motor
Warranty – 1 Year and 7 Years for motor
Adjustable working height
360 degree swivel wheels
Rug & floor combination nozzle
Air clean filter
Dustbag volume – 3.5 liters
Hose – 5.5 feet in length
Motor power – 1,200 W
Made in China
Pros
Picks dust with the dusting brush
Works well on bare floors
Overall lightweight vacuum
Compact and doesn't require much space to store
Automatic power cord rewind
Works quietly even on the highest setting
Cons
Not good for large areas and medium or deep pile carpet
No HEPA Level Filtration
The Miele Compact C1 Pure Suction is best bagless canister vacuum cleaner for small apartments or rooms (2500 sq foot or less).

Click Here To View The Latest Price →
This Bissell Zing Canister Vacuum with 2 liter dirt container and Cyclonic technology provides powerful suction for thorough cleaning.
It can be used both for house and commercial areas.
With its great suction, it cleans the hard flooring as well as area rugs nicely and it can go from to another only with the flip of a switch.
The Bissell Zing Canister Vacuum is very powerful – you can do a 20-minute job for 5 minutes now.
Features:
Weight – 7.5 pounds
15 feet power cord
Power Rating – 9 amps
Filter type – washable
Automatic Cord Rewind
Air Flow Regulator
Color – Green
Multi-Level Filtration
Size – 14 x 11 x 12 inches
Material – Plastic
Power Source – corded-electric
Pros
Maneuverable design
Great value
Very easy to assemble
Easy to empty
Lightweight
Cons
The vacuum head may be a little thick to fit under narrow spaces
The plastic hose looks cheap
Doesn't have an agitating brush roll
The Bissell Zing Canister Vacuum is a great solution for cleaning out cars and it has much more uses.

Click Here To View The Latest Price →
The main feature of the Ovente ST 2010 canister vacuum's is its HEPA filter that effectively traps 99% particles.
It comes complete with the bristle brush and floor brush attachments doing in-depth cleaning easily.
Lightweight and durable, this best bagless canister vacuum under $200 cleans all your rooms and even stairs.
It provides easy mobility for cleaning all the house with its 360-degree hose swivel. Thanks to its powerful motor the device clean surfaces deeply in one pass.
The Ovente ST 2010 is also easy to maintain – just empty and wash it before use.
The furniture brush tool vacuums fabric without damaging it. This best vacuum cleaner bagless canister has everything you want to get from a vacuum cleaner and it is available in a choice of 4 colors.
What comes in the box:
A floor brush
Sofa brush
Power cord
Crevice nozzle or bristle brush
Hose
Telescopic metal wand
Dust compartment
Features:
Cyclonic Vacuum
HEPA filtration system
1200-watts power
Translucent dust compartment
On and Off step button
Expandable stainless steel wand
Automatic cable rewinder
Weight – 12 pounds
360-degree hose swivel
Dimensions – 11.5 x 15.5 x 10 inches
Plug – 2-prong
Warranty – 1 year
Material – Heavy-Duty Plastic
Cord Length – 188.5 inches
Pros
Lightweight
A cheap buy
Powerful suction
An expandable stainless steel wand to get to any area
Easy to maintain
Pick up pet litter, slate, wood pieces on hard flooring, carpets and other surfaces well
Stays strong even after a long time of use
Cons
The wand can be a bit short for some
The cord is not long enough
The dust canister can be small for large spaces
The Ovente Bagless Canister Cyclonic Vacuum is an affordable canister vacuum that is great to use around the house.

Click Here To View The Latest Price →
The Ovente ST2620B Bagless Canister Cyclonic Vacuum is a compact, multi-functional, and powerful machine with 1400 watts power. The power can be regulated to a minimum or a maximum level as you wish. The translucent dust allows you to monitor the level of dirt collected.
The floor type does not affect the power as it has a consistent performance for every flooring. The best bagless canister vacuum cleaner also easily deals with crevices, curtains, and furniture. The dust compartment is translucent so you can see the dirt collected.
What comes in the box:
The HEPA filter for capturing the particles as small as 0.3 micrometers
The Multi-brush for places which are hard to reach
The Sofa/Pet brush is effective for pet hair
Features:
Wattage – 1400 watts power
Weight – 13.2 pounds
Dimensions – 15.7 x 11.4 x 13.4 inches
Plug – 2-prong
Retractable power cord
360° hose swivel
Canister Capacity: 3 Liters
1 year limited warranty
Cord Length – 5 meters
Colors – black, green, red, and orange
Material – Heavy-Duty Plastic
Dimensions – 15.7 x 11.4 x 13.4 inches
The brush – 10" long and 3" wide
Pros
The Energy-Saving Speed Control
The filter is easy to clean
Beneficial for people with allergies, COPD, and asthma
Lightweight enough even for kids use
Suction is good
A bunch of attachments
Cons
The cord does seem to be short for someone
No snapping sound when you snap the tools
The Ovente ST2620B Bagless Canister Cyclonic Vacuum is best bagless canister vacuum for pet hair if owners having difficulties with cleaning it up.

Click Here To View The Latest Price →
The Hoover ONEPWR Cordless Hand Held Vacuum Cleaner is a lightweight and portable device that will keep your flooring and air clean and fresh.
The user-friendly design allows to remove the can from the base and dust cup is easily removed with the push of a button. So the device is very easy to clean.
Its filter is rinseable and reusable and the battery is removable and rechargeable so you can take it anywhere. The strong suction tool works well on carpets.
The charging stand and battery have lights indicating the charging status and the battery charge level.
The battery works for about 15 minutes and fully charges in about 3 hours. As the battery is Lithium-Ion it does'nt discharge rapidly being stored.
Features:
Cordless
Weight – 3 pounds
Battery Charge Time – 3 hours
Cleaning Path Width – 1.8 inches
Compatible Floor Type – Carpet
Washable Filter
Color – Grey
0.1 gallons dust bin capacity.
Maximum Runtime – 13 mins
3-year limited parts warranty
3-Year limited motor warranty
Product Dimensions – 6.5 x 5 x 16.5 inches
Pros
Bagless design saves you money.
Easy to empty and use
Reusable filter
Powerful for its size
The dust cup is easy to empty
The canister holds more than it looks
Does good on pet hair
Moves around easily
The compact body
Cons
Works loud
The hose is not so long
The Hoover ONEPWR Cordless Hand Held Vacuum Cleaner is great for those looking for good suction and perfect for small jobs around the house.

Click Here To View The Latest Price →
The Bissell Hard Floor Expert Multi-Cyclonic Bagless Canister Vacuum is a maneuverable, mess-free, and powerful device making cleaning an effortless task. The extra cleaning accessories and good suction make cleaning more efficient. Its design allows the vacuum to move the cleaner without extra efforts. This vacuum cleaner maneuvers well between different floor types or furniture, drapes, or even in a vehicle.
Thanks to its dual stage filtration the Bissell vacuum stores more dirt inside the dust can. The white filter is in the top of the removable canister and the black one is on top of the machine under the canister. It processes it through a filter to determine the kind of material, then it filters the remaining debris to store them appropriately. The soft brush bristles don't damage floor service.
The tests have shown that the multi-surface tool works better to clean the hardwood floor as compared to the hard floor accessory.
You will have to replace the dust cup filter and the post-motor filter every 3-6 months. Extra cleaning tools can be stored on-board for easier access while cleaning. The machine is designed for hard surfaces but it is also okay on minimal carpets. The wheels are made of rubber and will not scratch floors and the unit easily glides along. A handle at the end of the wand is very convenient to use.
What comes in the box:
Hose
Handle
Wand
Hard floor head
Crevice tool
Multi-surface head
Dusting brush
Features:
A 2-stage filtration system
Height – 15″
Length – 19.2″
Width – 12.9″
18′ long cord
Hose – 7′
Motor – 9.2 amp
Weight – 9.3 pounds
A 2-year warranty
Returns – 30 days via Amazon
Brush System – Rotating Clear Window
Dirt Cup Capacity – 67.6 fluid ounce
Pros
Removes dirt on hard surfaces better than many other models
Lightweight and easy to move
Multiple floor cleaning attachments
Compact design for easier transportation and storage
Quiet work
Good at picking dust up near the walls
Cons
Tends to clog with large particles
Has only one suction mode
The instructions are not clear for someone
The Bissell Hard Floor Expert Multi-Cyclonic Bagless Canister Vacuum is for hard floor owners who want a longer hose and multiple floor cleaning tools in a lightweight device.
Click Here To View The Latest Price →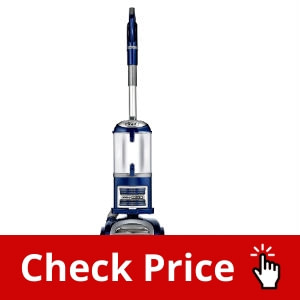 The SharkNinja Navigator Lift-Away Deluxe NV360 Upright Vacuum is a bagless canister vacuum best at maneuvering around obstacles thanks to the swivel steering. It performs optimally on both floors and rugs as you have the opportunity to switch on and off the brush. The NV360 doesn't require consumables as it is bagless and filters are washable. Pour water over them until it ceases to be dirty then leave it to dry.
HEPA filtration and a sealed system make the vacuum a perfect solution for those who suffer from allergies or respiratory conditions. The dust-canister/motor is detachable from the vacuum so you can then hold it with one hand and use the other cleaning tools with the other. With its airflow adjuster the NV360 accommodates any type of flooring from bare floors to thick pile carpets.
Extra cleaning tools:
Pet power brush  for hair, upholstery, and stairs
Dusting brush for shelves, blinds, furniture
Crevice tool (5.5 inches long) for tight places and corners
Under appliance wand to reach under furniture
Features:
Type – Upright
Pet Hair Features – Yes
Best for – Hard Floors and Carpet
Weight – 13 pounds
Cord Length – 25 ft
HEPA Level Filtration – Yes
Motor Driven Brushbar
Warranty – 5 Years
The dust canister capacity – 1.2 dry quarts
The lift away feature weight – 7.5 lbs.
Pros
Strong suction
Easy to empty dust can
Good on pet hair and stairs
Anti-Allergen Complete Seal Technology
Lift Away feature
Brushroll ON/OFF controls
Deals both with carpet and bare floors
Washable Filters
Quiet work
Good for stairs
Cons
Long hair clogs in the brush roll
Pre-motor filter requires cleaning too often
The top is heavy
The SharkNinja Navigator Lift-Away Deluxe NV360 Upright Vacuum is the best rated bagless canister vacuum for both hard floors and carpets owners.

Click Here To View The Latest Price →
The Eureka NEU182A is a powerful multi-surface vacuum with 5 height adjustment settings so you can use it for hardwood floors, carpets, area rugs, and tile. The unit comes with a quick-release handle and deluxe stretch hose. An extra-long crevice tool, dusting brush, and upholstery tool give you an opportunity to clean hard-to-reach areas.
This lightweight device really helps if you have problems with your back.
The attachments are stored on-board the vacuum:
The Crevice Tool is geat for hard-to-reach corners and your car interior.
The Dusting Brush removes dust on furniture and blinds
The Vacuum Upholstery Tool for delicate fabric surfaces like pillows or curtains
The filters are washable so you can rinse and use them again and again and the dirt can is easy to empty and clean.
Features:
12.6" wide nozzle
Weight – 10 lbs
Dust Can Capacity 4.1L
Cord Length 25′
Max Extended Reach 7′
Product Dimensions 13.4 x 14 x 44.5 inches
Color Lightweight-blue
The dimension of the packed product 3 foot high x 18 inches square
Pros
Lightweight and easy to move around
A powerful motor
Extra-large capacity
Easy to assemble and maintain
Doesn't require new bags or filters
Great suction
Works smoothly on carpets and floors
Cons
Defective models may spit debris out the back of the device
The extension hose is too short for someone
Made of cheap plastic
The Eureka NEU182A is the best canister vacuum cleaner to clean your floors and above easily if you are on a tight budget.

Click Here To View The Latest Price →
The new Taski Aero 15 Plus vacuum cleaner uses a 585W vacuum motor that gives the same performance as 900W or more.
This effect is provided by an ingenious airflow system.
This way, it saves energy and reduces CO2 emissions without diminishing cleaning results.
Thanks to its low noise level you can use it while kids are sleeping and at any time of day or night.
The compact design doesn't take up much place and allows for storage even in a small cupboard.
Great suction and a long hose mean you can vacuum stairs without picking the vacuum up.
Features:
Motor – 585W
Canister capacity – 13/15
Weight – 17.5 lbs
Item Dimensions – 16.5 x 12 x 16.5 in
Sound – 66 dB
Filtration stages – 3
Working radius – 16 m
Cord length – 12.5 m
Hose length – 2.2 m
Floor tool width – 280 mm
HEPA filter
Pros
Ultra-silent TASKI whisper technology
Compact design
Ergonomic design
Cons
A little heavy
The head isn't powered
The new Taski Aero 15 Plus vacuum cleaner the best canister vacuum for those looking for ergonomic design and high-quality user-friendly accessories all in one.
http://www.taski.com
Click Here To View The Latest Price →
Who Should Buy a Canister Vacuum
A canister vacuum is designed for hard floors, stairs, and under furniture areas. But best rated bagless canister vacuum cleaners still clean carpet as well as bagged models. Their compact designed body is easy to maneuver. Most models come with extra cleaning tools for drapes, window sills, upholstery, etc. The brushes are ideal when it comes to pet hair.
Every best rated canister vacuum also allows you to adjust suction power, making it more versatile for different types of flooring. But the downside is a canister vacuum can be difficult to store in small apartments than other vacuum types.
What is the Best Bagless Canister Vacuum Cleaner – Buyer's Guide
Suction power and control. If you are going to vacuum delicate fabric such as drapery, think about an adjustable control that allows you to lower the power in order not to damage the item.
Weight and Portability. The lighter the unit – the better maneuverability, that's why it is an important point. The position of handles is also important, as well as the hose and power cord length.
Auto cord rewind eases pack up when the cleaning is done and prevents trip hazards while using.
Noise level. As a rule, canister vacuums are quieter than other types, but they still sound louder tiled rooms with echo. There are some models working quieter than others and they are good for young parents with constantly sleeping babies.
Accessories. Many canister vacuums come with attachments such as a crevice tool, a small upholstery brush, an edge cleaner, etc. These items make the machine multi-purpose.
Filters to help eliminate dust particles while using a vacuum. This consideration is important for those having allergies or respiratory conditions, but these models cost more than units without filters.
Price. Bagless canister vacuums may vary in price from $60-$1000 or more. But you always can find discounts around the holidays and buy a best bagless canister carpet vacuum at an affordable price.
FAQ
What is a canister vacuum? The part that houses the motor and turbines is a separate unit in a canister vacuum. This fact provides higher airflow and suction power in a maneuverable body.
How to empty a canister vacuum? Just throw away the waste can contents (try not to breathe the dust in).
Can it scratch hardwood floors? Look for models which you can switch off the roller brush, to prevent scratches. The wheels must be rubberized wheels because plastic or metal ones may damage hardwood surface.
Conclusion
If you want a clean house, a good canister vacuum is a great multitasker you should add to your arsenal. To sum up, Severin Germany Bagless Canister Vacuum is a versatile and lightweight canister vacuum that has all you need to clean your home meticulously.
I hope this bagless canister vacuum best rating has helped you to make the right choice and make your life easier.