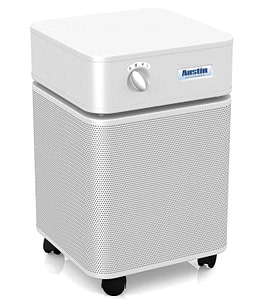 Many people are not afraid of mold and mildew in our houses, but they do not consider it harmful and so they ignore it and move with their lives. Meanwhile, the tiny, malicious fungi affect our air intake and health in general.
The thing is that even better ventilation systems which include air conditioners help only for a while.
The reasonable decision is the right, functional and quality air purification systems. So today I'm going to talk about best air purifiers for mold. They help to eliminate not only mold spores but also dander, dust, smoke and terrible smells.
After many hours of testing purifiers, I can say what makes the best air purifiers for mold and mildew:
high-efficiency air filter;
convenience;
easy maintenance.
The GermGuardian AC4825 3-in-1 Air Purifier with True HEPA Filter and  UV-C Sanitizer has all those features. It is a portable HEPA air filter that is efficient, simple to use, perfect for clearing out mold and dust and very quiet.
With the full list below, you can see all the pros and cons of individual products and figure out what is best air purifier for mold 2020 for you and your friends or family.
The list of air purifiers for good air quality is updated every month.
Best Air Purifier for Mold 2020 Comparison
IMAGE
PRODUCT




highly effective air purifier
easy to carry from place to place at home using
quiet operation

VIEW LATEST PRICE →




sleek design
nice price
the air purifier is very compact

VIEW LATEST PRICE →




remote control
big coverage area
a silent option

VIEW LATEST PRICE →




compact
affordable price
cheap bundled annual filter replacement cost

VIEW LATEST PRICE →




4-stage filtration system
a 2-year warranty
air quality sensor

VIEW LATEST PRICE →




modern and unique design
LCD Display
automatic System

VIEW LATEST PRICE →




LEVOIT Air Purifier LV-H133

good performance
intuitive to use LED control
modern tower design

VIEW LATEST PRICE →
Best Air Purifier for Mold 2020
Here is our top-7 of the best air purifiers for mold:
This best air purifier for mold and mildew uses UV-C, HEPA, and odor reduction technologies to clean the air that you breathe in from fungus, dust, allergens, some of which causing bad odors.
true HEPA filtration system is perfect for removing mold, eliminating pollens, spores, pet dander, and dust.
UV light kills airborne viruses, bacteria, and other germs like rhinovirus, streptococcus, and E. coli. It not only kills germs, but it also activates titanium dioxide in the air purifier which decomposes other harmful molecules. The UV light is perfectly silent and doesn't cause any noise or produce any side effects. It looks like a soft glow and won't bother sleeping people.
Odor Reduction stands (a carbon filter) filters the large particles while increasing the lifespan of the HEPA filter, reduce bad smells from pets and house routine and create a fresh environment.
The best HEPA air purifier for mold spores uses a fan that can be set to 3 speeds, namely low, medium, and high. It not only determines its power but also the noise level. Low-operation mode was created to run quietly, but when it is on high, the device might be a little bit noisy.
This 22-inch purifier is designed for small and medium-sized rooms under 150 square feet which is roughly a 10 x 15.5 ft room. But most people have found that it works great even in much larger spaces, in this case, the amount of time required to clean the air increases accordingly.
If you live in a basement, the GermGuardian AC4825 will make the stale air crisp and refreshing.
The unit comes in the mail completely assembled and ready to go with the filters already in place. Parts are aligned well, are tightly assembled, and there aren't noticeable gaps or quality control issues to speak of.
It's better to put the air purifier away from the wall or in the middle of the room so that it can get good circulation throughout the room.
When you see a blinking red light on the top of the device, it is time to change the filter. In the case of replacement for the UV-C feature's bulb, the blue light will blink. The filter must be replaced after about 6-8 months. The bulb is rated at 10-12 months life expectancy.
You can also make your filters last longer by cleaning them with the help of a vacuum cleaner.
The air purifier itself is 100% safe and there's nothing to be concerned about.
Features:
Air Purification Technology – True HEPA;
Captures airborne particles – up to 0.3 microns;
Recommended Room Size – 155 sq. ft.;
Cord Length (in ft) – 6;
Power – 62 W;
Energy rating – Energy Start / CADR 100+;
Simple rotary control;
Dimensions – 7 x 10.2 x 21.5 inches;
Weight – 7 pounds;
a three-year limited warranty;
Maker – (brand) GermGuardian.
Pros
highly effective
easy to carry it from place to place at home using. At the rear of the top, there's a recessed area where fingers have plenty of space to pick it up securely.
quiet operation. These air purifiers produce some sound, but it is not disturbing, just turn it on low and you probably won't notice it.
filter replacement is easy and only takes a few seconds;
beautiful design;
reliable;
durable construction;
using this air purifier will reduce your energy costs.
Cons
unsuitable for large rooms. The air cleaning effectiveness is lower when the air purifier is employed in large rooms.
doesn't include an auto-timer feature;
plastic smell. According to some consumer reports, the system produces an unpleasant "plastic" smell in the early days of its uses.
UV-C feature must be turned on manually after power off then on;
There is a little window at the top that lets the UV light shine through. You can use electrical tape or black duct tape to block the light.
This best air purifier for mold and allergies is great for anyone who wants proven quality and durability.

Related: Best Air Purifiers For a Car
Click Here To View The Latest Price →
The compact design of LEVOIT LV-H132 with a soft blue light on top hides 3-stage filtration system and comes with a few smart sensors to track the current indoor air quality.
Fine Preliminary Filter removes all big particles (airborne bacteria, large mold spores, pet hair, etc.) in the air and increases the lifespan of true HEPA. That's why a pre-filter saves money. It is NOT washable, you can damage the other filters in the process.
True HEPA filter eliminates 99.97% of particles 0.3 microns in diameter (all allergens, pollen, and pet dander).
Activated Carbon Filter removes odors of smoke, cooking, pets or any other odor smells.
Replace filters in these air purifiers every 6 to 9 months. When the filter reset button lights up, check the filters and replace them if need be. Filter replacement is very easy. Take off the lid, remove and replace all three filters at once.
The best air purifier for molded basements and dust is designed to service rooms up to about 86-87 square feet. But it's surprisingly powerful – its Clean Air Delivery Rate is 110. This means the cleaner should work fine in rooms from 85 to 110 square feet in size. You can place it anywhere you wish at least 15 inches away from any obstacles.
The best place for such an air purifier is on an elevated surface. The portability of this purifier makes it easy to travel with.
An interesting detail is the night blue light on the top of the machine. It could actually be very handy for dark hallways on the way to the bathroom at night or for kids who are afraid to sleep in darkness
The only sensor is the filter replacement indicator, but the lack of smart sensors is compensated by the simplicity of use. The fan comes with 3-speed settings. The second fan speed is the optimal option. At the lowest setting, it produces less than 43dB, and the device won't disturb you when you sleep.
The LEVOIT LV-H132 uses only about 28 watts, and let you save money on energy even if you use the air purifier 24/7. Remember that you can return it the first 30 days after purchasing it if you are not pleased with its performance.
Features:
Recommended room area – 86 square feet, (small room)
Clean air delivery rate (CADR) – 110 ft 3 per minute
Nightlight – yes
3 fan speed buttons
Cord length – 6 feet
Filter type – 3-stage filtration system; pre-filter
Colour – white with black accents and blue lights
Noise level – 43 decibels on the highest setting (level 3)
Size – 9.8 x 9.7 x 14.6 inches
Weight – 6.6 pounds
Pros
sleek design
price
the air purifier is very compact
portability
built-in night light with 2 brightness setting
the air purifier is not noisy
2-year warranty
reduces allergy symptom
Cons
small coverage area
there does seem to be a small chance of a defective machine with an odd smell and unresponsive buttons.
only one smart sensor
no UV or Ions
The LEVOIT LV-H132 best home air purifier for mold and mildew is perfect for people on a budget, who need to keep the air in small spaces fresh and clean and want to save some money in the process.

Click Here To View The Latest Price →
Mooka is a famous company offering a wide variety of products for home including air purifiers.
The air purifier for mold removal has a black digital screen on top of it surrounded by LED lights which give out a specific color depending on the device's functions.
It turns blue when the sensor has found that the quality of the air is good. It changes to red when it is bad.
The air purifier is Epa, Etl, Fcc and Ce Certified.
The Webetop air purifier comes with a similarly looking remote control. A Clean Air Delivery Rate of the device is 300m³/h and it makes the air purifier quite efficient at doing its job.
The best air purifier for mold and dust allergies has a 6-in-1 filtration system with a pre-filter, True HEPA filter, Activated Carbon Filter, VOC absorption particles, negative ion generator, and a UV-C light filter.
You can understand when it's time to change filters looking at the display – after about 2,000 hours of use, you can see a warning symbol, instructing you to swap the specific filter with a new one.
Moreover, this best air purifier to remove mold has a silent option which leaves it doing its job without disturbing anyone. You can use it every and it will turn off automatically according to the timer of 1/ 2/ 4/ 8 hours.
Features:
A built-in smoke and odor sensor
Product dimension – 13.8 x 7.1 x 18.3 inches
Sleep mode
Product weight – 12.3 pounds
30-day no-hassle refund and a 3-year support
Pet Dander Collector
Power Rating: 19W(Sleep Mode), 36W/41W/60W (Low/Mid/High)
Coverage Area – 160-540 sq. ft. / 15-50㎡
Pros
remote control
big coverage area
a silent option
all filters included
Cons
needs a manual off switch for the LED lights
The Mooka Gl-fs32 is great for anyone who wants to get the best whole house air purifier for mold and pets.

Click Here To View The Latest Price →
PureZone 3-in-1 air purifier effectively sanitizes your air with the help of its 4-stage filtration that consists of Pre-filter, activated carbon filter, HEPA filter and a class unique UV-C light.
Pre-filter captures large particles, a carbon filter for deodorizing purposes, and a HEPA filter catches the micro-particles. UV-C technology kills bacteria and viruses.
It is vastly efficient on large pollutants such as airborne mold spores, dust, hair, pet dander.
The best room air purifier for mold is well-designed, the top control panel is perfectly affixed and ergonomically placed to enable seamless usage. This air purifier for mold and dust mites is capable to cover medium sized room up to 200 square feet in size.
Noise level is subtle at low or medium fan speed and of course high at fanspeed, this product offers a noise level of just 30 decibels, giving it a desirably inconspicuous demeanor.
Filters for these air purifiers can go as long as 6 months without needing to be changed and that's if you're using it frequently. Don't forget to sweep and brush the air-ventilation at least once a month or as required.
Features:
Dimension – 6.9 x 12.1 x 10.8 in
Weight – 8.4 lb (3.8 kg)
Coverage (up to) – 200 sq. ft.
Dust free (CADR) – 80 cfm
Pollen free (CADR) – 80 cfm
Smoke free (CADR) – 80 cfm
Fan speed – 3
Filtration – 4-stage
Noise level – 30 – 50 dB
Power consumption – 60 W
Timer – 2, 4, 8 hours
Filter change indicator
Warranty – 5 years
Email/Phone support
Pros
compact
affordable price
cheap bundled annual filter replacement cost.
lightweight
easy to use
it circulates the air well
Cons
No dimmer to disable the Blue LED light that beams up with lights off
lacks Auto mode
not ideal for large rooms
The PureZone 3-in-1 best air purifier for mold and dust is perfect for first-time users who desire a simple and efficient machine to kill mold.

Click Here To View The Latest Price →
The Winix 5300 air purifier has 4-stage filtration system and can cover a room up to 360 square feet.
The interesting detail is the PlasmaWave technology that battles mold, bacteria, viruses and other harmful particles with no ozone emissions.
This is one of the best air purifier for mold and dust mites.
4-stage filtration:
Permanent Pre-filter eliminates large particles such as hair, dust, and pet dander. It is not necessary to replace this filter, you should clean it with a vacuum cleaner or a soft brush every two weeks. It extends the life of other filters.
Activated Carbon filter eliminate the odors that appear in stuffy rooms, kitchens, smoking rooms. The main feature is the CleanCel coat that doesn't allow the mold and bacteria to grow inside the device. The carbon filters need to be replaced every 3 – 6 months.
TrueHEPA filter captures 99.97% of particles, such as dust mites, pet dander, pollen, and mold spores. Depending on the frequency of use, you'll need to change it once in 12 months.
PlasmaWave Technology filter is an ionizer in fact. It produces both positive and negative ions that create plasma clusters that eliminate all types of viruses, bacteria, chemical vapors, and even smells. It doesn't require any replacement filters or other maintenance and you can turn it off and on whenever you wish.
The Winix 5300 air purifier is a floor-standing model. For better air circulation, you need to install it at least 15 inches away from the wall. The surface must be hard and flat, and there must not be any electrical appliances within 12-18 inches of the unit.
Sensors:
Sleep mode – the unit automatically adjusts the fan to the quietest setting and dims the control panel lights when the lights go off.
Air Quality Sensor – as soon as the sensor determines that the air quality is low, it automatically adjusts the speed of the fan to improve the clean air circulation. There are 4 fan speeds: low, medium, high and turbo and of course, you can always set the fan as you wish.
Replacement indicator – it only works for the true HEPA filter.
The noise level is 55 dB at the highest fan setting that is pretty low, not louder than a quiet conversation. But when PlasmaWave option is enabled, the air purifier can produce buzzing sounds because the particles are eliminated by the ionizer. That's why I wouldn't recommend turning it on in the night.
The energy consumption rate:
Fan Speed 1 – 14 watts
Fan Speed 2 – 34 watts
Fan Speed 3 – 70 watts
Fan Speed 4 – 128 watts
The CADR rating:
Smoke – 232
Dust – 243
Pollen – 246
This coverage area allows using this air purifier for mold and dust allergies in most of the rooms in your house, including the basement and the attic.
Features:
Energy Usage – 70 Watts
Color – grey, with a shiny black control panel
Noise level – 26 – 55 decibels
Size – 15.0 x 8.2 x 23.6 inches
Weight – 15.4 pounds
Pros
4-stage filtration system
a 2-year warranty
air quality sensor
reduces allergy symptoms
moderate price
quiet operation
low energy consumption
auto mode/ sleep mode
Cons
frequent replacement
plays a tune when switched on
can't be placed against a wall
The Winix 5300 air purifiers is a perfect affordable device for people, who are on a tight budget but want to get the best air purifier to remove mold spores.

Click Here To View The Latest Price →
The SilverOnyx is an air purifier for mold smell that can blend in any room thankfully its modern design. It is one of the best air purifiers to get rid of mold as it has 5 stages of filtration.
Mesh preliminary filter catches large particles that make expensive true HEPA filter dirty. It collects hair, large dust, dirt and other air pollution.
True HEPA filter removes 99.97% of airborne particles and larger than 0.3 microns. The majority of the airborne particles including mold spores will be caught with this filter.
Activated carbon filter removes bad smells like kitchen cooking, pets smells like urine, dander or just scent and smoke.
Negative ion generator. You can turn this feature on and off. Negative ions prevent the occurrence of any contaminants that could cause any bacterial infections.
UV light sanitizer kills viruses and bacteria.
The SilverOnyx air purifier has five speeds, so this little device is powerful enough to clean the air in the rooms up to 600 square feet. Moreover, it has an indicator that will tell you when you need to replace filters. This little device is extremely powerful.
If you want to use the best air purifier for mold spores at night, press the Sleep function to diminish the blue light a bit. The only downside could be that you have to use genuine parts when you need to replace them. And don't forget, like any other air purifiers, avoid blocking the air inlet or putting it near the wall.
Features:
Adapter Power Supply – Input 110-120V ~ 50/60Hz / 0.6A
Max Clean Air Delivery Rate – 140 m³/hr
Dimensions – 8.5″ x 8.5″ x 13.2″ (215 x 215 x 335mm)
Model – KJ150F-C02
Noise Level – Min: < 25 dB(A); Max: 56 dB(A)
Unit Power Supply – 24V DC 1A
Weight – 4 lbs (1.8 Kg)
Color Options – Black, Silver, White
Pros
modern and unique design
LCD Display
automatic System
creates less than 25DB noise
uses less than 24W
very affordable price
This best mold spore air purifier is for the people with problems like asthma, bronchitis or any kind of respiratory allergies. The SilverOnyx will provide the cleanest air possible in the room.

Click Here To View The Latest Price →
The LV-H133 is air purifier for mold smell that comes with many effective features, including a safety ozone-free system. It comes with interesting features, like the HEPA filter and user-friendly touch screen.
The 360° filter design charges all the impurities in the air and cyclone technology captures 40% more air per hour and cleans the air 40% faster than many other purifiers.
Now you have an opportunity to get the second color option – the premium black color. The purifier is perfect for large spaces as it covers up to 50 m².
The best air purifier for mold is CARB and FCC certified, and ETL listed. Maintaining the purifier for mold and allergens is very easy. Replace its filter after 6 months of cleaning the highly polluted air, or after 8 months if the air is not that contaminated.
The model looks like the previous H132 – the plastic body is still cylinder-shaped design, but now it is more well-built and strengthened.
This unit regulates 3 fan speeds depending on the real-time air quality. The noise level (25 dB) allows you sleeping deeply while it works.
Features:
Dimensions – 25.9 x 14.8 x 14.7
Weight – 17.95 pounds
Area Coverage – 538 ft²
Noise Level – 25 dB
Power – 120V, 60Hz
CADR Rating for Smoke – 285
CADR Rating for Pollen – 287
CADR Rating for Dust – 274
Fan Speeds – 3
Filter Type – HEPA
Control Panel – LED Display
Timer Function – Yes (1-12 hours)
Pros
good performance
intuitive to use LED control
modern tower design
quiet operation
compact design
ozone-safe
improved add-on Smart features
recommended for areas of up to 538 square feet
Cons
more expensive than the previous model
The LV-H133 air purifiers are ideal for those living in small houses who have kids and want to protect their health, and for those who suffer from allergies or asthma. This air purifier is one of the best air purifiers for mold and pets.

Click Here To View The Latest Price →
Best Air Purifier for Mold – Buyer's Guide
How Mold Exposure Can Affect Your Health?
Most of us do not understand that the cause of our respiratory diseases is often not a result of dust or even smoke influence but mold spores. It may reside on a surface but when the surface is disrupted, the spores become airborne and can to cause problems for people.
Mold spores are very little and they can pass through the cilia in your sinuses and they are too small to be easily exhaled, so they can become lodged in your lung tissue.
About 3-4% of the human population and 10% of atopic people get symptoms from exposure to mold spores and the majority of people living with severe asthma are allergic to them. Infants and old people can be more affected by mold inhalation than healthy adults.
Moreover, there have been studies that suggest a link between early mold exposure and the development of asthma in children.
The U.S. Department of Health states that mold produces potent toxins that not only can be absorbed by the lungs, but also the skin and intestines. This way, the long-term effects of its exposure can have effects including cancer, neurotoxicity, memory loss, cardiac conditions and more.
TOP air purifiers for mold can prevent these problems.
What You Must Know About Air Purifiers Help For Mold and How Do They Work?
Mold is a tiny fungus, and it is hard to see it with the naked eyes.
An air cleaner for mold and mildew removes contaminants from the air in a room and are a perfect decision for allergy and asthma sufferers. They offer you allergen-free, dust-free, and a smoke-free atmosphere. Air purifiers filter allergens with the help of filters, electrical attraction, or the ozone.
Some of them have True HEPA Filter, UV Light, Activated Carbon Filter and Photo Catalyst technologies to give maximum protection.
Air filters utilize particles from circulating air through top-quality sieves. The best cleaner for mold is the High-Efficiency Particulate Air (HEPA) filters, which capture 99.97% of airborne particles larger than 0.3 microns. A simple room air conditioner filters only particles 10.0 microns or larger.
HEPA air purifier removes:
mold spores;
dust;
smoke;
chemicals;
asbestos;
pollen;
dander.
The more times the air passes through the HEPA filter, the cleaner the air.
The Ultra-Violet (UV) Light System can be built in as an additional function. It kills viruses, bacteria, and also protects the HEPA filter from biological and viral contamination. It works by sending out a light which zaps the spores and destroys their DNA. This function is helpful but is not necessary for removing spores.
A combination of these two features guarantees fresh, crisp, clean air in a house.
If you wanna protect yourself from coronavirus make sure to wash your hands after visiting public places. Air cleaning systems are not effective in fighting with it as COVID-19 spreads via the liquid from sneezing, coughing, and talking. The virus doesn't live in the air for a long time.
Key Features to Look for in a Mold Air Purifier
When looking for a mold air filter there are several key features you want to keep in mind to know what air purifier is best for mold.
Filters of Air Purifiers for Mold
The best choice is a high-efficiency air filter like the HEPA Filter. It is able to remove the smallest mold spore particles. Most mold spores range from 3-100 microns in size, but some can be as small as 1 micron. So it is important to invest in a purifier that removes at least 3-micron size particulates or smaller.
The only downside to the HEPA air filter is that it can be expensive to replace.
A high-efficiency pre-filter helps eliminate 99.97% of large mold spores, pollen, dust mites and many other small airborne particles, and it is one of the best air purifier technologies offered to combat mold.
Mold can't reproduce without moisture. When its spores are pulled into an air purifier, the HEPA air filter traps and kills them. Mold does not reproduce in HEPA filters if there is no moisture in the air purifier. But those in damp environments can use a purifier with an antimicrobial filter to prevent mold growth inside a purifier.
Stay away from devices called "HEPA-like" or "HEPA-type" as they are inferior to a True HEPA air purifier.
Activated carbon filter eliminates mold odor. Without it, the smell of mold can stay. Activated carbon filter is excellent at absorbing toxic Volatile Organic Compounds and Microbial Volatile Organic Compounds that mold emits.
It eliminates not only mold smell but others like odors from pets, cleaning supplies, cooking and some types of smoke.
Noise-Level
Noise-level features are also very important, that's why the whisper-quiet operation system is a big advantage. Many air purifiers use a fan to force the circulation of air. Some purifiers have adjustable fan settings to help you control the noise levels.
The absence of a fan usually makes a device noise-free but less productive at the same time. So, choosing a purifier with an adjustable noise-level is a critical factor.
Other Considerations
The unique features like the Smart Sensor, UV Germicidal light, and ionizer assist in the removal of impurities and give you a crisp and refreshing indoor environment.
Don't forget to pay attention to the simplicity, convenience, and price, size of your rooms, maintenance, and brand of the air purifier.
FAQ
How to get rid of mold spores in the air?
HEPA air purifiers are the best decision to eliminate mold in the air. But don't forget you need to find the source, get rid of the reason and prevent mold growth.
How long do mold spores stay in the air?
After mold appears, its spores release into the air in 1-2 days. If you can't find the reason or the source of mold, using air purifiers is obvious.
What happens when you breathe in mold spores?
Breathing the mold spores in causes itchy, runny nose, watery eyes, sneezing, and may harm your lungs.
What air purifiers get rid of mold spores?
The size of a mold spore ranges from 3 to 100 microns. Quality HEPA air purifiers capture particles as small as 0.3 microns, so they deal with it without problems.
How do you know if there are mold spores in the air?
If your house is damp, there is a high chance that you have molded areas in it. Pay attention to the mold-related symptoms:
Shortness of breath
Constant coughing
Frequent sneezing
Watery eyes
Irritated skin
Running nose
Skin rashes
Chronic headaches
Conclusion
Mold air purifiers offer you air free from mold spores which can cause fatal health issues. Choosing the best model, pay attention to your personal demands.
Triple-action powerhouses of air purification, like the True HEPA Filter, the UV Light, the Activated Carbon Filter and the Photo Catalyst technologies gives maximum protection.
Don't forget that If you let mold fungus remain indoors and they constantly land in a wet area, the process of mold growth begins again and again with the growth of new mold.
Share your opinion about a mold air purifier, you've purchased. This way I can make sure whether my list helps you get an indoor air cleaning system that is right exactly for you.