Welcome to the topic: Are Pop Tarts Vegan?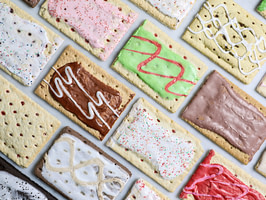 Pop-tarts are quite a famous food that requires no introduction, and we can see these in a wide variety of flavors, most of which are covered in sprinkles, syrups, frosting, and glazes. So the main question is, are pop tarts vegan? While you already know that most of the widely decorated pastries are non-vegan, some pop tarts are considered vegan.
Whether pop tarts are vegan or not depends on whether they are frosted or unfrosted. According to the website of Kellogg, the frosted pop tarts contain gelatin and other animal ingredients. Still, the unfrosted ones, on the other hand, do not have such animal-based elements.
What are pop tarts?
Pop-tarts are a toaster pastries brand that was introduced by Kellogg in 1964. Pop-tarts contain a sugar filling that is sealed inside two different layers of thin and rectangular pastry crust. Most of the varieties of pop tarts are frosted, and although sold pre-cooked, pop tarts are designed to be warmed in a toaster or a microwave oven.
In the market, pop tarts started out with just four varieties, but they are now producing an extensive range of different flavors, as each of the flavors is the pet favorite of somebody. The brightly decorated children's favorite pop tarts might be safe for the vegans' consumption, but there are non-vegan ingredients available in some famous pop tarts that top the list of the favorites.
Pop-tarts ingredients
Ingredients that include palm oil, natural flavors, and artificial colors bring pop tarts under the scrutiny of the better knowing vegans who never tolerate any environmental or animal sacrifice in their choice.
Palm oil
We all know that palm oil is plant-based, but many people say that its cultivation implications are far from vegan. The environmental, ethical, and social challenges posed by the sprawling plantations make it a very controversial ingredient in our snacks.
The large-scale clearing of the rainforests is very dangerous for the survival of those wild animals that lose their habitat. These animals are then left to wonder for food and shelter that was readily available to them once in the rainforests. Many wild animals have now been brought into the list of endangered species.
In order to maintain a balanced and healthy atmosphere for our planet, the tropical rainforests are essential, and their disastrous deforestations have devastating implications without any doubt. The laborers who are poorly bonded have to bear the social and the ethical grunt of palm cultivation. The scarcely fed workers toil in these fields of cruelty, and they experience nothing that is equivalent to human rights.
Natural flavors
Natural flavors can be found in the Unfrosted Blueberry flavor of the pop tarts. It is well known that the natural flavors may or may not be derived from the plants. The natural flavors can also be obtained from the animal-based source. This is the main reason why vegans are skeptical.
Contrary to many people's expectations, it depends whether the natural blueberry flavor of pop tarts may or may not be derived from the raw fruit.
Artificial colors
The unfrosted blueberry pop tarts have artificial flavors that include red40, blue1, and blue2. The unfrosted strawberry flavor has red40 and yellow6 artificial colors. The artificial colors are quite problematic because, from time to time, they require animal testing.
Another misfortune with artificial flavors is that they need to be periodically tested because it can cause serious consequences related to human health. Many vegans may choose to incorporate them into their diet, but some people do not consider them a healthy choice.
The vegan flavors
There are three unfrosted flavors of pop tarts that do not contain any prominent non-vegan ingredients. These flavors include blueberry, brown sugar cinnamon, and strawberry. However, there still are chances that they might be non-vegan.
Even the vegan pop tarts ingredients might include palm oil, natural colors, and artificial flavors that are considered to be broad categories in which all elements might not be vegan. Therefore, you have to consider those ingredients before you buy the tarts from any store.
Things you need to know about pop tarts
Pop-tarts are one of the quintessential childhood foods like the squiggly-frosting topped Hostess cupcakes or the Lunchables. We can see more innovations and different flavors like maple-bacon, frosted watermelon, and the chocolate chip cookie dough with time.
They are dabbling in drinks
We can see brands working on a drinking partnership and keep on releasing the new flavors of pop tarts. The frosting-topped treats have a soda infused filling, and it took a while to get it just right. They are also working on more flavor mashups that are quite unique and interesting.
Where you live plays a significant role in choosing flavors
When it is about what kind of syrup people like or prefer, there are so many regional preferences. In various parts of the world, people are used to different sweetness levels, so it obviously needs some testing to get things right.
They launch multiple flavors together for a reason
Many people have noticed that pop tart often releases two or more different flavors at a time. This saves on shipping costs, sending everything to the store at once, and the brand can hedge its bet with a wide variety of new offerings that appeal to all the tastes.
Making pop tarts at home
There are many recipes for making pop tarts, so you can always make your own pop tarts at home in the way that you like, in less time and with your satisfaction. Some people advice that one should not rely on the capitalist manufacturers to bring back the sweet childhood fantasies.
There are various simple recipes to make your own delicious berry-filled pop tarts at your own home. These tarts will be quite flaky as you like them, with a filling of berry, light raw sugar topping, and also a vanilla glaze. This guilt-free indulgence will obviously be making you excited.
Conclusion
A few varieties of vegan pop tarts are available in the market, but it obviously doesn't mean that you have to miss out on these delicious treats. There is no doubt that a very few brands in the United States have gelatin in the frosted pop tarts to maintain their texture, but you can experiment with your own flavors and DIY pop tarts at home and have control of all the ingredients.
Have any questions regarding the topic? Feel Free to comment down below.
Also Read: Health Benefits of Vanilla Extract
Also Read: Top 4 Vegan Supplement Brands on the Market Right Now