After many readers asked us, "are nerds vegan?" we also wanted to answer the follow-up question: are jelly beans vegan?
It is not so easy to be a vegan if you are fond of jelly beans at the same time. Unfortunately, the majority of jelly beans brands are not vegan. Many gummy, chewy candies have ingredients that are not acceptable to those following vegan lifestyle.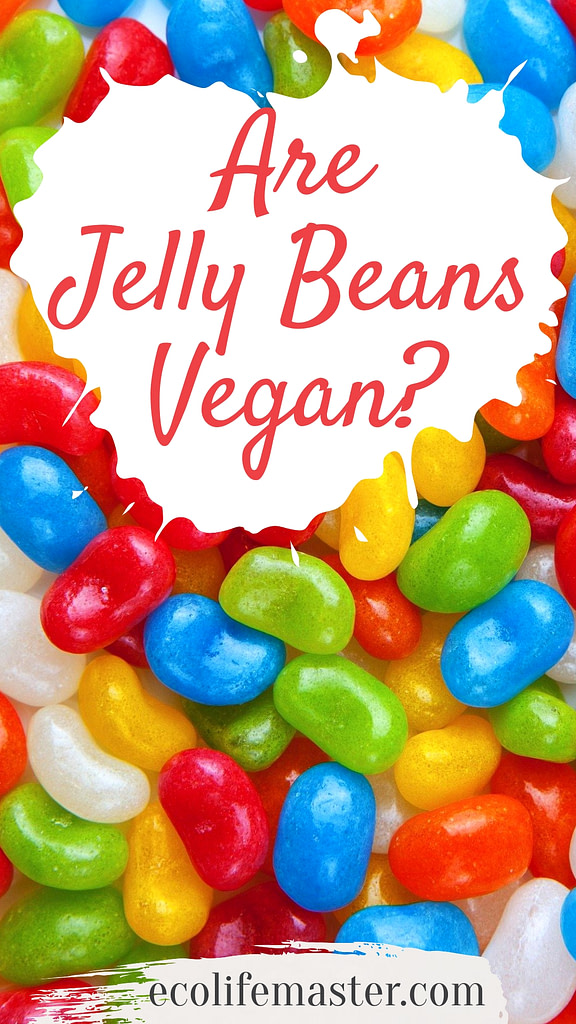 Anyway, the thing is it's only up to you to decide what product is considered vegan. I will explain what I mean soon. Well, this is a full guide about vegan-friendly jelly beans.
The most common ingredients which are not vegan-friendly:
Gelatin – made of animals but most jelly beans don't  have gelatin in them.
Beeswax – it is an animal-derived product, and most vegans don't eat it as they consider getting beeswax out of hives is cruel. If you are a vegan for ethical reasons, candies containing beeswax are not what you need.
Shellac (E904) – it is made from secreted beetle resin. Many female beetles die in the process of collecting. This is the reason why most vegans don't consume foods containing shellac (it alsoincludes denatured alcohol).
Confectioners' glaze – can be vegan-friendly, but not always. It often contains dairy products.
White sugar – in North America, corporations often use filters made from bone char to clean. This makes it not vegan. But if a company explains that they use bone char-free filters, wite sugar may be safe for vegans.
Food coloring (Green No. 3, Blue No. 1, No. 2, Yellow No. 5, 6, Red No. 3, 40) – it is also a controversial product in the U.S.A., as these colorings are often tested on animals. Red jelly beans probably were colored with cochineal (crushed female beetles).[1]
This way, the 2 last ingredients may be considered as "technically" vegan, but there is the grayest area to discuss it depending on the definition of the word "vegan" you use. Let's have a look at the most popular brands of popular jelly beans and find out whether they are vegan or not.
Are Surf Sweets Jelly Beans Vegan?
This is the first brand that may come to vegan's mind, as its content is clearly vegan. Unfortunately, you may not buy it any local store, but you can always find it on Amazon.
The full ingredients list:
Organic Tapioca Syrup
Organic Cane Sugar
Organic Grape Juice Concentrate
Ascorbic Acid, Pectin
Citric Acid
Colors Added (Organic Turmeric, Organic Black Carrot Juice Concentrate, Organic Annatto)
Confectioner's Glaze
Natural Flavors
Carnauba Wax
Organic Sunflower Oil
Most of the ingredients are plant-based, all flavors are natural, and colorings are vegan-friendly. The only potential problem is the confectioners' glaze, aka Organic Shellac. It is the waxy secretion from the lac insect, similar to beeswax from bees.
This ingredient gives these Jelly Beans their shiny delicious shell.
Surf Sweet Jelly Beans aren't vegan, they are vegetarian.
Haribo Jelly Beans
Haribo is a worldwide well-known brand. But getting their jelly beans may be a problem. If you live in Europe, look for them online or try your luck in a local candy store.
The full ingredients:
Sugar
Modified corn starch
Glucose syrup
Citric acid
Carnauba wax
Flavors
Gum arabic
Curcumin
Anthocyanins
Fruit and plants concentrates (sweet potato, apple, safflower, Spirulina)
All the ingredients are made of plants, so they are vegan of course.
But here is plain "sugar"  in the ingredients list, that is possibly made with the help of bones of cows). So its consumption might be risky for vegans.
Unfortunately, their support doesn't clarify the situation and doesn't answer vegans asking about this. That's why Haribo Jelly Beans are possibly vegan.
Jolly Rancher Jelly Beans
The full ingredient list:
Corn Syrup
Sugar
Cornstarch
2% or less of Sodium Lactate
Malic Acid
Lactic Acid Natural and Artificial Flavors
Carnauba Wax
Gum Arabic
Artificial Colors (Red 40, Yellow 6, Blue 1, and Yellow 5).
Mineral Oil
As you can see, here are some potential non-vegan ingredients Colorings Red 40, Yellow 5 and 6, Blue 1 and Sugar that may be processed using bones. Jolly Rancher is a big company that obviously has many sugar suppliers. So here is a good chance that some of them process their sugar this way.
The second point is the artificial colorings. This is a grey area, surrounded by animal testing. It's only up to you if you find it acceptable or not as colorings themselves do not contain animal-derived products.
A decision about these ingredients may vary from person to person. So Jolly Rancher Jelly Beans may be vegan but may be not, it depends on your views.
Are Jelly Belly Beans Vegan?
One of the most popular jelly beans companies in the world is Jelly Belly.
Jelly Belly Beans contain non-vegan ingredients like colorings (Yellow 5 and 6, Red 40, Blue 1 and 2), sugar, beeswax.
Colorings may vary from flavor to flavor. Anyway, Jelly Belly beans are not vegan just because all of them contain beeswax. The beans are coated with shellac and beeswax to give them their shine.
I know that some vegans have no problem with it, so let's have a look at the other questionable Jelly Belly components.
A list of Jelly Belly ingredients:
Sugar
Modified Food Starch
Corn Syrup
Fruit Concentrate and Puree
Cocoa Butter
Chocolate Liquor
Soy Lecithin
Fumaric Acid
Citric Acid
Lactic Acid
Phosphoric Acid
Malic Acid
Ascorbic Acid
Sodium Citrate
Sodium Lactact
Cocoa Powder
Coffee
Natural and Artifical Flavors
Color Added
Vanilla Beans
Tapioca Dextrin
Carnauba Wax
Beeswax
Salt
Confectioner's Glaze
Caffeine
As you can see, Jelly Belly does not contain gelatin in their candies.
Sugar, artificial colors, and confectioner's glaze might be vegan, but might not be. On the Jelly Belly website, all the pages of their product ensure that it is "vegetarian-friendly". If you pay attention to the ingredients Jelly Belly made of, you will see beeswax is one of the elements.
Shellac (confectioner's glaze) is also present in a Jelly Belly.
The one more controversial problem may be the artificial colorings, but this is your call as well. But you can be sure that Jelly Belly Beans are suitable for vegetarians. [2]
Lifesavers Jelly Beans
Lifesaver is famous not for its jelly beans but, they do sell them.
Here's the full ingredients list:
Carnauba Wax
Sugar
Cornstarch
Corn Syrup
Modified Cornstarch
Water
Modified Corn Starch
Natural and Artificial Flavor
Confectioner's Glaze
Citric Acid (For Tartness)
Artificial Color (Yellow 5, Red 40 Lake, Red 40, Blue 1)
Beeswax
Unfortunately, Lifesavers Jelly Beans are not vegan as they contain beeswax and other questionable ingredients like Red 40, Yellow 5, Blue colorings.
Kirkland Gourmet Jelly Beans
Some of Kirkland products are vegan, but if we talk about Kirkland Gourmet Jelly Beans, they are not vegan thanks to Red 40, Blue 1 and 2, Yellow 5 and 6 colorings and Beeswax. The colorings may vary depending on the flavor, but anyway, they contain at least one is possibly tested on animals.
Moreover, they contain beeswax, which is the main reason these beans are not vegan.
Are Brach's Jelly Beans Vegan?
Ingredients:
Sugar
Corn Syrup
Modified Food Starch (Corn)
Natural and Artificial Flavors
Cornstarch
Confectioner's Glaze
Beeswax
Carnauba Wax
Red 40, Blue 1, Yellow 5, Yellow 6, Red 3
Just like many other non-vegan jelly beans here, these ones contain multiple colorings that we've discussed (Yellow 5 and 6, Red 3 and 40) and beeswax. That's why we can say that Brach's Jelly Beans are not vegan.
It is important that the beans were manufactured in a facility where milk, eggs, wheat are used in the production of other products, so it may contain traces of animal-derived products.
Are Starburst Jelly Beans Vegan?
This brand contains almost the same ingredients as most of the other jelly beans mentioned above which may not be vegan: Yellow 5 and 6, Red 40, Blue 1 and 2 colorings and confectionery glaze.
At the same time, the product does not contain beeswax, so Starburst Jelly Beans are probably not vegan.
The list of ingredients:
Corn syrup
Sugar
Food starch
Citric acid
Apple juice from concentrate
Gum acacia
Artificial and natural flavors
Confectionery glaze
Coloring (red 40, yellow 5, blue 1, yellow 6)
Pay attention to the coloring ingredients of the concrete flavor. Remember that some of the sugar in North America probably was refined with bone char. And the last controversial ingredient is confectionery glaze, that also may not be vegan.
Summary
Jelly Belly and most other jelly bean brands are not vegan but vegetarian.
Here is a quick recap for you:
Surf Sweet – not vegan
Haribo Could – probably vegan (depends on the "sugar")
Jolly Rancher – probably vegan, (depends on the "sugar" and colorings)
Jelly Belly – Not vegan (beeswax)
Lifesavers – Not vegan (beeswax)
Kirkland – Not vegan (beeswax)
Brach's – Not vegan (beeswax)
Starburst – Probably not vegan, (depends on the sugar, confectionery glaze, and colorings)
What Jelly Beans are Actually Vegan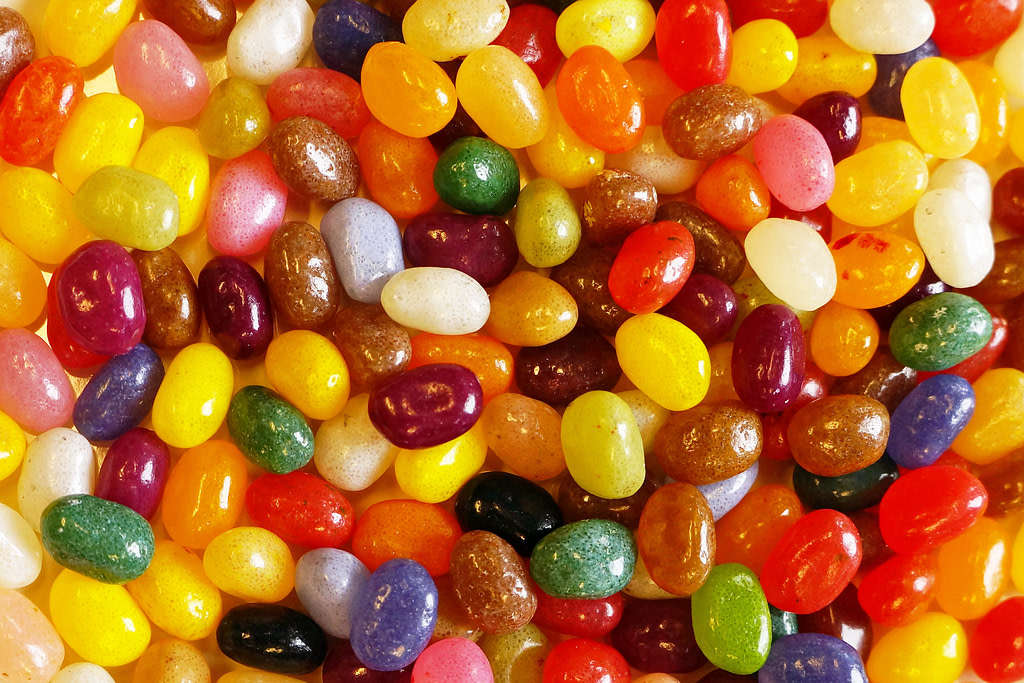 Unfortunately, the most popular brand like Jelly Belly or Surf Sweet are not vegan.
If you are looking for jelly beans vegan alternatives, here are candies that don't use animal by-products for you:
Jolly Rancher's Jelly Beans are actually vegan. The original flavors are orange, strawberry,grape,  blue raspberry, watermelon, and apple. These jelly beans don't contain beeswax, gelatin, and shellac.
Warheads Sour Jelly Beans are a tasty alternative to jelly beans.
The ingredient list is short and simple:

glucose syrup
sugar
modified corn starch
citric acid
fumaric acid
artificial and natural flavors
vegan-approved food coloring.
You can choose from 6 flavors:
orange
lemon
watermelon
blue raspberry
green apple
cherry

Wonka Nerds Bumphy Jelly Beans come coated in a crunchy shell, but unlike many other jelly beans, this shell is not made of animal by-products. You will find one of 5 fruity filling inside: grape, strawberry, watermelon, orange or lemon.
Yumearth Naturals Sour Jelly Beans are made from absolutely natural ingredients and fruit juice. One more benefit – it has 100% of your daily dose of Vitamin C.
Vegan Sweets Jelly Beans are made with no animal-derived products like beeswax or gelatin.
If you wanna be sure that your jelly beans are 100% vegan, do them by yourself! Check this awesome video out!
You may also cook healthy sweets with the help of Ninja blender.
PIN IT!