Almost all Clif Bars are vegan and they are a great alternative to the Snickers bar that contains dairy and dairy hormones. A vegan Clif Bar has no hormones in it and all Clif Bars are dairy-free. At the same time, they are still one of the bestsellers in the USA, vegan or not.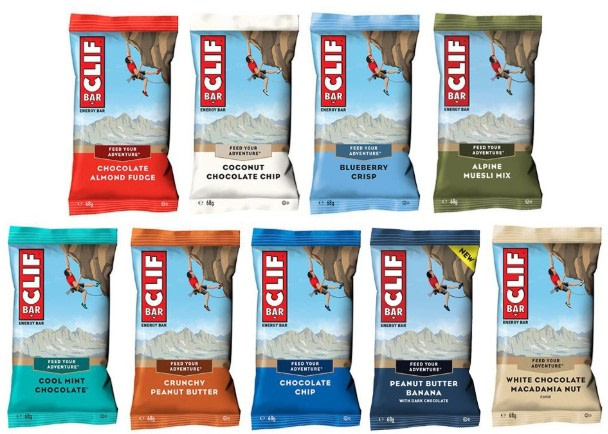 On the front, it says 70% organic ingredients. If your aim is to fill up and feel heavy and feel like you've had some food then a Clif Bar is what you need.
A lot of vegans like Clif bars for a great variety oа flavors:
Cool Mint Chocolate
Oatmeal Raisin Walnut
Banana Nut Bread
Carrot Cake
Crunchy Peanut Butter
White Chocolate Macadamia
Berry Pomegranate Chia and many more
Each recipe is thoughtfully crafted and inspired by athletes and foodies in the Clif kitchen.
Types of Clif Bars
Whey Protein Bars – None are vegan.
Traditional Clif Bar – All are vegan except for "Peanut Butter & Honey".
Nut Filled Bars – All are vegan, but all bars contain palm oil.
Fruit Smoothie Bars – All are vegan, but all bars contain palm oil.
Builder's Bars – All are vegan, but all bars contain palm kernel oil.
Ingredients
Rice syrup no
Rolled oats
Soy rice crisps
Cane syrup
Soy butter
Roasted soybeans
Chocolate cookies (optional)
Fig paste
White chocolate flavored chips (optional)
Sea salt
Milled flax seeds
folic acid
Ascorbic acid
Dipotassium phosphate
Potassium
Iodide
B12
Riboflavin
Thiamine
Chromium
Chloride
Sodium
As you can see, Clif bars are not the healthiest snack. They are sweeter, and of course higher in sugars than many other energy bars but they make you feel faster and for a longer time than most of them, making a good value recommendation. Clif bars have a soft, chewy texture, and non-GMO soy crisps give a protein bonus.
What About Milk Traces
Here is also the warning that soy may contain traces of peanuts, wheat, milk, rye and other tree nuts.
Clif Bar is another company billion-dollar industry. They are everywhere in the US. This is one of the biggest vegan selling products on the planet. If you're a billion-dollar company, you source anything from another supplier and they also work in a factory that uses the same machines where they make whey protein or whatever.
As a rule, workers clean the line, but it still may contain nanograms of diary products. Someone who has a dairy intolerance may have diarrhea and then that company will get sued if they didn't say that the product may contain traces of dairy products.
Any product in the factory may contain a cockroaches foot or a rat down I guarantee you if you pick fruit from the orchard and eat apples someday you're gonna get a little worm in it. Does it mean you're not a vegan anymore? No, it doesn't.
So "may contain" is legal loophole companies do to protect themselves because some people will sue anyone for anything.
Clif Bars Facts
Price: $1.39 per a bar
Certifications: Certified Kosher Dairy as it may include dairy, but not dairy ingredients. "There are no dairy products in our bars; however, the vendor we purchase our non-dairy chocolate chips from makes chips containing dairy in the same building."
Dietary Notes: Clif Bars are dairy-free, egg-free, vegan, and vegetarian. But varieties which are made without tree nuts and peanuts may include nuts that presenting on the line. Ingredients, processes and labeling may change at any time for any product/company.
FAQ
What is the best time to eat a Clif Bar? Eating 2-3 hours before the activity will help store energy. Eaten a CLIF BAR during an activity will help keep you going on. Eating after activity replaces glycogen in muscles.
Does it contain gluten? Yes, Clif bars contain gluten.
Is Clif bar organic?  70% of ingredients are organic. The product doesn't include trans-fat, high fructose corn syrup, or artificial flavors.
Here is the recipe for homemade vegan Clif Bars. Make it easier and faster in a blender food processor.