Veganism is a way of life-based on the restriction of all animal products both for either health or ethical reasons.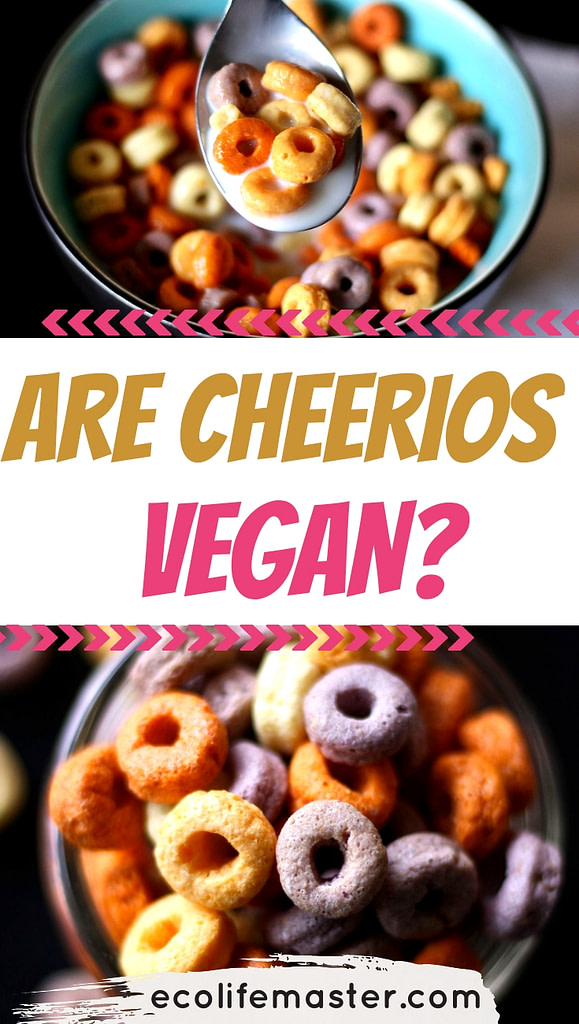 What Are Cheerios?
General Mills' Cheerios is a favorite breakfast by many Americans who think about the quality of meals they eat. Cheerios are made of whole grains oats in the shape of small rings which are pulverized.
The first General Mills' Cheerios version had no flavor, but today there are several flavored varieties:
Honey Nut
Chocolate
Apple Cinnamon
Cheerios are very popular thanks to its impressive nutritional value.
Cheerios ingredients:
whole grain oats
vitamin D3
zinc
calcium carbonate
iron
sugar
vitamin C
Vitamin E
vitamin A
vanillin
vitamin B2
vitamin B6
vitamin B12
modified corn starch
canola oil
salt
corn syrup
natural almond flavor (for Honey Nut Cheerios)
apple puree concentrate (for Apple Cinnamon Cheerios)
The fiber in whole grains lowers cholesterol level. The rings are also rich in essential nutrients, like Vitamin B6, calcium, and iron. Unfortunately, the flavored options from General Mills have high sugar content.
What Food Is Vegan?
Many of us associate the word vegan with grass and vegetables only. PETA considers vegan as any food that is free from animal products such as dairy, eggs, honey, and meat. Many vegans also avoid foods that were derived with the help of animal products (white sugar, lactic acid, and vitamin D3).
As a rule, vegans eat simple foods like grains, fruits, and vegetables. They replace dairy products with plant-based ingredients (tofu, flax seeds or chia seeds). Today's market offers a great variety of foods modified for the needs of vegan followers. You may find veggie burgers, vegan mayonnaise, or vegan hotdogs without any problems.
For those who suffer from lack of meat taste, there are meat imitation options in various shapes and styles based on plant protein are available. Vegan meatballs, bacon, and ground meat is not a surprise for anyone.
Are Cheerios Vegan?
Cheerios may considered vegan as they contain many vegan ingredients such as: corn starch, corn meal, brown sugar syrup, added color, trisodium phosphate, canola and/or rice bran oil, dried corn syrup, whole grain corn, corn bran, modified corn starch, oat flour, rice flour, whole grain barley, whole grain rice, and whole grain wheat.
A lot of readers asked me, "Are cheerios vegan?" Unfortunately, NO, they are not vegan.
Even though they are made of whole grains, they include non-vegan ingredients:
Honey – is not vegan. Veganism doesn't allow to exploit animals, bees in this case. Honey production doesn't help the bees survive, but exhaust them as they work twice more to refund the missing honey.
White sugar – as a rule, manufacturers use calcium carbonate from animal bones (cow's skull or spine) to give a white color for sugar and remove impurities after the juice is extracted from the cane pulp and heated until solidified.
Vitamin D3 – can be derived from the lanolin in skin glands or fish oil. To get lanolin from sheeps, their wool is squeezed until yellowish waxy substance extracts. Unfortunately, Cheerios use Vitamin D3 that is animal-based because it's not specified on the label. Technically, this fact makes the cereal vegetarian but not vegan. The problem is we don't know if the wool was skinned off dead or alive sheep. So it may also be even "animal based". This way, any "fortified" food (even orange juice) may include animal-derived vitamin D3.
Flour – in fact, there is basically no vegan flour as it includes insect parts. Moreover, flour production can't operate without pest control. Manufacturers also trap and poison mice at places where grains are stored.
These products are derived from animals and make Cheerios not vegan-friendly. Moreover, Honey Nut Cheerios, Cheerios Crunch, and Yogurt Blast Cheerios contain nonfat milk that is also non-vegan.
There is one more taste – Frosted Cheerios that doesn't contain honey but has vitamin D3 and sugar which are controversial products for vegans.  Anyway, it is gluten-free and non-strict vegans may eat it. You may prepare a tasty smoothie with a Ninja blender and drink it for nutritious healthy breakfast.
Conclusion
So are Cheerios vegan? They don't include animal products such as milk, eggs, or meat. Unfortunately, there are ingredients like calcium carbonate which were derived with the help of animal exploitation. This way, it can't be considered as vegan-friendly.
Non-vegan products hide inside apparently vegan food all the time, so pay more attention to the ingredients.
Sources: