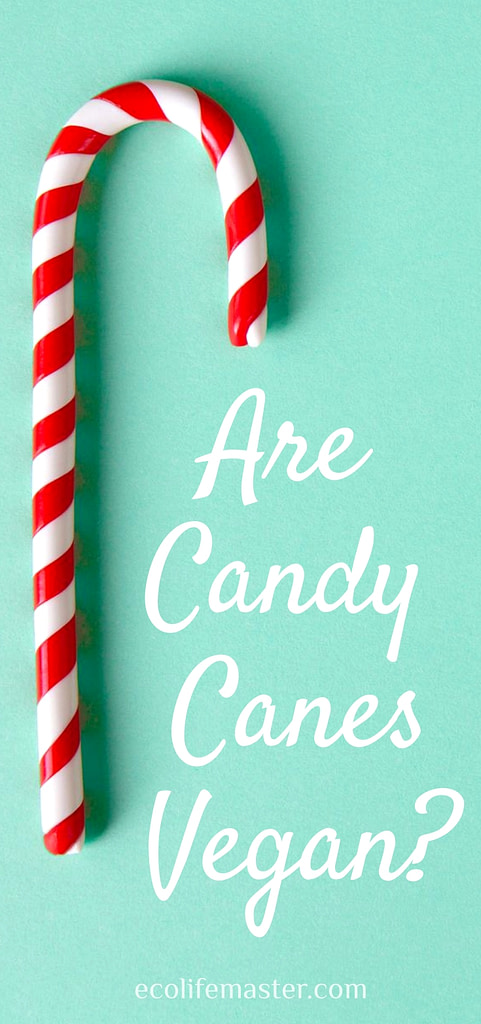 I am sure that everyone likes candy canes. They are the part of every Christmas. Have you ever given a thought to their origin? Are candy canes vegan at all?
What is a Candy Cane?
It's a long thin and bent on the top candy with red stripes. Usually, it has a peppermint or wintergreen flavor. August Imgard was the first man in America, who decorated his Christmas tree with candy canes in 1847.
Firstly candy canes were made by hand. But in the middle of the 20th century, Gregory Keller created a machine to produce them automatically. Nowadays, they are traditional Christmas candies.
How are Candy Canes Made?
The manufacturing process of candy canes includes six steps:
Workers combine all the ingredients in a kettle with mixers to blend them. They heat the mixture and continue cooking until it turns into an amber liquid.
Now it's time to cool the mixture. Then special machines with arms stretch it for many times to make the candy silky.
After it, the workers add different flavorings and colorings.
Now the candy is formed into a loaf and then cut in half. The second part is dyed red. Then workers make red stripes and press them into the first part of the loaf.
To become a candy stick, it has to pass through the extruder that cuts it in slices. The workers send it to the machine, which creates the form of a cane.
When candy canes are ready, manufactures package it in plastic. [1]
Nutrition Facts
Do you know how many calories are in candy canes? How much sugar do they contain?
Now let's have a look at the candy cane nutrition facts:
Calories – 50
Total carbs – 12g
Sugars – 12g
As you can see, there are no fats and cholesterol, only carbohydrates and sugars.
Are Candy Canes Vegan?
I can answer this question in this way – some of them are vegan, but the most are not. To be sure that there are no animal derivatives, check out the list of ingredients. The best choice for you is the labeled vegan one.
Are candy canes gluten- and dairy-free? Almost all of them do not contain any traces of wheat or milk. This is a good news for vegetarians. The most sugar sticks don't also have gelatin, but some do. Don't forget to read the ingredient list.

Candy Canes Ingredients to Look Out For
As you know, only one thing can make this food unsuitable for vegans.
Here are candy cane ingredients which are usually animal-based:
Gelatin sometimes presents in candy canes. Derived from skin and bones of sheep, it's not veggie-friendly.
Carmine works as a coloring. To make your candy cane red people kill a lot of insects called cochineal. It's better to avoid it.
Sugar can also be animal-based. Bone char is famous in the sugar industry and helps to make it white. This ingredient comes from cattle bones. The vegan one is usually labeled as organic, unrefined, natural or raw.
Shellac makes your candy cane shine. To produce it, a lot of Keria Lacca insects have to die.
Glycerin is originally an animal byproduct. Nowadays, it can be plant-based. Usually, the glycerin in food is vegetable. If there is no information about its organic origin, the source is still in question.
Are Candy Canes Bad for You?
Candy canes are not harmful to our health, to speak the truth. Of course, if you don't eat a lot of them.
These ingredients are potentially bad for you:
The primary problem is the high sugar content. As you know, this ingredient can be the reason for the different oral problem. When sugar comes to your mouth, it may cause bacteria. As a result, you get caries. To avoid, it dentists suggest brushing or flossing your teeth after eating candy canes.
Corn syrup is as harmful to our body as sugar. The human organism turns this ingredient into fat. It means that you can gain weight by consuming it every day. It can make you insulin-resistance and develops diabetes. Another threat of corn syrup is the risk of cancer.
Red 40 can cause allergy and skin problems like hives. It also may be the reason for different oncology disorders. Some scientists claim that there is a connection between this additive and hyperactivity in children.
Are Popular Candy Canes Vegan?
There are a lot of famous brands producing candy canes. Which one of them is suitable for vegans? Here I'm going to share the information about their ingredients.
Jolly Rancher
This brand produces candy canes, which have three flavors like strawberry, mixed berry, and watermelon. According to customers' reviews, this product has a creamy, fruity taste.
Let's check out are Jolly Rancher candy canes vegan or not:
Sugar – may be vegan or not
Corn syrup – vegan
Malic acid – vegan
Natural and artificial flavors – vegan
Sodium lactate – may be vegan or not
Artificial color (red 40, yellow 5, blue 1) – vegan
Glycerin – may be vegan or not
Some ingredients are in question because I don't know their sources. Well, these candy canes are not for vegans.
Spangler
All candy canes made by Spangler do not contain gluten, whey, soy, eggs and milk. They are also free from common allergens and have a kosher certificate. Let's find out can vegans enjoy them or not.
Ingredients:
Sugar – may be vegan or not
Corn syrup – vegan
Natural flavor – vegan
Color added (includes red 40) – vegan
Are Spangler candy canes vegan? No, because there is no information about the sugar used in their product.
Brach's
The most popular are Red & White Mint Canes made with real peppermint oil.
Let's check out are Brach's candy canes vegan:
Sugar – may be vegan or not
Corn syrup – vegan
Peppermint oil – vegan
Red 40 – vegan
Red 40 lake – vegan
Unfortunately, I can't consider it to be veggie-friendly.
Allan
Peppermint candy canes produced by Allan have the longest list of ingredients:
Sugar – may be vegan or not
Glucose syrup – vegan
Hydrogenated soybean oil – vegan
Hydrogenated palm oil – not vegan
Calcium carbonate – vegan
Sunflower lecithin – vegan
Mono and diglycerides – may be vegan or not
Corn starch – vegan
Natural flavor – vegan
Color with tartrazine – vegan but is not cruelty-free
Well, are Allan candy canes vegan? No, there are a lot of ingredients with unknown origin and palm oil. On the one hand, this product is plant-based. The problem is its manufacture, which destroys rainforests and causes animal deaths. Vegans have to avoid it.
Bob's
Ingredients of Bob's Red and White Candy Canes Mint:
Corn syrup – vegan
High fructose corn syrup – vegan
Water – vegan
Natural and artificial flavors – vegan
Salt – vegan
Polysorbate 60 (emulsifier) – may be vegan or not
Sodium benzoate (preservative) – vegan
Are Bob's candy canes vegan? Maybe, but the company doesn't give any information about polysorbate 60. It can be both animal and plant-based.
Organic Candy Canes Brands
Now you know that popular candy canes include different ingredients of unknown origin. So, you have to avoid them because of animal byproducts. Does it mean that you should deny yourself the pleasure of eating these Christmas sticks? Of course, no!
Below you'll find the best vegan candy canes, which are also healthy.
Wholesome
It is the most famous brand producing organic candy canes. Its product is free from gluten, casein, and corn syrup. What is more, there aren't any artificial colors, flavors or preservatives.
Here is the list of ingredients:
Organic cane sugar – vegan
Organic brown rice syrup – vegan
Natural peppermint flavor – vegan
Organic fruit juice – vegan
Everything is 100% natural and vegan. According to customers' comments, these candy canes have a great taste and are allergen-free. [2]
DiabeticFriendly's Candy Canes
These candy sticks from Ohio are sugar-free and handmade.
Ingredients:
Isomalt – vegan
Natural peppermint flavor – vegan
Beetroot juice color – vegan
There are only simple ingredients, which are suitable for vegans. Instead of sugar, the product contains isomalt derived from beets. There are no common allergens, gluten, and dairy. Pay your attention that these candy canes are also tooth-friendly and have no aftertaste. The sweet peppermint taste makes them really perfect.
Hammond's
Peppermint Candy Canes made by Hammond's are certified organic. In comparison with other sticks, these are high-calorific. Only with one serving you get 90 calories.
The product contains:
Organic sugar – vegan
Organic tapioca syrup – vegan
Organic vegetable glycerine – vegan
Organic palm oil – vegan
Organic flavors – vegan
All the ingredients are plant-based and vegan. Pay your attention that this type of palm oil is environmentally-friendly. What is more, the company offers not only delicious candy canes but also other natural products.
Vegan Candy Canes Recipes
Sometimes, it's hard to find the vegan version of these candies at your local stores. Don't worry! You can do a healthy alternative to it at home.
Recipe 1
Using this recipe, you'll get about 18 vegan candy canes.
What you need:
Organic granulated sugar 2 ½ cup
Organic white vinegar 1 ½ tsp.
Organic cranberry juice ½ cup
Peppermint extract ½ tsp.
How to cook it:
Heat the oven to 200 ºF. Line the baking sheet with a parchment paper and place it there to warm up.
Combine sugar, vinegar and juice in a pot. Cook it on a medium heat stirring from time to time for 30 minutes. As a result, you'll get syrup. When the temperature is 285 ºF, your mixture is ready.
Add the peppermint extract to the hot syrup and mix it.
Take the baking sheet out of the oven. Pour out the syrup into the center of a parchment paper. Then take the edges of the paper to keep it in a narrow strip until it cools.
Now it's time to knead it for 25 minutes. You can do it using the edges of your parchment paper again. When your syrup is glossy, stop kneading.
Take a piece of candy and make a small ball. Stretch it in a rope, put the ends together and twist the halves. Then bend the top of a stick in the form of a cane.
When your candy canes are ready, place them on a parchment paper. They should harden at room temperature and away from sunlight.
Remember that the form of your homemade candy canes won't be perfect as those sold in shops.
Recipe 2
What do you think about the vegan cookies, which will have the same form and taste like real candy canes? Here's the recipe with which you'll definitely fall in love.
To make your peppermint candy cane cookies, you need:
Cold vegan butter ½ cup
Organic sugar 120g
Organic milk 2 tbsp
Vanilla and peppermint extract ½ tsp.
Flour 1 ½ cup
Almond flour ½ cup
Salt ¼ tsp
Vegan red food coloring
Instructions:
Place your vegan butter, sugar, milk, vanilla and peppermint extracts in a large bowl. Whip the ingredients until you get the creamy mixture.
In the second bowl combine two kinds of flour and salt. Mix them carefully.
Now add the half of the mixture with flour to the first bowl. Whip it. Then do the same with rest of the dry ingredients until it turns into a smooth dough.
Place the half of your dough into the second bowl and add red coloring. Mix it well.
Cool both bowls in a fridge for 15 minutes.
Preheat the oven to 375 ºF.
Take 1 tsp of dough from each bowl and form 2 ropes. Twist them and bend the top to create a hook. Then place your cookies on a baking tray.
Bake them until golden color. Usually, it takes 7-9 minutes. After it, cool the candy canes cookies for 5 minutes and enjoy.
Summary
I hope, now you know, which candy canes are vegan. Unfortunately, a lot of brands keep in secret the sources of the ingredients for their Christmas sticks. That's why vegans have to avoid them and look for organic alternatives. Remember that you can always contact the manufacturer to find out more information about the item.
PIN IT!